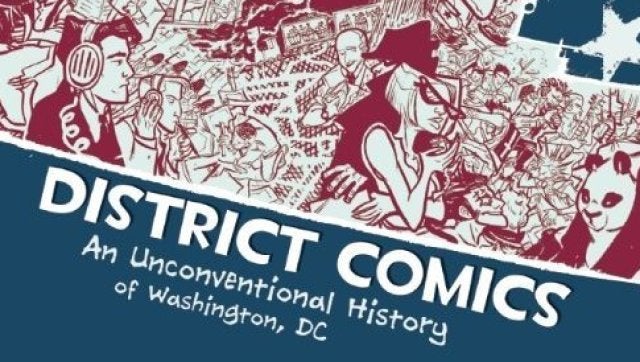 D.C.'s beloved panda Tai Shan is in the book -- his story is told by a crow. Bad Brains playing in Anacostia and the trumpet player who messed up a note at JFK's funeral are both in there, too.
We caught up with Dembicki, who edited the anthology, to find out about the city's weird and gross and wonderful stories -- and how he got interested in bringing these stories together into one illustrated book.
Want to know more? Dembicki and more than 20 other anthology contributors will be at One More Page Books in Arlington on Sunday from 3-5 p.m.
The Huffington Post: Tell me about "District Comics."
Matt Dembicki: "District Comics" is a comics anthology that features off-beat historial stories related to Washington, D.C. It covers the span of the history of the city, from its founding, through wars, all the way up to contemporary times.
For example, we have a story about D.C.'s first newspaper, and we have a story about President Obama's inaguration The nifty hook is that the stories are told from a personal perspective. The Obama story, for example, is told from the [point of view] of the D.C. police officer who design the police badges for the inauguration. We also have a story about JFK's funeral, told from the P.O.V. of the trumphet player who played 'Taps' at the funeral -- and botched one of the notes.
The stories had to have some connection to D.C. proper. A few of them venture a little outside of the city, but they have a direct tie to the city itself. The story about the Decatur House, which includes a gun duel outside the city limits, is an example. The story about the newspaper started in Virginia and concludes with a newspaper being founded in D.C.
HuffPost: What is the earliest story in the book and what's the latest one? Is there a time period you found yourself most drawn to?
Dembicki: It goes from the late 1700s to 2009. I wasn't draw to a particular era; as the editor, I wanted to make sure we had representation of various periods across the city's history. I did get quite a number of pitches to do stories related to D.C. during the Civil War.

HuffPost: What's your story about?
Dembicki: I wrote a story about the Bad Brains, a punk band in D.C. during the late '70s-early '80s. I also wrote and drew a story about Ego Brown, a shoeshiner in D.C. who helped topple some of the city's Jim Crow laws.
HuffPost: Are you a big fan of D.C. punk?
Dembicki: Well, I was. It's a little easier to follow it when you're younger, which is why I connected with Bad Brains, Minor Threat, then Fugazi, etc. Being a bit older now, it's harder to me to follow the music trends. But I still love the music I grew up with. For the Bad Brains story, what appealed to me was not only my thoughts about the band, but also what the other bands thought of Bad Brains.
For the story, I not only researched the D.C. punk scene through books, but also chated with Dr. Know from the band and Ian MacKaye from Dischord Records, who provided some never-published photos of Band Brains playing in Anacostia that we used as references for the illustrations.
HuffPost: That must have been a lot of fun. What inspired this anthology? Were you looking for a good excuse to call up Ian MacKaye?
Dembicki: I did a mini comic with my friend/local cartoonist Andrew Cohen about the Heurich mansion near Dupont Circle. The 20-page, black-and-white comic was called "The Brewmaster's Castle," and it followed the life of D.C. brewer Christian Heurich as he walks through his Victorian home.
It's a fascinating building and a fascinating story. We presented it to the family and the enjoyed it so much that they gave each of the museum board members a copy (the mansion is now a museum). That got me thinking about all the other neat stories about D.C. that are interesting and even have a national appeal, but that folks might not know about.
Re: Ian, it was amazing how accesible, open and fun Ian is. He really provided an amazing insider look.
HuffPost: Are most of the contributors to the anthology local?
Dembicki: Yes, and the ones who don't live here currently have lived here at some point or have some connection to D.C. I felt that was important. It's rather difficult if not impossible to get a "feel" for a city and to convey it through comics or any other media if you haven't experienced it first hand.
HuffPost: What are some of your favorite stories from the anthology?
Dembicki: That's a tough one. I typically would respond "all of them," but the one that really hit home for me was the story of former CIA operative Brian Kelley. He was accused of being a spy, and they (meaning the FBI and others invovled in the investigation) really messed up his life. Peter Conrad, who wrote and ilustrated the story, and I spent hours talking with Brian, who was writing an autobiography at the time. As Peter was finishing the story, Brian passed away in September, 2011.
HuffPost: Oh, gosh -- that's sad. Did he get to see the illustrated story before he died?
Dembicki: I believe he saw some of the initial character sketches, but not the final pages. In fact, Peter was trying to contact Brian in early September to talk about the story and get some additional details (such as what the interogation room looked like), but his emails and phone calls weren't being returned. As Peter continuned his research online, he came across Brian's obit in the New York Times. We were both stunned.
HuffPost: Are you from D.C. originally? Were you always interested in the city's stories?
Dembicki: I grew up in Connecticut. I moved to D.C. in '92. The previous summer I had an internship in D.C. and I enjoyed the area so much that I wanted to move here. I always enjoy a good story, and there are plenty of them around here. Not just about famous people, but also about the "real" people who lead interesting lives and the impact they have on the city.
HuffPost: How are you feeling about the book coming out now? Do you feel like there are still stories from D.C. you'd like to be covering, or are you ready to move on to the next project?
Dembicki: I feel great about it. I think it has a nice diversity of stories, time periods and artistic styles. I hope it jump starts people's curiosity to delve deeper into these stories. We only presented a slice of the stories. And yes, there are plenty of other stories related to D.C. that i think would look great in a comics format. If this book does well, perhaps there may be a volume 2. I've already started jotting ideas down.
HuffPost: Were there any surprises while you were working on the anthology? Anything you learned that really blew you away?
Dembicki: Little things here and there. I found it funny and somewhat charming that Reagan liked the black squirrels that ran around the White House. So much so that one of the White house winter holiday cards includeed the footprints of a squirrel. (That'll be on the blog soon.)
The story about the Civil War museum by Michael Rhode was a bit surprising, too. A little gross, but it was wonderfully tempered by artist Kevin Rechin, who has a knack for making even macabre things seem somewhat funny.
It's about the history of the Army medical museum, which was started during the Civil War. They used to collect body parts to bring back to the museum. They would used an alcohol-based preservative and sometimes the soldiers would, um, swig a drink from the bins.

HuffPost: Do you show that in the anthology?
Dembicki: Yep. But it a funny manner.
Here are a few pages from the book:
Related
Popular in the Community