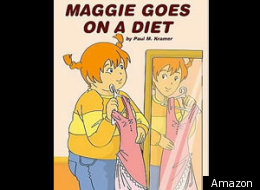 A chubby young girl with Pippi Longstocking braids stands in front of the mirror holding up a too-small pink dress and sees a different -- some may say better -- version of herself. Her mirror image is thin.
This book is about a 14 year old girl who goes on a diet and is transformed from being extremely overweight and insecure to a normal sized girl who becomes the school soccer star. Through time, exercise and hard work, Maggie becomes more and more confident and develops a positive self image.
In the land of hypothetical, there could be some rationale behind the plot.
But Maggie isn't looking at an imagined reflection of herself dominating the soccer field. For this little girl, it's all about the dress. The book is promoting skinny first, with a side of healthy slipped in later.