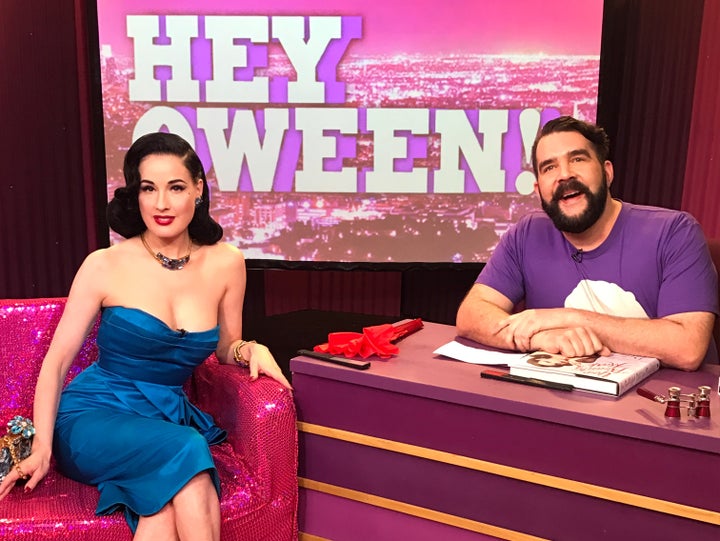 She's a beauty icon, a best-selling author, a world-class performer and she pioneered the revitalization of burlesque! Hell, she might as well be Linda Evangelista too, her smile is beautiful... It's Dita Von Teese on Hey Qween!
The world's premier burlesque performer made her debut appearance Jonny McGovern's Youtube talk show and bared it all, from her start as a dancer in a bikini bar to her now glamorous life of stardom.
"I'm a small town girl from a farming town in Michigan with blonde hair and was very ordinary, but I found my drag," explains Von Teese on her personal transformation.
"For as long as I could remember I've always surrounded myself with glamour, and it never had anything to do with money because I remember making my $2.25 and hour. I've just always believed that there's so much glamour to be had with everyday things."
In her latest book, Your Beauty Mark: The Ultimate Guide to Eccentric Glamour, Dita talks about the power of transformation and how to break away from conventional beauty norms.
"I felt like there's all these beauty books out there that tell you how to 'properly' do makeup and mine is all about breaking the rules and shining the spotlight on eccentric beauties," she explains.
"It was important to me that the book wasn't just a beauty book for girls that want to wear makeup, but that it was really about eccentric glamour. "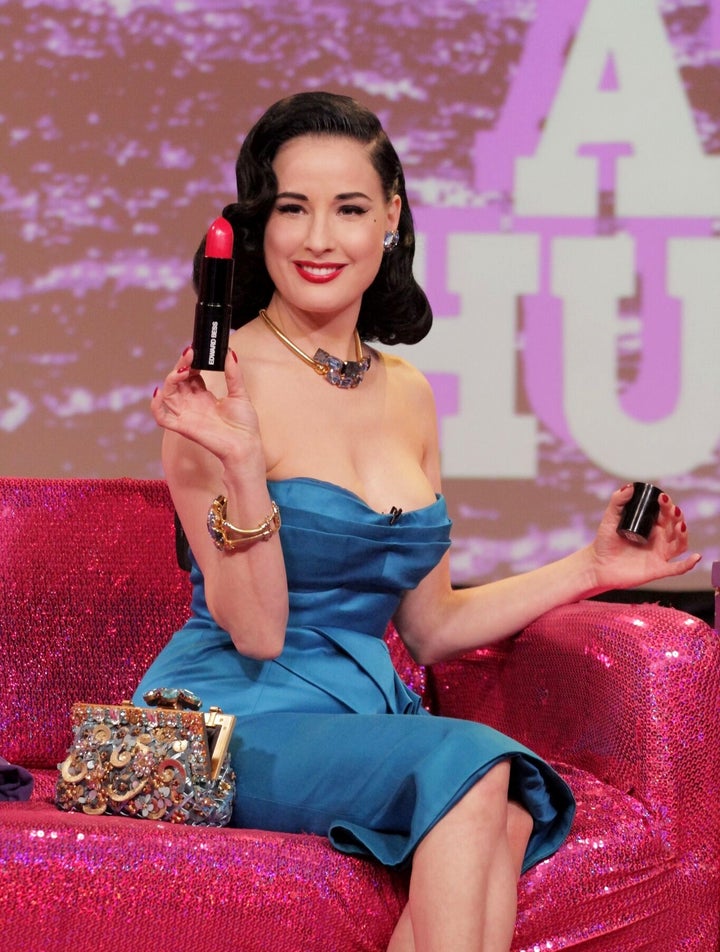 And while Dita is certainly a woman of luxury nowadays, her vintage style originated from a much more budgeted lifestyle.
"I started styling myself 50s style, because I couldn't afford the designer clothes that my friends down in Orange County had," Dita reveals. "That's why I wore old clothes... and the red lipstick because it was two dollars for Wet N Wild."
As she honed in on her personal style, her love of performing would soon take center stage at a local strip club.
"My boyfriend at the time took me to a strip club and I was like, 'This is cool, I should do this because no one looks like me and I could wear my lingerie outfits,'" she says.
Dita would later take her performance to fetish clubs and soon became well known in the fetish world. From there she began performing in Burlesque shows and touring around the country in upscale, as well as some not so upscale, strip clubs.
"I love doing shows and then there were these breakout moments where Marc Jacobs asked me to open the Louis Vuitton flagship store and Jean Paul Gaultier asked me to walk in his runway."
As the fashion world began to take notice of Von Teese's vintage persona and act, her life began to transform into something even more glamorous than she could have imagined.
She would soon find herself among Hollywood and fashion legends, befriending the likes of Hugh Hefner and Christian Louboutin, but it was her high profile relationship with musician Marilyn Manson that propelled Von Teese's presence in mainstream pop culture.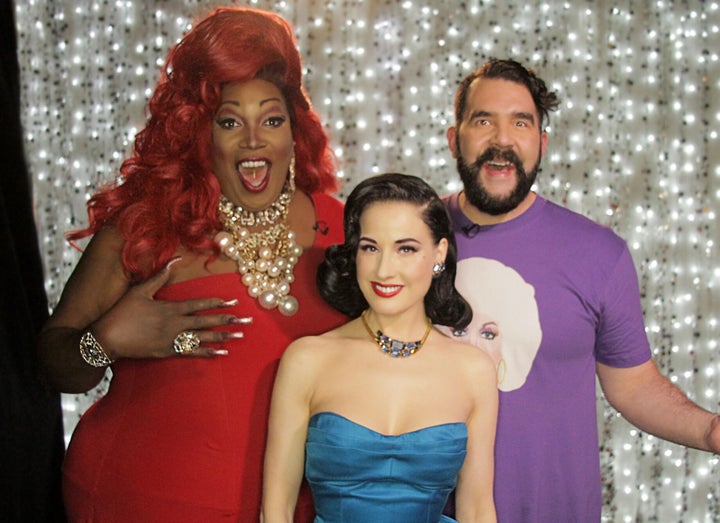 "He was a big cheerleader for my career, we did a lot of things together... It was a really romantic, great time in my life," she reveals. "We were together for seven years, we had a rough ending, but we're good now."
According to Dita, it was during the couple's lavish castle wedding in Ireland, which was being photographed by Vogue Magazine, that she realized that the relationship wasn't going to last.
"It was a little bit like the nail in the coffin, but it was a beautiful wedding," she says. "He slept through most of it though... He was drug-free at the moment so he kept going upstairs to take three hour long naps while the party was going on."
And while chapter may have closed for Dita, her lifestyle of eccentric glamour continues to this day. She's set to go back on tour with her hit Burlesque show The Art of the Teese and she continues to make vintage sexiness available to all who seek it with her books and lingerie line.
When it comes to Dita Von Teese, the show never stops. But for her, it seems she wouldn't have it any other way.
Watch part one of Dita's interview below and for more fabulous videos including her juicy three part LOOK AT HUH segment head to the Hey Qween Youtube channel!
Follow Host Jonny McGovern at:
Follow the writer Matt Valdez at:
Calling all HuffPost superfans!
Sign up for membership to become a founding member and help shape HuffPost's next chapter