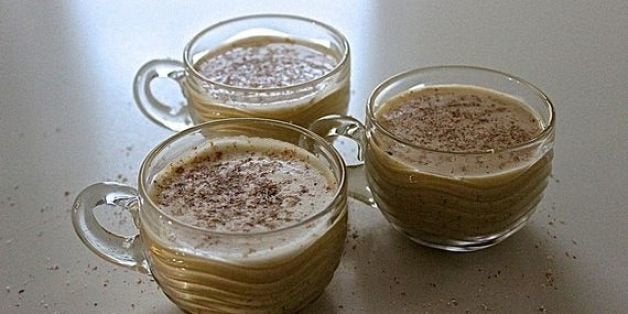 The first time I set out to make egg nog from scratch I was prepared for it to be an undertaking. I assumed people relied on the pre-mix for the same reason they bought ready-made pie crust - it's just that much less work. But I could not have been more wrong. Making egg nog was not only surprisingly easy, it was vastly superior to anything I had ever tasted from a carton. Trust me, there's no reason to feel intimidated, anyone can make amazing egg nog. So ditch the pre-mix this Christmas and make the real thing.
An Internet search will yield droves of recipes. Most of them are variations on one egg and one tablespoon of sugar for every one to two ounces of spirit - usually rum or brandy - and 3 parts dairy (heavy cream, whole milk or a combination of the two ) for every one part booze, finished with grated nutmeg.
But like many classic cocktail recipes, egg nog is ripe for customization. So I've devised a personal version which, in my humble and completely biased opinion, I believe to be the best egg nog ever (it's also super easy). I prepare it on Christmas eve as treat for everyone spending the day in the kitchen preparing fare for the evening's merrymaking.
Here are my adjustments (along with their justifications).
I use more booze. Since egg nog is so filling I'll rarely have more than a glass or two, so I want my egg nog to drink more like a cocktail, not a lightly spiked glass of spiced milk. I invert the booze and dairy ratio, which makes it a more like a traditional flip, the cocktail family of which egg nog is a member. This nog has more bite without being too sharp, plus booze is where a lot of the flavor comes from.
In place of raw sugar I use cinnamon syrup. This is a real game changer. One of the trademarks of delicious egg nog is the baking spice flavors. You get some with the grated nutmeg, but cinnamon syrup - which is easy to make - takes it to another level. Plus mixing in a syrup is a lot quicker than blending the raw sugar into the eggs. If making cinnamon syrup is not in the cards, you can still use regular one to one simple syrup and add a few shakes of powdered cinnamon.
I keep the eggs whole. Many recipes call for the eggs to be separated so the whites can be beaten and folded in at the end for a fluffier texture. But I prefer the richer, smoother texture, you get from the whole eggs, not to mention it's much less work.

My Christmas Egg Nog
12 eggs
9 oz Cognac - I used Pierre Ferrand Ambre
9 oz Dark Rum - I used Ron Zacapa 23
9 oz Heavy Cream
9 oz Cinnamon Syrup*
Grated Nutmeg
Method:
In a food processor, blender or with an immersion blender, blend the eggs, cream and cinnamon syrup together. Then add the booze, stirring thoroughly until fully mixed. Grate in a whole mess of nutmeg and refrigerate for a minimum of 4 hours, preferably overnight, stirring occasionally. For best results put in the freezer 20 minutes before serving. When ready to serve give it a final stir and pour into punch cups or small rocks glasses. Garnish each glass with a little more grated nutmeg.
*Cinnamon Syrup
2 cups 1:1 simple Syrup
1/3 cup crushed cinnamon sticks or cinnamon bark
Combine in a small pot and bring to a boil. Remove from heat and let sit for 4 hours or overnight. Strain out the solids and refrigerate.
What Booze to Use
Which spirits you use are flexible, just stick to things that are brown. The split between cognac, and rum is pure magic and the Pierre Ferrand Ambre Cognac and Ron Zacapa 23 that I use are excellent buys for the price and quality. But no one will complain with an all-rum or all-cognac egg nog. Nor will they mind a bourbon one either.
Chilling Time
Allowing time to get it chilled is key. This recipe is heavier on the booze and there's no shaking of any kind so it needs time to fully congeal. Once it does, the texture becomes luxuriously thick and decadent and the colder it is the better. You can even put it in the freezer for an hour or so, as long as you keep an eye on it. Or better yet, if you live somewhere cold enough just cover it and stick it outside. 25-30 degrees is ideal egg nog chilling weather.
Make Ahead
One of the best things about egg nog - there are so many - is that it keeps. You can make it a week in advance, probably more I've just never had a batch last that long. So put making the egg nog on your prep list in the days leading up to Christmas and you'll have it chilled and ready to go on the big day.
Varying it Up
This recipe is easily varied upon. If you want to make a more traditional less booze forward nog, take the above recipe and add 9-18 oz whole milk. For a little more kick, add 3 ounces more of each spirit (not more than that though).
Pumpkin Egg Nog
If you're feeling adventurous use the above recipe as a template and experiment with adding other flavors. Here's one of my favorites. Adding pumpkin to egg nog is a no-brainer and very festive. The nice thing about pumpkin in this recipe is that is actually tastes like pumpkin and not just pumpkin spice flavors.
6 eggs
2/3 Cup Real Pumpkin Puree (not pumpkin pie mix)
18 oz Bourbon
9 oz Heavy Cream
9 oz Cinnamon Syrup*
1/2 Teaspoon Ground Allspice
Grated Nutmeg
Method the same as above. Add the pumpkin in with the eggs, cream and cinnamon syrup.
Happiest of holidays to you all! And a cup of good cheer!