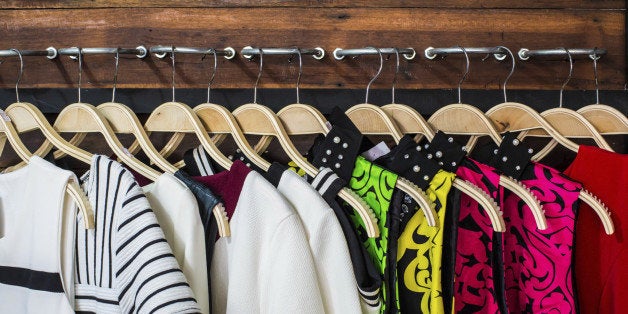 It's hard not to get enthused by the trends featured in monthly fashion magazines ... "Go Bold and Bright," "Fringe is In," "Pretty in Pastels," "Shimmer in Metallic." All of this is entertaining and oh so appealing. We lust after the golden gowns, crystal-encrusted clutches and sky-high satin stilettos. And when we're not day-dreaming about our red carpet appearance, we are inspired by the luxurious lizard boots, gorgeous cashmere ponchos and supple suede handbags.

But at some point the hot lists and trend tips become circular, and I tire of the fashionistas preaching that we raise our hems, then lower our hems; that we go strictly on the straight and narrow, then branch out to fuller, pleated styles. One month we're sold on the highest heel pumps and platforms; two months later we're instructed to buy flats and stacked-heel loafers. What's a working gal to do with this information overload?

Fashion is fun, but deep down we all have a sense for what works for our bodies and lifestyles. And the more time we spend chasing ever-changing trends, the less time we have to focus on our personal goals. Can we take a break from all of this and get real? No matter what's hitting the runway, there are 10 real life items, or categories of items, nearly every working woman should have in her closet:
1. Gabardine slacks, solid color. One straight leg, one boot-cut/fuller leg.
2. Skirt, solid color, straight and cut just above the knee. If you want, add another solid color skirt, medium length with a small flounce or flair.
3. Shift dress: Any neutral, solid color will do. Eliminate styles with zippers, leather trim, buckle or design that will look too busy with the colorful sweaters and jackets you will wear with it.
4. Three suits: No, suit is not a four-letter word. Buy them in black, grey, navy. Pinstripes or subtle patterns are OK, but don't go for any bold designs or cuts that take away from the utility of a neutral suit. I lean toward pants suits (sensible for travel) but skirt suits are fine.
5. Tank tops, blouses, scoop neck knits and turtlenecks in black, cream, white, pastel and primary colors. Choose your favorite colors, whatever you feel pretty in.

6. Jackets: Invest here. Buy beautiful colors and patterns, blazers with texture. These will give you some pizazz with your solid bottoms.
7. Sweater set/s: Cotton and cashmere fabrics are most versatile. Tip: If you find a great sweater, match it with an inexpensive tank to create a great sweater set.
8. Shoes: This is a tricky one; one woman's pain is another woman's pleasure. Wear whatever type of heel you can work with as long as you can concentrate more on your job than the pinching in your feet. But you should own shoes in black leather, black patent and nude. Avoid open-toe or backless styles if you do not keep a neat pedicure. You know who you are.
9. Pantyhose: Why have they all but disappeared? To boost the "squeeze wear" market? In cold weather, tights or opaque hose work for everyone. If you don't want to wear hose, your legs should be cared for. Call me old-fashioned, but certain legs and occasions still call for a sheer beige or jet-colored pantyhose.
10. Accessories: Lovely print scarves (in colors and patterns you love and you look good in), pearl necklace, gold link choker, long silver or gold necklace with pendant, stud earrings and hoop earrings in gold and silver tones.
For flavor, add a pinch (just a pinch) of something completely impractical -- a funky blouse, floral dress, leopard shoes, or a fun hand bag. After all, everyone needs a little dose of fashion to spice up their business uniform!