This is part of the "Increased Productivity" series where experts in productivity, brain training, and business success share the techniques and tools they couldn't live without.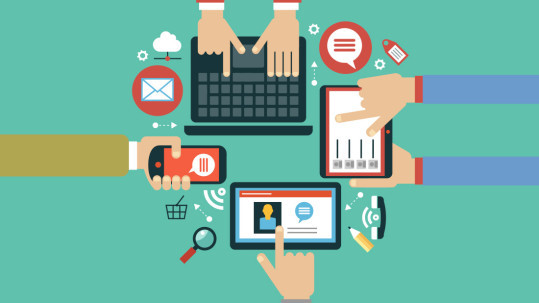 Going paperless has probably been an agenda item in most offices for several years now, but somehow it never quite seems to happen. Hand-in-hand with going paperless is the promise of increased productivity gained from not having to file endless paper documents, avoiding mountains of clutter on desks and clearing up office space currently occupied by filing cabinets.
With important documents stored and categorized electronically, searching for a specific document becomes a quick and easy task, as opposed to sifting through cabinets, folders and binders. Printing costs are also reduced, with far less paper and toner needed. If all this isn't convincing enough, going paperless even reduces stress on the environment, with less landfill waste, and less harvesting of trees for paper.
Here are some of the best web apps that might finally seal the deal on having your office go paperless, and make everyone in the workplace a little more efficient.
JotForm
Replace your paper forms with web forms or PDF forms. JotForm is a form-builder that is free to users, provided they do not exceed 100 form submissions per month. Creating web forms is a breeze with this software, because it allows you to drag and drop widgets and mini-templates wherever you need them on your form. There are tools for common input data items like email address and phone number, survey tools like rating systems, payment tools like PayPal and Authorize and form-building parts like radio buttons, text boxes and pushbuttons. Once you've finished building your form, you simply copy it to your website and wait for contacts to start pouring in.
Google Docs
Share and collaborate your documents instead of printing them. Google Docss is a free document processor that is very intuitive and user-friendly, with all menus and toolbars seemingly placed exactly where you'd expect to find them. One of its best features is that after having saved a document, you can then access it from any other computer at any location, provided you remember your Google password and ID. According to a
, only 30% of Americans are actually engaged at work, and the kind of sharing and communication brought about by Google Docs can help change all that.
Adobe EchoSign
Stop signing papers and sign your documents digitally. With
, you can quickly prepare contracts, estimates and legal documents using your normal web browser or favorite business application, and then send them to as many people as necessary to have them legally e-signed. An email can alert signatories, and within a few clicks they can each review, sign and return the document from a browser or mobile device.
eFax
Throw away your fax machine and replace it with this app. With
, you can send and receive faxes from the Internet, your mobile device or via email. It is distinguished from its competitors by its large file sharing and mobile access, and it integrates nicely with Microsoft Outlook and other email systems so that you can easily send faxes as attachments right from your inbox.
Quickbooks Online
Accounting without paper. Quickbooks Online has evolved over the years from Quicken and other versions of Quickbooks, and the current version is solid accounting software which has an updated and intuitive Dashboard, along with all the accounting features that a professional needs to do the job right.
Freshbooks
Replace paper invoices with online invoices. Freshbooks can handle basic accounting needs, but it really excels at generating online invoices to replace your paper ones. It is a cloud-based solution which can be accessed from most current browsers, as well as iPhone and Android mobile devices.
Do yourself and your company a favor as well as the environment by ditching papers in most of your transactions when you can replace them with much more productive apps mentioned. Share with us in the comments what productivity tools and apps has been helpful for you!
REAL LIFE. REAL NEWS. REAL VOICES.
Help us tell more of the stories that matter from voices that too often remain unheard.