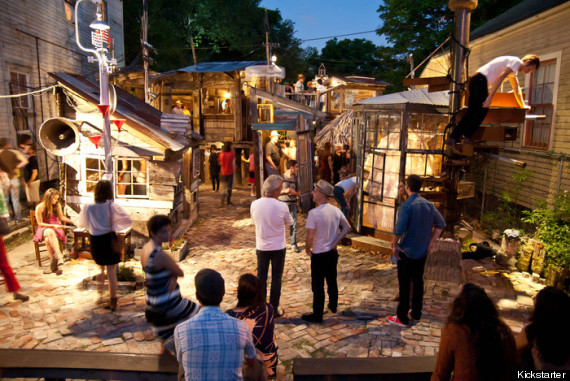 Dithyrambalina began two years ago when 25 collaborating artist, including street artist Swoon, transformed a 150-year-old New Orleans house into an architectural instrument and a vehicle of hope for the Hurricane devastated locale. The enchanted performance venue, dubbed "The Music Box," was a collection of wooden and metal structures built from a Creole cottage, each structure housing off-kilter instruments.
Stairs became pipe organs, floorboards necame amplifiers -- in some cases the entire structure was an instrument itself. Throughout its life, the reconstructed shantytown welcomed 15,000 visitors, 500 students and a variety of musical acts including Thurston Moore, Mannie Fresh and Japanther. The ethereal concert hall looked like it popped right out of an urban fairytale.
"The most important thing to us is the idea that old, run-down looking things still have value," Dithyrambalina co-founder Jay Pennington explains in the video above. "And that the value that they have is in the stories that they carry. And those stories can be brought to life through music. Giving life to architecture, so that people can live with it, experience it, and learn what there is to learn from what's left behind."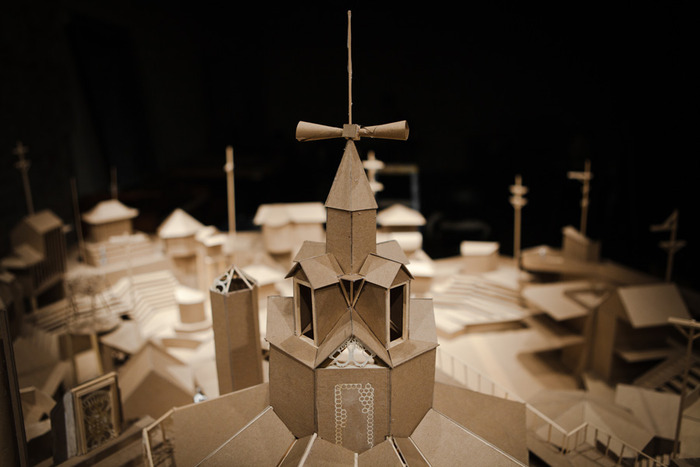 Photo by William Widmer
"The Music Box" has since closed, but the dream associated with it has only expanded. Project producers New Orleans Airlift, Swoon, and their collaborators are now out to expand from a single venue into is now out to expand from a single venue into an "evolving musical village created by many, many more hands, ideas, and influences." The new music boxes will continue to combine architecture, music, visual arts and performance to New Orleans citizens, and the project will bring in New Orleans organizations like Mardi Gras Indian Tribes, New Orleans Master Crafts Guild and the Center for Sustainable Engagement & Development.
We can think of few prospects more exciting than an ever-growing musical art village, especially one led by someone with the creativity and conviction of Swoon. As if the general prospect wasn't tempting enough, the awards for backers aren't too shabby either. They range from a mixtape of performers for $25 to a DIY Invented Instrument Kit for $175 to an original signed Swoon work for $5,000.
Clarification: Language has been amended in this post to reflect that Dithyrambalina was not solely the work of Swoon, but a larger collective of artists.
Related
Popular in the Community