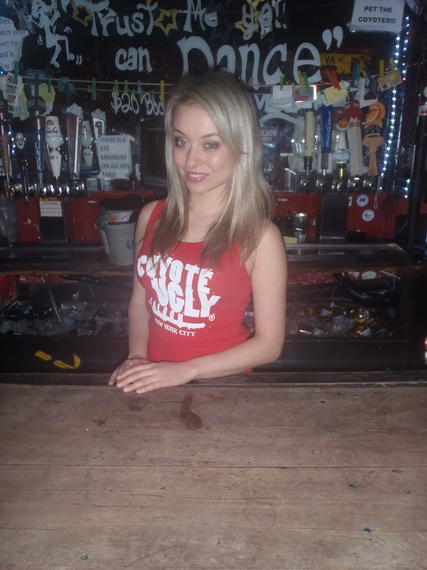 The shiny shimmy of a naked thigh, the thrust of a curvaceous hip, the high kick and twist... this is not Olympic ice dancing, nor a stripper working the pole... the flash of cured blond hair and lipstick smile appear, as does the bottle of rotgut tequila that is poured down your throat as you gag, fall in love, and try to cheer louder as the stunning Anna atop the Coyote Ugly bar yells, "Let's hear it for Wednesday." And the roar of the crowd over the cranked juke box tells you that this is where to be on a rainy Wednesday afternoon and no where else. The upcoming Sports Illustrated Swimsuit issue has nothing on Anna, who is clad in tight (very tight) jean shorts and a purple bra. When Anna is working, I play Katy Perry's sexually suggestive, "Peacock," and with it's chorus, comes Anna's signature dance move -- he pretends to have a giant imaginary penis and with a scowl, she slaps it with both hands. The censors on "So You Think You Can Dance" would never let this phallic vouging pass, but if you don't think a hot chick air slapping an invisible penis is hot... you just don't know Anna. So, in the interests of journalist professionalism and limiting my number of Bushmill's Black Bush shots... let's get to know Anna.
1. You are from the Ukraine, but how long have you lived in NYC and why did you move?
I have lived in New York City for six years. I moved because I had difficulty with my country -- I had a linguistics degree but couldn't get a normal job. I wanted to travel and see the world. I could have gone to Germany or the US. I want to stay in the US and become a nurse and have a steady paycheck.
1A. Do you use your Linguistics degree at Coyote Ugly?
No... I use dirty words instead.
2. How long have you been a Coyote and why here?
I have been at Coyote Ugly for 1 year and three months. I didn't understand the concept of the dive bar bartender mentality -- I was too shy. You need an American mentality.
3. How hard was the audition process?
For me, I did not audition. The manager here saw my photo on Facebook from another bar and offered me the job. There was no audition because at the time, Coyote Ugly had an urgent need for bartenders. After three days here, shyness goes away. Partying seems fun while auditioning but it's hard to pretend to be someone else -- not all girls can do it.
4. Is there a lot of competition between the bartenders?
Maybe jealousy. We are encouraged to sell merchandise and shots and we are told who is the best. When I started it was harder like when you work with all females but the current team is good.
5. What is a typical day or night like hour wise? Energy wise? How often are you dancing on the bar?
I commute from Coney Island so it's an hour and half during the day and an hour and forty minutes at night. It is around a fourteen hour day, but it's not physically exhausting... it's mentally exhausting. I am dancing every other song at night because there are three bartenders, but during the day it is more interaction.
6. Where did you come up with the slapping the invisible penis move?
A very disturbing childhood (Laughs) I would watch American rappers with weird moves that are corny. That is where the move is from.
7. What are the regulars like? What are the females who come in her like?
All the regulars are men -- some I've known for two years from my previous bartending job. Sometimes I forget that I am working hard, it seems like hanging out with friends. Tourists come in and want to have as much fun as possible in short time. Regulars get more personal. I like to find conversation with people I care. Women come to the bar to feel sexy. Desirable and pretty. Dancing on the bar she can feel a certain way. I feel pretty good about myself when I am up there.
8. What do you drink while you are working?
I drink the same when I go out -- vodka or tequila. I like Patron Tequila.
9. How would you describe your fashion style?
Regular - although I wan not confident about my body before I worked here. I never bought a separate bikini, but after working at Coyote Ugly, I bought one for the beach but I also wear it to work
10. What is the first thing you do when you get home?
Eat and sleep -- I eat mostly Ukrainian and Russian food.
11. How do you stay in such great shape?
Working here it is easy -- you don't eat and you dance a lot. It is like a gym every day at work.
12. One serious question -- how is the situation in the Ukraine, especially Kiev affecting you?
It is hard to judge the people of Ukraine. I have never gone back, but you can't be violent even if you are fighting for something. I feel badly for the policemen who are doing their job while their mothers worry.
13. Who is your favorite Coyote and why?
I have two favorites -- Maya has been here two years and she is so confident she can just turn on a crowd. She has a stunning body and I love her personality. No matter how sick she always manages her mood. Kay is the most crazy person and she does whatever she wants to. I want to become like her. I like her.
14. Will you be working the 21st year anniversary?
It is Sunday, March 23rd and I will be working.
15. Why no boyfriend?
A bartender should always be single, but never available.
16. Would you ever date a customer?
No.
17. Where do you take your fan mail or social media? When can the fans come see you in person?
The funny thing is that I am not that social. When I go out it is to the library or a café shop. I am on the Coyote Ugly Facebook page and I work daytime Weds, Friday, and Saturday. Come see me... and buy some shots!

Crazy Legs Conti thanks the beautiful and fun Anna for her time and his beer and whiskey.
REAL LIFE. REAL NEWS. REAL VOICES.
Help us tell more of the stories that matter from voices that too often remain unheard.