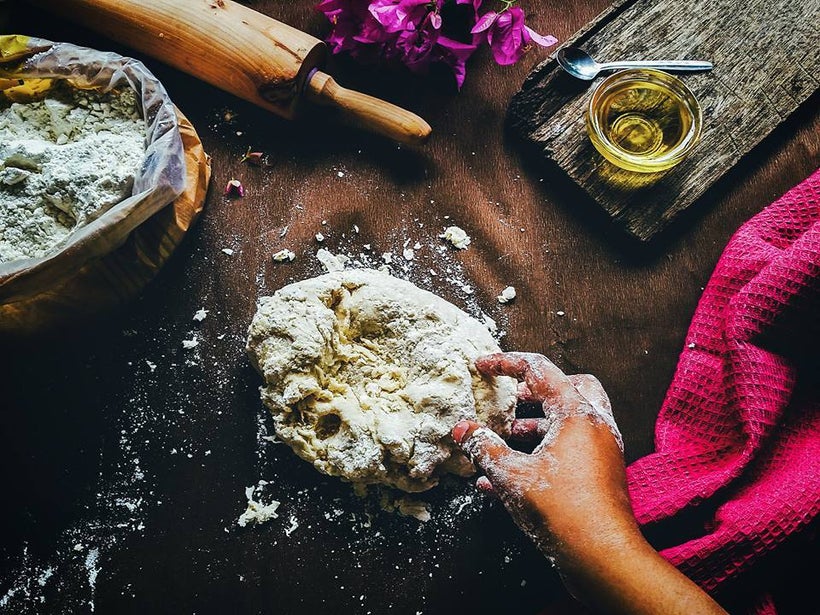 I am born and raised in what I like to call as my little jewel Island, Mauritius. Because it is truly a little jewel found in the Indian Ocean. Everything about it is amazingly spectacular,the sea of an exceptional blue, the sand of an amazing white and the air always giving you the feeling of holidays. And Oh mine! The food is one of the richest culinary adventure that you will ever get on trust me. Exotic flavours, tropical tastes and all merged together is almost like sunshine on your plate.
Mauritian cuisine is an amalgam of different ethnicities which has led to a fusion of cultures into one dish. Taking bits and pieces from the Indian, Chinese, Muslim and Creole original cuisines, Mauritian food is a sheer pleasure to the taste buds of everyone. You will definitely remember the food anywhere you are really!
Mauritian Rotis or ''Faratas'' as being so commonly known here are also known as Flatbreads or Parathas to others. So many different names really but deep down mean only one thing to us fellow Mauritians and that is home! It doesn't take long for any of us to get carried away to the good old times whenever we spot hot "Tawa'' ( hot stove ) anywhere around with puffy round rotis being cooked on. Rotis are very traditionally Mauritius and have largely been present in the life of many while growing up. Such that it is considered to be a significant symbol of our Mauritian cultural heritage as Rotis were the main source of bread long before.
Other than that it also holds such a deep value in the life of many who known the days back to the Independence era. Mum often narrates how early morning my GrandMa would wake up and make dozen of rotis for everyone including my GrandPa who was working in the sugarcane fields. GrandMa would make everyones tiffins which compromises of some curry and atleast 3-4 rotis. And not only to work but at dinner times also, Rotis were a must on the table. It was important just like butter is to bread mostly. Within time people learned different variations they can bring to their meal and things gradually changed. Now Rotis make their way to the table mostly during festive periods or to commemorate something special  among loved ones at home. Rotis are also one of the main street food being widely consumed after the famous "Dal Puri". You can still grab a bite on the street as a quick lunch to go anytime as they are always readily available around the Island. However whatever the occasion, the feeling of home is greatly felt whenever Rotis are being served. Because not only is it just a bread but it is the labour of love which reminds everyone how they grew up.
I certainly do recall the times where I would stand there near the hot stove and watch my Mum flipping over and over again while the Rotis would beautifully puffed up. And also how she would stand for hours on her feet making them, rolling them out and cooking them. The slightly burnt smell of the Rotis from the hot Tawa, the softness of the dough and the great flavours when you tuck in! This is something even words won't be enough to describe really. And I would stand there with my plate already set and awaiting when Mama would hand me one, which I would barely be able to hold as it was so hot. Eaten with a good dollop of butter, or served with any Lamb/Chicken Curry and a good crunchy salad. These are the many ways you can eat up the majestic Rotis.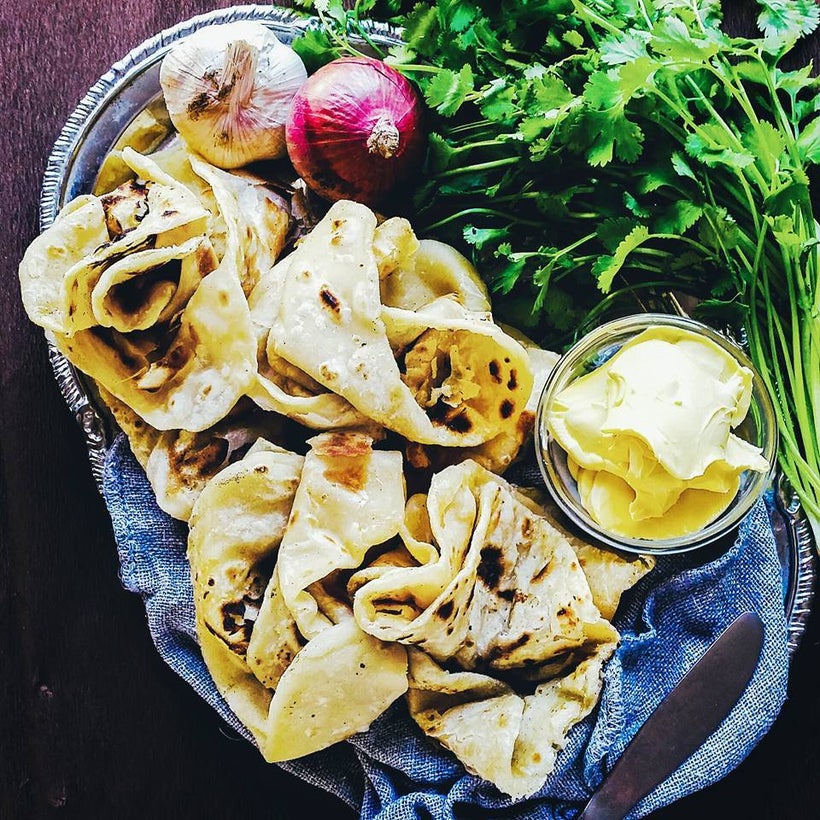 Recipe : Traditional Hearty Mauritian Rotis
Preparation time : 15 mins
Cooking time : 5 mins ( each roti )
500 g all purpose white flour
1 cup all purpose white flour
2 tbsp vegetable oil
1 tsp of salt
 500 ml lukewarm water
In a large bowl sift your all purpose white flour.
Add vegetable oil. Salt and combine into the flour.
Add water gradually to the mixture and knead to a soft dough.
Divide the dough into small balls each.
On a flat surface, dust some flour and roll each dough at a time into a circle.
Take the first dough (after being rolled out into a round shape), add 1 tsp of oil on its surface and fold into a square by joining the top and the bottom together and then both sides together onto the previous fold.
Repeat the same (Step 6) for every rolled out dough.
Leave to rest for some 10 mins while you get the hot stove properly heated.
Take the folded (square) Rotis one at a time and start rolling them out again.
Drizzle a tbsp of oil on the very hot surface and lay down the Roti.
Flip over continuously with a drizzle of oil on the other side again after 2-3 mins on the stove.
You will notice it being slightly puffed up,wait a few more mins and then remove from stove.
Repeat same process (Step 9) until all is done.
Serve as sides to Lamb or Chicken Curry during dinner time or simply butter and add grated cheese which is Ideal for tea time or for breakfast.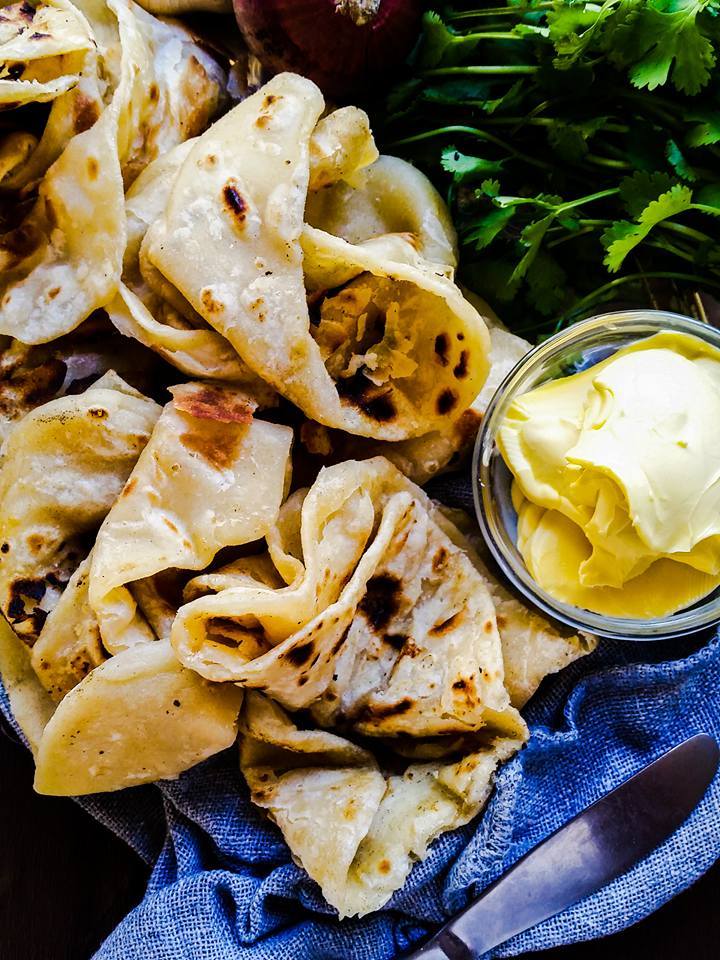 Follow PeachyTales for her yet more amazing classic takes on the Mauritian Food and dive deep into the amazing sweet memories of her cultural heritage.
Calling all HuffPost superfans!
Sign up for membership to become a founding member and help shape HuffPost's next chapter
This post was published on the now-closed HuffPost Contributor platform. Contributors control their own work and posted freely to our site. If you need to flag this entry as abusive,
send us an email
.