As a longtime fan of any book series, there is often trepidation when you hear your favorite novels are being made into movies. This is because... well, we've seen what can happen.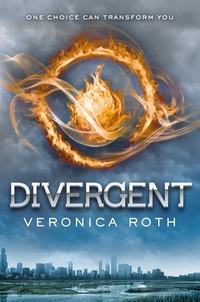 You can either get The Hunger Games version, which is pretty true to the books and one of my favorite book-to-movie adaptations yet, or you can get the Eragon version. If you don't know what I'm talking about then think about keeping it that way. Definitely read the book, but just skip the movie. Forever.
So, when I got the chance to see an early screening of Divergent at the Orlando red carpet premiere, I was definitely excited. But I was also nervous.
Would the cast really embody the characters I imagined in my head? What would be cut or changed, and would I mind?
The short answer is: I loved it. Although I didn't mean to copy Divergent author Veronica Roth's own reaction to seeing the movie, I can't help it. It's just true.
I think it's important to consider a movie apart from its book. Obviously they are a package deal, but for the mental sanity of any hardcore book fans, this is a good practice.
The cinematography of the movie is beautiful. Divergent is set in a futuristic version of Chicago, and I'm sure natives will be thrilled to see their beautiful city looking CGI-tastic and a bit emptier.
I think the casting was spot on. Shailene Woodley really embodies the spirit of Tris, the young girl who's trying to make the biggest decision of her life and is thrown some serious complications.
Plus, Theo James as Four was just brilliant. He simply IS Four, and manages to capture the tough exterior of the character while showing that Four does in fact have a softer side (it's true!).
As a Divergent book fan, there are so many scenes you cannot wait to see played in real life outside your head. There are so many amazing moments in the book -- those Dauntless know how to keep their hearts racing -- and all my favorites not only made it in but were performed beyond my wildest imagination.
Not wanting to spoil anything for Divergent newcomers, I'll share more details for other book fans on my young adult book review site, Read.Breathe.Relax.
As I continued to watch the movie, I kept thinking that it reminded me of how much I loved the book when I first read it and how the story delves much deeper than a simple coming-of-age tale.
It's about family and choices and wanting to feel like you belong. It's about community and our innate fear of being alone. And most importantly, it's about fighting what's expected to be who you really are.
This is a film that will inspire viewers to pick up the book immediately after watching it.
Divergent as a Book Adaptation
Again, to avoid spoilers I won't go into much detail here. I'll suffice it to say that there are definitely some things that were changed and a few characters left out.
It's bound to happen. It's always hard for fans to understand because why mess with an already amazing thing, right?
But with all the details filmmakers inevitably have to leave out, changes have to be made for the storyline to continue to make sense and segue into forthcoming movies.
I will say that I was surprised how much of a role Jeanine Matthews had in the movie -- I certainly didn't remember her being so prevalent in the book. That being said, Kate Winslet acted beautifully, so my concern was washed away quickly (and I was distracted by her American accent).
I'm never really sure how readers will take changes to the movie, but for me, I wasn't overly upset about the alterations that were made. I was far too busy fawning over Four and feeling the rush of crazy Dauntless antics.
Divergent hits theaters March 21, and tickets are now on sale. I think book fans and dystopia lovers alike will be thrilled with this adaptation.
The Divergent movie truly captures the spirit, adventure and excitement of the book, and I cannot wait to see again once it's out.
Divergent book fans: What scenes are you most excited to see on the big screen?
Calling all HuffPost superfans!
Sign up for membership to become a founding member and help shape HuffPost's next chapter