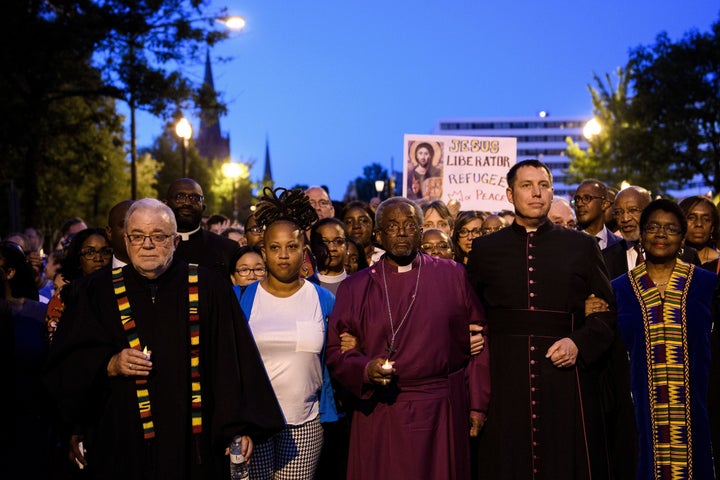 A diverse group of evangelicals is joining forces to reclaim a faith tradition it says has become dominated by older, conservative white men who are blindly loyal to President Donald Trump and the Republican Party.
Thirty-nine evangelical leaders released a declaration on Wednesday that attempts to disrupt the narrative that evangelicals as a whole are white, right-wing Trump supporters who are indifferent about social justice.
In fact, the leaders say, many evangelicals of color and younger evangelicals are fiercely committed to combating economic inequality, defending immigrants and refugees, resisting racism and patriarchy, and caring for the environment.
And it's these diverse, young, socially conscious voices that the signers of the declaration believe will decide the future of evangelicalism ― not the crowd of predominantly white, conservative men who serve as Trump's advisers and usually claim a lion's share of the media's attention.
Adam Taylor, executive director of the progressive Christian organization Sojourners, which helped organize Wednesday's "Chicago Invitation," told HuffPost that he hopes the document helps counter "false narratives" about evangelicals.
"We're inviting people to start looking at evangelicalism and evangelicals a little differently, to not see them as a monolithic category or movement," Taylor said. "If you add evangelicals of color into the equation, the movement is much more diverse than most people realize."
The statement builds on the Chicago Declaration of Evangelical Social Concern, a 1973 manifesto that called on evangelicals to address social justice issues. The 1973 declaration was seen as groundbreaking at that time, affirming that the gospel calls on evangelicals to focus not only on personal morality and salvation but also to combat materialism, militarism, systemic racism and sexism.
Forty-five years later, Jim Wallis and Ron Sider, two evangelical leaders who were present at that 1973 meeting, convened another gathering of evangelicals concerned about social change. The meeting was held from Sept. 13 to 15 in Chicago and brought about 40 leaders together in a room to discuss how to respond to a crisis in evangelicalism that they claim "jeopardizes the reputation and witness of the Christian church."
Nikki Toyama-Szeto, executive director of Evangelicals for Social Action, was one of the leaders who helped organize the Chicago gathering. She said the conveners were intentional about making sure the room reflected the next generation of evangelicals. Half of the participants were women and people of color. They had pastors from Washington, D.C., talking to professors from Southern California, and church elders in their mid-80s listening to young people in their 20s.
The result was a discussion unlike any other she's ever participated in, she said.
"This group was very intentionally saying, let's listen to the future, let's listen to people of color, to women, to people under 40," Toyama-Szeto told HuffPost. "That's what to me made it a really great place to begin to dream about what the future is and what our faith means now in this political climate that has co-opted the term 'evangelical.'"
The Chicago Invitation emerged from that meeting. The document reaffirms the 1973 declaration and adds new commitments to "love and protect all people" ― including indigenous people, immigrants and refugees, LGBTQ people, people with disabilities, and the poor. The leaders pledged to care for the Earth, resist white nationalism, defend the dignity of women, and embrace America's growing racial and ethnic diversity.
The document is being called an invitation to show that the signers want to invite people into a dialogue on these issues rather than try to speak for all evangelicals.
"In contrast to [the] false narratives, evangelicals compose an ethnically diverse group whose movement reflects a historical and ongoing commitment to Jesus,
the authority of scripture, evangelism, and God's biblical call to justice," the document states.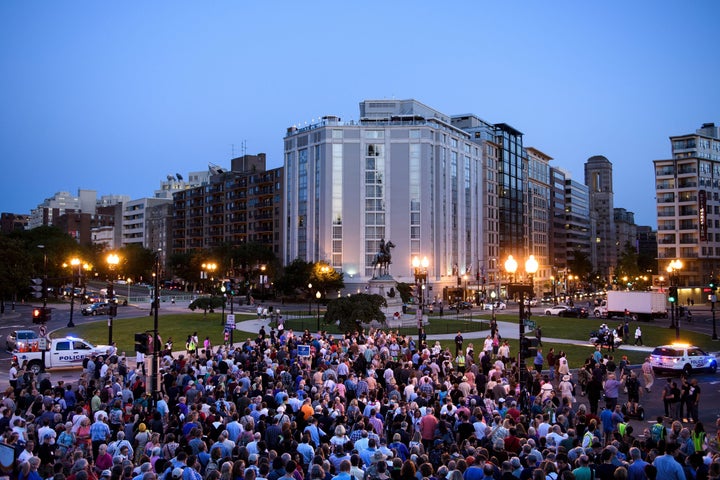 After the 2016 election, many of the signatories became disturbed by news reports that seemed to equate the political leanings of white evangelicals with evangelicals as a whole. In particular, the leaders referred in their document to the widely shared statistic that 81 percent of white evangelicals voted for Trump.
Taylor claimed news organizations would quote that statistic without pointing out that it represented only white evangelicals or acknowledging that most evangelicals of color had overwhelmingly opposed Trump.
Subsequent surveys have consistently found that white evangelical Protestants supported Trump's policies and his performance as president. Prominent white evangelical leaders ― Franklin Graham, Jerry Falwell, Tony Perkins, Robert Jeffress ― have become part of Trump's informal evangelical advisory council and have often spoken up in support of the president's policies.
Taylor said he feels these conservative leaders have struck a "Faustian bargain" with the Trump administration, pledging to support the president ― even when his policies result in the forced separation of children from their parents or give cover to white nationalists ― as long as Trump continues to appoint conservative Supreme Court justices.
"I don't think that's a trade-off that many evangelicals or Christians more broadly are willing to make," Taylor said.
Most evangelicals of color differ from white believers on key political issues. Studies have shown that non-white evangelicals tend to lean more progressive than their co-religionists on issues like immigration and racial justice.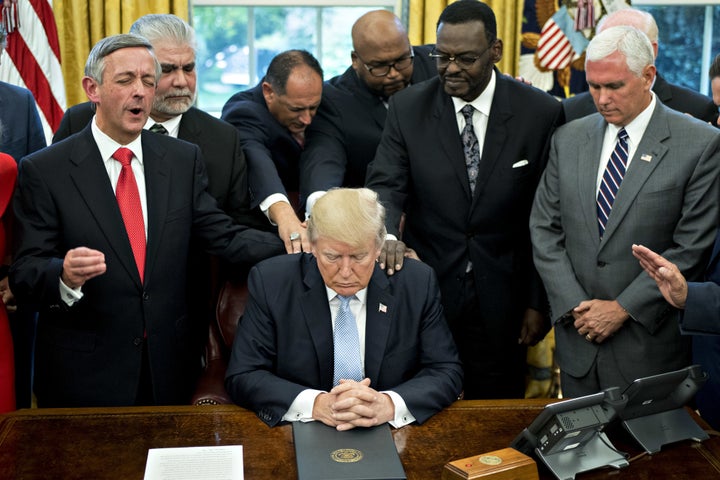 Research also suggests that non-white evangelicals will grow more influential over time. While white evangelicals are shrinking in numbers, the racial diversity of American evangelicalism is increasing. In 2017, the Public Religion Research Institute found that 35 percent of self-identified evangelical Protestants are black, Latino, another race or a mixed race. This diversity is even more profound in younger generations. Only half of evangelical Protestants under the age of 30 are white.
All of this indicates to Toyama-Szeto and Taylor that the political leanings of white evangelicals are more tied to race than to religion ― and to the fact that American churches are still deeply segregated.
"A lot of white evangelicals don't have interactions with evangelicals of color," Taylor said. "I think it's hard to have empathy and solidarity with people you're not in a relationship with. It's also easier to be fearful of people you don't have a relationship with."
The writers of the Chicago Invitation hope that it will help young people and people of color reclaim the term "evangelical."
"We're in a critical moment, a crossroads moment in evangelicalism to determine whether we're going to work together to redefine what evangelicalism means," Taylor said.
"I think there's a lot of suspicion and hurt among many people who have left the church," he added. "And I think it's important that we really show there's a lot of voices of Christians, but particularly evangelicals, who care deeply about justice, about racism, sexism, sexual violence, that care very deeply about creating a welcoming and inclusive country."
Before You Go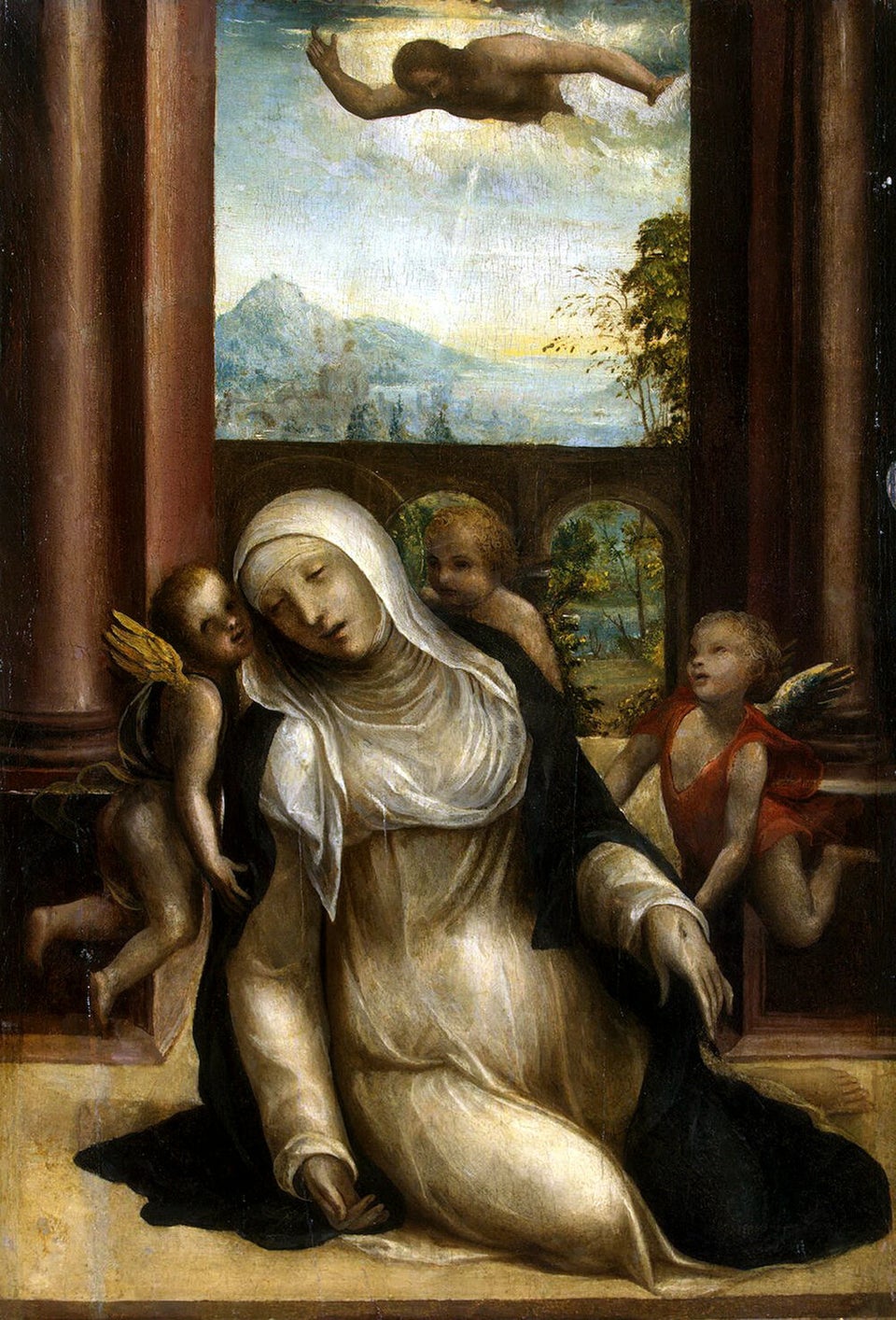 13 Women Mystics Who Helped Shape Christianity
Popular in the Community