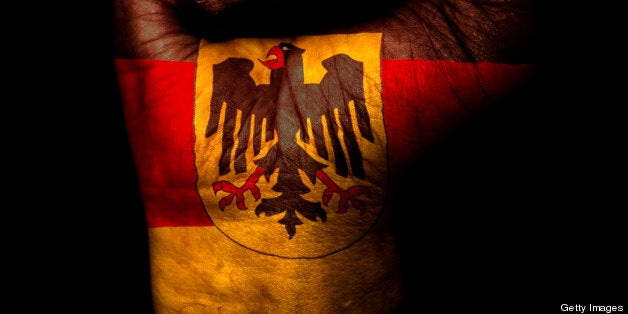 In early April, the General Assembly at United Nations headquarters in New York City adopted an international arms trade treaty (ATT) that is supposed to regulate global arms deals. It is also expected to bring more transparency into the $70 billion business. The five largest arms exporters are -- according to a study published by the Stockholm International Peace Research Institute (SIPRI) in March -- the U.S., Russia, Germany, France and China.
Due to market pressure, cuts in defense budgets in some nations and growing ethical concerns in others, arms producers, trade unions as well as policy makers are looking into ways to diversify the industry. The goal is to transfer some of the technology, experience and research into the civil sector in order to create or maintain jobs that can sustain a developed economy in a similar fashion the arms industry does at the moment.
An interview with Juergen Buehl, head of IG Metall's working group Defense, Germany's largest metal worker union, clarifies where this development could head towards in Germany.
Lia Petridis Maiello: The diversification of the arms industry in Germany has been on the agenda for quite some time now, how exactly could the process look like?
Jürgen Bühl: I personally don't think that it was on the agenda for too long, actually. It was definitely a subject in the '80s and also after the end of the Cold War. Ultimately, diversification or conversion in the arms industry was not a big subject during the past ten to fifteen years, not even in peace research. I think that has more to do with the fact that other subjects seemed more relevant at the time.
I believe it also had to do with certain occurring wars and conflicts, for instance in the Balkans, as well as asymmetric conflicts that were and still are taking place worldwide. But it is certainly a subject that has to be looked at in its present context. As with many things, it is a matter of perspective.
For example if you take a look at the German arms company Diehl. This firm is always associated with arms production when really their overall revenue resulting from arms production is only about 20 percent nowadays. Or look at a supplier such as MTU Aero Engines in Munich, a firm that mainly produces jet engines. In the '80s they had a stake of 80 percent in arms production and today it's only 20 percent. So basically the ratio is reversed.
Also, a study from the German Federal Association for the Security and Defense Industry describes that the core areas of the arms trade, for example the construction of armored vehicles, military planes and naval vessels, constitutes only 14 to 15 percent of the sector's revenue today. Others, such as electronics and cyber security, increased greatly. But overall the subject has not been systematically researched. Maybe it is possible to revive the discussion from the 1980's and let it evolve from there.
LPM: How do you explain the relevance of the subject in the '80s, its disappearance, and its renaissance?
JB: Well, the peace movement was very strong in the 1980s which contributed to the discussion in Germany. In the late '80s and early '90s, Germany was discussing the peace dividend.
With the discontinuation of the Cold War, we no longer had such an enormous demand for an overly strong army. The peace dividend unfortunately didn't work out, because of international politics, as well as the changing nature of worldwide conflict. The Cold War ended, but I don't think one can say that the world is more peaceful overall. And of course, one main reason was that arms firms made a lot of revenue with their sales.
LPM: What products are we looking at? What products can you transfer easily from the military to the civilian sector?
JB: This is one of the most exciting questions. Personally, I'm not aware of much research being conducted in the area in order to establish a trend. But in Germany the products at the moment are strongly linked to the sector of renewable energies, wind turbines for example, which of course don't work everywhere. A certain number of shipyards already tried making that transfer, but were not able to sustain themselves solely through that new technology. I would think that the main future focus for German firms will be in the area of civil security and safety. So far, the entire industry is in the early stages of this new development. Later on we will have to look from company to company to understand what actually might be possible in terms of new developments within the field. Firstly, much more extensive research and development has to happen in the area.
LPM: A speculative question: Do you think that the effects of the restructuring within the arms trade might have a faster visible impact than the Arms Trade Treaty when it comes to the securing of peace?
JB:Pivotal for Europe are the markets in Western Europe, possibly also in the NATO area, and of course friendly states. We already know that the demand is decreasing in this area. European nations as well as the US are cutting their budgets. These companies have to react to that, Germany's in particular, since we have strict export controls. If that development can contribute to global peace keeping is a good question. As long as there is war, there will be arms production.
LPM: How could you avoid, while going forward and tapping into new markets via restructuring, a regional dependency on the arms industry to avoid major job lay-offs. To name one example, Lake Constance, a well-known region of arms production in Germany?
JB: Lake Constance might be an area that is internationally well known, but the supply chains in Germany are distinctly more complicated. But indeed, the question is, how can arms firms develop areas in order to enter other segments with the know-how they have? That will look very different from one firm to another, however. There may also be firms that develop civil products and sell to that segment, while still focusing on producing traditional arms. At the end of the day though, it is now time to evaluate the different options. This is an area where industry and politics will have to work together in order to manage these diverse challenges appropriately and preserve jobs. The pressure for innovation in these companies is so great in the meantime, that they are more or less forced to consider new options. Firms need to think about long-term marketability.
LPM: In comparison, how do you interpret the intensified arms production in developing nations, such as Brazil and China in terms of global security considerations?
JB: Well, international security is not really the core area of expertise of the IG Metall union, but it is clear that the BIC nations and states in the Gulf region, not only have an interest in buying weapons, but also to focus to a certain extent on developing their own arms production. This is simply viewed as part of the general industrialization process within the respective countries. It doesn't make the world a safer place necessarily, but on the other hand these nations are autonomous states with a right to develop. An arms trade treaty everyone would adhere to, would definitely help.
LPM: The US is investing more money into research and development on the diversification of the arms industry at the moment than is Europe, with the superpower being under increasing pressure due to the fact that the US is retrieving soldiers from Afghanistan and Iraq. Do you think this might, in the long run, impede Europe's competitiveness?
JB: That's one of IG Metall's main demands, that the investment into research and development has to be increased. The European Union can be of assistance with their different programs in different areas, so diversification by simultaneously supporting individual governments with EU programs could work out well. That is a Europe-wide request raised by international unions.
Calling all HuffPost superfans!
Sign up for membership to become a founding member and help shape HuffPost's next chapter