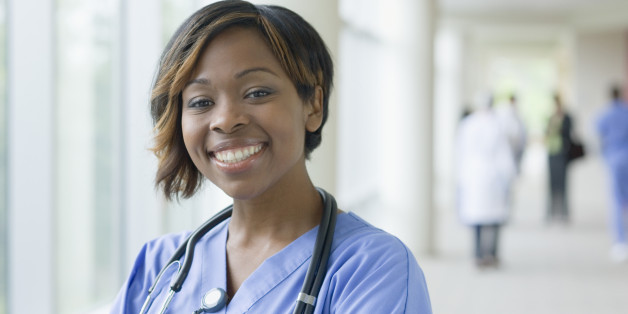 The practice of medicine, nursing and all health professions is changing. Whether it's new tests, tools and treatments or the reforms in the ways people access and pay for care, health care is always evolving. Yet we're still struggling to change the health care workforce. The makeup of our health care workforce is not reflective of our nation's changing demographics or needs, and this contributes to inequities in health.
Research has shown us that having a diverse health care team -- whether that be language, culture or where they grew up -- improves quality of care and patient trust in the health care system. Over the years, we've tried many different approaches to help bring diversity and cultural understanding to our health workforce. From increased efforts to recruit more diverse students to student loan repayment programs for those who go back and practice in underserved communities, we've seen some progress and some success. But we still have a long way to go.
A recent report released by Urban Universities for HEALTH shows us that success has been found in the admissions offices of health professions schools. The report tested out the value of holistic review in the admissions process -- consideration of a wide range of factors used to accept students into medical, nursing, dental, public health and pharmaceutical schools. Holistic review is about taking a broader look at prospective students and their achievements in the proper context, and selecting students with potential for success in school and in the workforce.
Over the past decade, many schools have moved to holistic review when considering their applicants. That means looking not just at GPA or standardized test scores alone, but also considering the person, their experiences, and a number of other factors when crafting new classes of future health care providers.
This new study shows that this method works leading to greater diversity for approximately 75 percent of surveyed schools that have implemented some type of holistic review. These schools look at personal qualities and background, including socioeconomic status; first generation to attend college; community of origin; foreign language ability; leadership or community involvement; and, where permissible, race, ethnicity and gender.
For example, imagine you have a student with excellent academic credentials, but who might not make the cut for an incoming class at a competitive medical or nursing school. However, take into consideration that this student is the first in her family to go to college. She worked through her junior and senior year to help support her family after her parents became unemployed. All of a sudden, her success and achievements take on more meaning. We know that she is someone who can handle pressure and competing priorities and still succeed. Ask any nurse or doctor: Pressure, adversity and multitasking are part of the job description.
This is about giving our health care system a dose of energy, perspective and experience that will serve a diverse country and its health care needs. And any concern that holistic review might reduce academic standards is unwarranted. The study shows that schools using this approach have maintained -- and in many cases increased -- average GPAs and test scores.
But the most valuable finding of all: reports of students being more engaged in community outreach and having a greater interest in careers working with people in communities that don't have enough physicians, nurses and other health care professionals or access to high-quality health care. It's certainly one way to help to eliminate the devastating disparities in the quality of care that have led to too many infants dying at birth, and skyrocketing rates of diabetes, heart disease and HIV/AIDS for some communities.
Our nation's health profession schools have a responsibility to act and to prepare professionals with the right set of skills, qualities and experiences to be successful and to ensure the best health care for our nation's constantly changing population. This obligation starts by making sure that they enroll students who reflect the diversity of the people they serve. It is not a matter of numbers or interest in the lives of these applicants alone -- it is a matter of life and death, wellness and illness, and making sure that each of us receives the best care that can be provided.
Calling all HuffPost superfans!
Sign up for membership to become a founding member and help shape HuffPost's next chapter