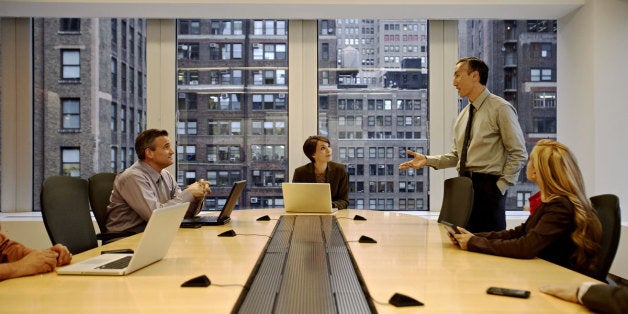 There is no doubt that we need companies whose environments, culture and mix resemble the diversity of our country. In the boardroom and in the mainstream workforce, companies need to look more like the diverse people that live and work in the communities where they do business. I truly do believe that the significance and benefits of embracing a business culture of inclusion and diversity has been heard loud and clear, and that the reasoning behind the push to diversify the workforce is supported. But somewhere between that realization and making it a reality in our workplaces and in the boardrooms, the dots are not aligning.
A 2013 article noted that 60 percent of graduates with bachelor's degrees are women. The challenge, which I've been hearing from hiring managers across several industries, is that the diverse candidates in the applicant pools supposedly do not have the skills that are needed for the open positions. It's unacceptable that diverse skilled talent exists but managers cannot find them. Our opportunity is to ensure that diverse candidates find the right interviews.
While the HR organizations and their recruiters have a role to help us, it is up to hiring managers and business leaders to head the charge and make a real difference in hiring practices.
We cannot wait. We cannot only be willing to embrace diversity when it comes to us. We need to go out into this diverse country, expand the talent pool and ensure that we are hiring the best and brightest. With that in mind, I'd like to share some best practices for managers and leaders (for companies of any size), as well as opportunities that candidates may want to pursue to help connect those aforementioned dots:
1. Diversify the Inner Circle: As long as leaders are surrounded by advisors and executives who are mostly "like them," the ability to build a sustainable diverse workforce will be limited. Career opportunity needs to visible all the way up and across an organization. Leaders need to set the example through exposure, education and walking the talk. Leaders can increase the depth and breadth of employees' knowledge and prepare team members for their future roles through increased exposure.
Instead of sending the "usual" company representatives to a sponsored table or charity function, empower different team members to expand their own networks and demonstrate their ability to step up and grow. At your next black-tie gala, surround yourself with a diverse group of individual contributors who can offer perspective about customers, the company and potentially yourself.
If you're a candidate looking to grow, inquire about such opportunities. Prove your ability to step into a non-traditional space and make the most of the opportunity. More often than one might expect, you will be given what you ask for.
As a leader, it is also important to take time to engage with a broad range of employees. Ask questions and give employees a chance to shine. The same goes for candidates: ask intelligent questions.
2. Build the Talent Pipeline: A company's future leaders will not just appear with all the knowledge they need to effectively step into a new role. It's up to leaders to make sure that employees have been prepared to move into higher-ranking positions.
Ensure you are mentoring and sponsoring diverse talent within your organization. This can be an individual-level development relationship or even a group that you sponsor and engage with on a regular basis.
Give valid, actionable feedback to employees; help create a structure for development plans; and set an expectation for follow-up on those plans. All of this the employee must own. A triathlete has a personalized and detailed plan that will enable him or her to succeed when race day arrives. Career development is no different; without a real plan, the chances for improving performance and getting to the next level are slim.
Mentor our country's youth and be a role model. Engage with students of all ages. This is a chance to help students realize their potential and get tomorrow's workforce excited about your industry or organization. It is also a chance to learn about how they think, how they learn, what motivates them and what you may need to do in the years ahead to ensure they are successful when they take over the helm of your organization.
3. Expand your network (and the potential talent pool) by stepping outside your comfort zone: If your own professional network does not include colleagues at all levels (from early-in-career to senior thought leaders), as well as men, women and minorities, then you will miss the opportunity to diversify the team by adding skilled candidates. It is also critical to engage with this wide range of people inside and outside your organization.
Attend a professional women's conference (regardless of your gender) or engage with a youth group that focuses on empowering young women.
Minority business groups meet regularly and are often attended by skilled professionals who are actively working to grow their network and expand career opportunities - exactly the type of people we need to see at interviews, and great contacts to have for referrals when a position opens. These groups' doors are open to leaders and managers who are serious about increasing the diversity of their teams.
Attend and support social ethnic events in the communities where you live or work and take the opportunity to learn what matters to their culture.
Not only will these types of efforts help with increasing the skilled talent pool, it will also expose you to ideas and insight about inclusion and creating an environment where a diverse team works well together.
We know that it is critical to make sure that we are driving a workplace culture of diversity and inclusion. I truly believe that most companies understand what needs to be done and why. The disconnect is on the "how". The answer lies in our ability to step out into the cultures of diverse talent, work proactively at understanding what it means to be inclusive and make sure that the best candidates for a job have been offered the tools to compete and succeed.
Patrick Finn is participating in the upcoming Women of Impact Conference for Cisco's employees, customers, and partners -- a full day devoted to the development and advancement of professional women. Follow the event at #WOI2014 and learn more on Twitter and Facebook. For more information about the conference, click here.

REAL LIFE. REAL NEWS. REAL VOICES.
Help us tell more of the stories that matter from voices that too often remain unheard.