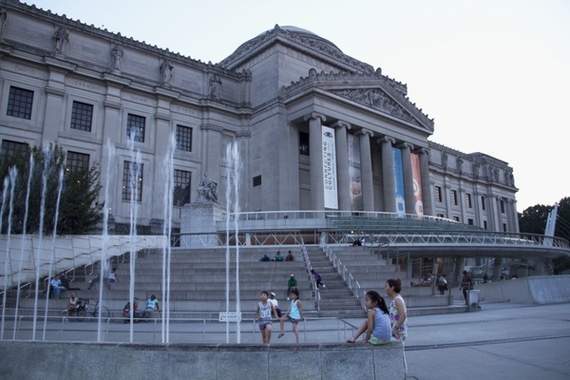 A LOOK BACK, AND FORWARD, WITH THE MAN WHO BROUGHT THE BROOKLYN MUSEUM INTO THE 21ST CENTURY
The Brooklyn Museum is one of the nation's major cultural institutions, and an important cultural attraction for NYC tourists. At the epicenter of the art scene that's happening in Brooklyn, at least a quarter of the Brooklyn Museum's annual visitors hail from afar, from outside the city and also outside of the U.S.
I caught up with Arnold Lehman, the Shelby White and Leon Levy Director of the Brooklyn Museum, who will retire in June 2015. During a nearly two-decades long tenure marked by innovation, he has created both buzz and controversy at the Brooklyn Museum; upended the curatorial program to expand its appeal to a broader, more diverse and some might say popular audience; tied the institution more closely to the borough's immensely varied communities, and vastly increased its attendance and popularity.
In a wide-ranging interview as one of the elder statesmen of the Brooklyn renaissance, Lehman stressed the diversity of the Brooklyn's Museum's audience, the importance of the vibrant community of artists to New York City's cultural prominence. And, he zeroed in on the risk that Brooklyn's multi-year real estate boom could price artists right out of the borough, and out of New York.
"When I arrived at the Brooklyn Museum almost eighteen years ago, our audience was probably already more diverse than any museum audience in the United States. It was already comprised of fifteen to twenty percent people of color, which was a great start. That audience has now grown closer to 45 percent, and the growth is a reflection of the continuation of our incredibly important education and public programs, such as Target First Saturdays--and also of our prominent and engaging exhibition program at the Museum.

As we are committed to making certain that our communities in Brooklyn are reflected not only in our exhibition program but also in our permanent collection, our curators have been very conscious of significantly adding artists of color, from the past and contemporary, to our various collections. We are also highlighting more of our collection that relates to communities of color.

For example, look at what is on view right now. We are presenting Kehinde Wiley, an important African-American and Brooklyn-based artist, in Kehinde Wiley: A New Republic, as well as well as the late Brooklyn-born artist Jean-Michel Basquiat in the exhibition, Basquiat: The Unknown Notebooks. Work by Zanele Muholi, a South African artist who photographed the transgender community there, is featured in an exhibition entitled Zanele Muholi: Isibonelo/Evidence that opens in two weeks.

In the past year, we also relied heavily upon our own exceptional collection to organize the exhibition, Behind Closed Doors: Art in the Spanish American Home, 1492-1898, which was about Spanish Colonial influence in the Americas. Coming up in the fall of 2015 is a major exhibition of Francisco Oller, a Puerto Rican painter who blended his own realist style with the Impressionist style he brought back from his work in Paris with his Impressionist colleagues.

Our curators and educators, and all our staff, work to ensure that our overall program relates to our community, which is not only all of Brooklyn, but all of New York City. And we are totally committed to our mission to be the most accessible and welcoming museum anywhere.

Depending on the season, the Brooklyn Museum's audience is roughly made up of between thirty to forty percent people from Brooklyn. Another thirty to forty percent comes from Manhattan and the rest of New York City. And the remainder are visitors from all across the nation and the world.

New York is expensive. Housing in neighborhoods throughout Brooklyn where artists live and work, from DUMBO - where real estate is now as expensive as in Tribeca - to Williamsburg to Bushwick to Red Hook have all sky-rocketed in cost, potentially driving artists out of New York City. To sustain New York as the cultural capital of the world, the City needs to be committed to artists, and to have a housing formula that focuses both on the artists who are here as well as attracting new artists. And I'm not talking only about visual artists like painters, but also poets and performance artists, playwrights -- artists across the board.

To keep New York's cultural vitality, to maintain our position as the cultural capital of the world, artists of all kinds need think of New York as their home. To do so, they also need to be able to afford to live and work here."
REAL LIFE. REAL NEWS. REAL VOICES.
Help us tell more of the stories that matter from voices that too often remain unheard.