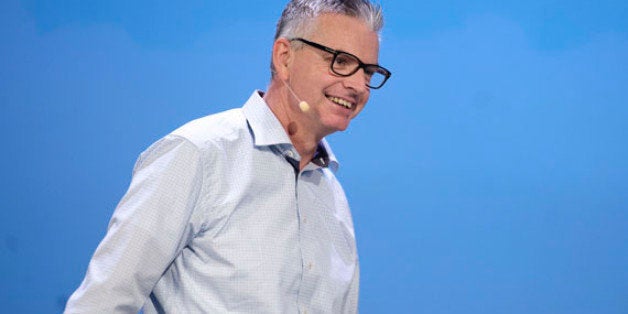 A good metaphor for Skanska's corporate vision may lie in one of its most iconic American projects: the renovation of the United Nations complex in New York City.
Like the storied headquarters of an institution dedicated to bringing the world together, the Swedish company emphasizes bringing people together around shared international values and making the world a better place through transparency and open dialogue.
In today's interdependent world, global companies like Skanska can have a strong voice in the communities they operate in and aim to exercise that voice to uplift humanity. Good corporate citizenship is good business.
"We want to be a responsible citizen. A large corporation like Skanska should take responsibility for things we can have an impact on. It's very important for us to be a role model in business ethics."
Running the company in a profitable way that benefits shareholders' value and at the same time makes the world a little bit better is what drives Johan Karlstrom, the construction giant's global chief executive. According to Karlstrom these two concepts are not mutually exclusive but in fact mutually reinforcing.
"When you understand that profits and a strong values base go together then you have a company that employees are so proud of. We want our team to feel that they're doing something that has a higher meaning, that they feel like 'I'm part of something bigger, part of a bigger puzzle driving society in a positive direction'."
The values underpinning Skanska focus on the "five Zero's": zero accidents, zero ethical breaches, zero environmental incidents, zero losing projects and zero defects, according to the online mission statement. The company tactically implements a strategy to achieve those values in different ways.
By leveraging a variety of tools such as a National Diversity Council in the United States, targeted mentorship programs, inclusive decision-making, diversity training at all levels in the corporation and strategic recruitment focused on ethnic and gender diversity, Karlstrom is clear that diversity is a top goal and will lead to more creativity, innovation and better business writ large.
"Our company should mirror the society it's operating in. If everybody should look like me; white, male, engineer, Johan Karlstrom's everywhere, what a boring company! It's much more interesting to include a lot of different backgrounds, personalities, and types of education and life experiences. It makes a better company and it's much more fun!"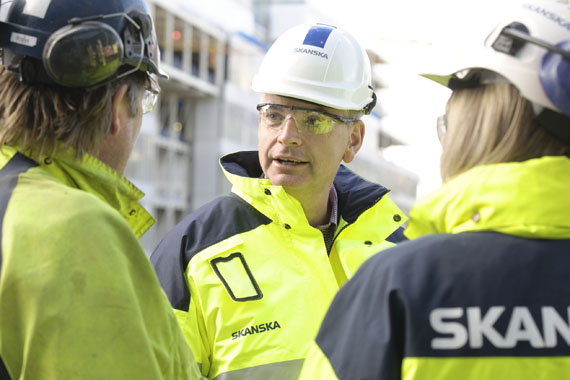 I met Karlstrom for coffee at Skanska's new offices on the day of their grand opening party in central Stockholm. In typical Swedish fashion, the office lay-out is highly decentralized-- with lots of open, central space and no "corner office" in sight for senior management. This is very much in line with the egalitarian values espoused in Swedish culture. The building also "walks the Skanska talk" in terms of sustainability: it beats the already ambitious Swedish code of energy efficiency by 40 percent.
Karlstrom is described as "very American" in his manner by employees, and he greeted me with infectious enthusiasm and emanated positive energy. Whether his style is "American" or not, one thing that was clear is the charismatic CEO's ability to clearly and crisply articulate the vision, goals and priorities of his company and how they relate to society at large.
This is the ninth interview of Swedish change-makers in a series focusing on business leadership and diversity http://www.huffingtonpost.com/natalia-lopatniuk-brzezinski/. See how our dynamic conversation continued below.
Natalia Brzezinski: What is the genesis of Skanska's laser-like focus on ethics?
Johan Karlstrom: In 1997, we faced a huge environmental crisis. Skanska was building a tunnel through the south of Sweden and the water table was poisoned. Cattle died, fish in the creek died, and the company almost went down due to the negative media. We said we cannot let it happen again, this is not who we are.
There can be no mistake on the green side so we started with strict compliance and over time evolved from making sure there were no mistakes to embedding sustainability and safety in the business. Today the mentality is not about avoiding mistakes, but creating good business value through good practices.
How do you convey the message of good business ethics and ensure ethical behavior is followed on all levels throughout such a large company?
Each new employee is trained and a test is administered at the conclusion of that education. But even more important is an ongoing dialogue within the company.
We have an ethics hotline in every single country we operate in. People call in, speak to someone in the local language and get information through a third party anonymously. This allows for whistleblowers to feel comfortable to come forward and for employees to ask what is and is not ethical to do with a certain client or how to handle this or that issue. We post the answers online so all employees can see the results. It's often not about someone having done something legally wrong, but more what is the right behavior today?
On all management levels during ordinary meetings, we discuss cases of ethical dilemmas that are in the gray zone and have an ongoing dialogue on how to act when something is not black or white. It's often not about someone having done something legally wrong, but more what is the right behavior today?
It's not only what's right by the law but does it pass the Financial Times test? I ask my employees-- could you stand up in front of the public and defend this action if it was on the front page of the FT? Is this how you would want Skanska to be perceived?
Twenty-five years ago, you traveled with clients in a different way and interacted with them in a different way than you do today. That relationship has changed and will continue to change. It's important to stay on top of that.
How would you describe your leadership style?
I like to involve people--teamwork. Open Dialogue. I want people to challenge me and I will challenge them back. I don't have all the answers and can do very little alone without my team.
I'm very transparent. What you see is what you get. There's nothing going on behind the scenes or between the lines with me.
I think the leadership style generally in Sweden works quite well in other countries with the business trend toward decentralization today. There are a lot of global business leaders coming from Sweden and part of the answer why is the collaborative leadership style we have here works quite well everywhere in the world.
As someone that has run a company in the United States, what values or culture norms do you admire about Americans?

There is a harder drive in America. A faster speed. "Yes, I can do it!" "Yes, I can and will succeed!" It's a mentality to be the winner, a killer instinct to succeed. That's strong in the U.S.
What are the main challenges to corporate diversity?
Skanska is not a perfect company. We want to mirror the society we are in, but in Sweden we do not. Today, in Sweden 20% of the population is of an immigrant or ethnic background and that's not represented in the company yet.
Bringing people into the company and hiring them is not the hardest part-- it's keeping and promoting them. The biggest threat to failure here is whether we can we think about people not in the old fashioned way that they have to look like me and realize that they can actually look a little bit different.

When we promote people we make sure we evaluate them not only in the old-fashioned way but also on the basis of diversity. Once we attract a great candidate we work very hard to support them in every way so that person will definitely succeed in that role. Realizing diversity in the company will take time but it's definitely something very high up on our priorities' list and I try to walk the talk and set the tone from the top on this issue. It's important to change our thinking, reevaluate and learn how to treat people in a multicultural world, be inclusive and see talent differently.
What advice would you give to a young woman like me if I asked you: 'Johan, I want to break the glass ceiling and be a CEO like you, what should I do'?

I would say to you, Great! I would say to you: if you want to be CEO, you have to believe in what you do. It's about passion! You have to be passionate about the thing you work with. It has to be part of your life, not only a job, you have to live it. If you're passionate about something, people around you will see that and feel the energy. You must also like to involve people and work with people. What can I do alone as CEO? Very little. The success of a company comes from all the people around you. Also be able to describe clearly the direction of the company. Employees need to understand the big picture and that they're adding to that puzzle.
What's the best career advice you've ever gotten?
Follow your heart. Don't think so much about career path, just do a good job.
What future trends are you seeing in business that serve to attract top young talent?
When I go to universities, young people don't ask about the balance sheet or shareholders' returns. They ask about diversity, environmental aspects and business ethics. These are the things that matter to them and the way to attract top talent. When I tell students our story, the journey Skanska has been on that started with an environmental crisis and ended in a complete change in the way we look at business, making profits and that good ethics and responsibility is good business and good profits, they love that!
What projects are you most proud of?

Karolinska Hospital. It's right across from this office. It's a 2 billion USD project--double the size of the Met Life stadium we designed for this year's Super Bowl. We designed the hospital, we financed it, and we're building it and will run it for 40 years as part of a public-private partnership.
In the U.S., we are building a huge tunnel under the Elizabeth River in Virginia, the 2nd avenue line in New York City, the number 7 line from Times Square, the Oculus project at Ground Zero and renovating the United Nations complex. We have rebuilt almost all the bridges around Manhattan!
What is your favorite thing about Stockholm?

Walking around the city and going out in the archipelago to the islands like Sandhamn. It's so picturesque! I love this vibrant city but also to have the archipelago and the countryside so close to the city is fantastic. Stockholm is also getting more international every day and that's exciting!
Popular in the Community