Integration may be the law of the land, but most of the books children see are all white.

-- Nancy Larrick, "The All-White World of Children's Books," The Saturday Review, September 1965
Books transmit values. They explore our common humanity. What is the message when some children are not represented in those books?

-- Walter Dean Myers, "Where Are the People of Color in Children's Books?," The New York Times, March 2014
The bad news is clear: these quotations are separated by 50 years, yet there has been no progress on the issue. In 2012 the Cooperative Children's Book Center reviewed 3,600 titles and found that just 3.3 percent of the books published were about African Americans; 2.1 percent were about Asian-Pacific Americans; only 1.5 percent were about Latinos; and, a mere 0.6 percent were about Native Americans.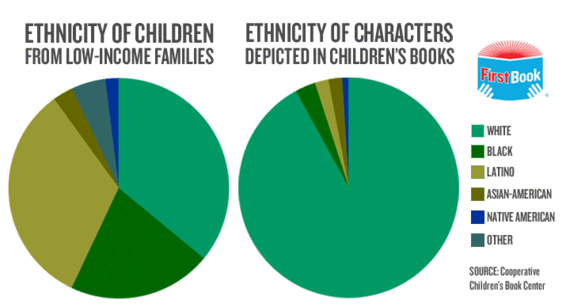 The good news is: This is an issue that people care about. For three days this month, authors, parents, educators, publishers and others raised their voices in a viral campaign, #WeNeedDiverseBooks, to call for more diversity in children's books. #WeNeedDiverseBooks, led by Ellen Oh and a number of other heroes, generated more than 100,000 tweets on the need for diverse books. Participants in the campaign shared personal, vibrant images of what today's communities and families look like: all colors, ethnicities, religious persuasions, sexual orientations and socioeconomic backgrounds. And the #WeNeedDiverseBooks dialogue continues.

The best news is: We can fix the problem -- permanently -- but we have to change our strategy. 50 years of complaining hasn't solved this. The color that is central to this debate is not black or white, but green ($).

So, how do we move from outcry to real change?

The lack of diversity in children's literature is a problem that requires a market-based solution. That starts with understanding the pressures facing the book industry. The consignment design of the industry means books that don't sell at retail are returned to the publisher. This results in higher retail prices to cover the cost of unsold inventory, limiting the market for books to the most affluent.
In addition, bookstores have closed, leaving publishers with fewer retail outlets. And there is increased competition for consumer "entertainment" dollars, including smartphone and tablet games and apps, movies streamed to your TV screen or favorite device, and myriad of other choices. The result is an industry that is even less able to take risks. If the publishers are not certain that a market exists for diverse books, they will be far less likely to publish them.
At First Book, a nonprofit social enterprise, we have already seen that if we put our money where our mouth is, we can help build the market for diverse content. In a survey of the First Book network (more than 120,000 classrooms and programs serving children in need across the United States and Canada), 90 percent of respondents indicated a strong interest in diverse content, stating that the children they serve would be more enthusiastic readers if they had access to books with characters, stories and images that reflect their lives. Perhaps most importantly from a market-building perspective, 92 percent said they would be likely or very likely to buy these resources if they were affordable.
In response, in March 2013, we launched a multi-year effort called the Stories for All Project. We issued a challenge to publishers: First Book would purchase $500,000 worth of books on a non-returnable basis from the publisher offering us the best selection of books by diverse authors, featuring characters, stories and cultures rarely represented in children's literature, at the best possible discounts that still created a profit margin for them. This provided publishers with a guaranteed sale -- removing their risk.
We received bids from 26 publishers; because of the quality of the responses we received, First Book DOUBLED our investment, purchasing a total of $1 million in books from two publishers: HarperCollins Children's Books and Lee & Low Books.
As a result, First Book made 650 culturally relevant titles available to our network, including content reflecting African Americans, Native Americans, Asian Americans and Pacific Islanders, LGBTQ, special needs and abilities and others.
Recently, we launched the next phase of the Stories for All Project, requesting proposals from publishers in two categories: books from "new voices" never before published, and books in new affordable softcover editions previously available only as expensive hardcovers. We will purchase 10,000 copies of every title we select, investing hundreds of thousands of dollars. And our selections will be available through First Book to educators and programs serving children in need, both in the U.S. and globally.
This will not only bring diverse content directly to children in need, but will also demonstrate to the publishing industry that there is a strong market for a full range of books and authors.
But we can't stop there. Providing more diverse content is critical to all children. Our children are growing up in a much more diverse world than most of us did -- at school and in their future workplaces -- and it's critical that they have multicultural content that reflects the world.
If we are to fix this problem permanently, we all need to put our money where our mouths are. Buy a selection of diverse books for baby shower gifts. Make sure your local classrooms and programs have a wide array of culturally rich books. If you know a teacher or program serving children in need, tell them about First Book so they can register online and access great books. Purchase books for your and other children, and when you do, make sure your selections include books that celebrate our differences and help us embrace our similarities.
This is just a start. If you have other ideas regarding things First Book can do or want to share what you are doing, I invite your comments and your suggestions. The most important thing is that we stop just talking about this and start taking action.
Popular in the Community