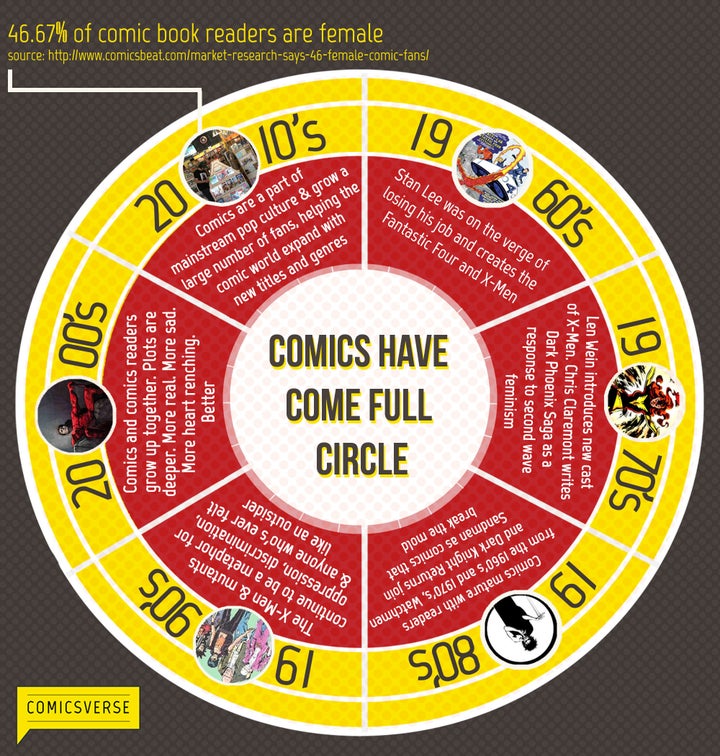 Diversity and representation. Many claim it's a recent hot topic, a push from fans and critics alike to portray individuals who aren't simply white. There are some who argue — and in minor instances they may be right — that inclusion is simply a cash grab. But really, it's hard to argue that representing the world at large is anything but a good thing. The Earth's population is so much more than what you see than on shows like Friends and House of Cards. But why is there a push back? Why do some claim inclusion is a bad thing?
A Complicated Diverse History in Comics
This is a loaded question, so it's best to narrow it down to one medium: comic books. Comic books have quite an interesting history with diversity, and the perspective you choose to look through will also give you different results. Generally speaking, there are many who will rightfully say the history of comics, particularly Marvel and DC, are very whitewashed. This is certainly true, and it's evident when you hear fans crying "that's not my Spider-Man" in reference to Miles Morales, the new incarnation of the webslinger instilled into comics in 2011. Miles is half black and half latino, a much different portrayal than the beloved anglo saxon Peter Parker that debuted in 1962.
The X-Men: The Original Diverse Comics Team
But then there is another viewpoint that must not be forgotten. Diversity has a niche in comics, particularly with the X-Men. Known for being a representation for minorities, the X-Men have been the catalyst for diversity in Marvel since their conception. The 1975 team in Giant Size X-Men #1 debuted a plethora of diverse characters, and the 1982 New Mutants gave us even more variety with characters like Sunspot, Mirage, and Karma. While this was only a small faction of Marvel, these were arguably some of the most interesting books by Marvel at the time. Writer Chris Claremont introduced and utilized diversity in such a natural way, a lesson quite a few outlets should pay attention to today.
Of course these two titles weren't perfect in representation. They were a bit stereotypical at times, and the creators of New Mutants — Chris Claremont and Bob McLeod — are white males themselves. In fact, in an interview with ComicsVerse, McLeod admits wishing he had more time to work on the New Mutants so they were less stereotypical. Bob eventually left the book while writer Chris Claremont remained, who wrote the title consistently for over fifty issues.
While Chris Claremont was progressive for his era, the experiences he was depicting in the lives of characters like Warpath and Mirage (who are Native Americans) were not authentic. In the ComicsVerse podcast Episode 68: Marvel's NEW MUTANTS, the team notes the importance to "start a conversation about these cultures and talk about mainstreaming and talk about why there aren't as many brown and black artists." The cast of this podcast go on to discuss the dichotomy of white artists representing other cultures and people of color representing their own culture. While the X-Men and New Mutants were groundbreaking for their time, some of the heroes do tiptoe around being token characters. To put it simply: the stories were educational and beneficial, but they were not perfect.
A Modern Approach to Diversity
And overtime, things have gotten conceivably better in comics. Heroes like Luke Cage and Black Panther have become extremely mainstream. Journalist Ta-nehisi Coates even took over Black Panther after Secret Wars ended, the Marvel event that shook up the entire universe and changed the status quo a bit. Coates brought in fresh air to the medium for a few reasons: he has a more political background in writing, and he's a black man writing about a black character. Black Panther played such a pivotal role in Jonathan Hickman's Avengers and Secret Wars that fans were going to flock to the book no matter who was writing it. It was an excellent move by Marvel to have a person of color writing such a book.
Marvel's determination to hire other non-white male writers continued with the creation of Kamala Khan, the new Ms. Marvel. Kamala, a teenage muslim girl living in Jersey City, has been called by some the new Peter Parker. She's awkward and nerdy yet strong and loving. Writer G. Willow Wilson and editor Sana Amanat, both women of the muslim faith as well, created the character in 2013 and haven't looked back since. The series has been on the New York Times Bestseller list, a true indication that this is high quality material. In an interview with Makers, Amanat starts off by noting "authentic storytelling is powerful." Ms. Marvel works because she's well rounded. She wasn't created to be a token character.
Seeing More Than Whiteness
In another podcast by Comicsverse, titled "Episode 88: Islam and Marvel's Muslim Women," panelists discuss the evolution of Muslim representation in Marvel. Respective X-Men Monet St. Croix and Dust are discussed in great detail, noting their strong characteristics alongside their stereotypes. Naturally, Ms. Marvel is also analyzed, and the podcast should be checked out for more detail. But what's most fascinating is when her ideals and admirers are mentioned. Anika Hossain, a panelist on the podcast, claims Ms. Marvel had such a profound influence on her life as a muslim from Bangladesh living in America: "[Ms. Marvel] made me realize that I don't want to be anyone other than a stronger version of myself, that I don't have to change my color or my values to be an influential figure to the world."
This is coming from a woman who wasn't a big fan of comics before the introduction of Ms. Marvel. But the book was so strong and successful that it made her reach for it. This is the kind of effect that comic fans and creators love to see, and it's an important one. What makes the comic medium so interesting is that it combines words and pictures. You actually see the representation of the character, something a book doesn't exactly do. This allows the opportunity for a kid to say, "hey, this Jersey City girl actually looks like me," or, "oh wow, Spider-Man is black: just like me."
And this is key, not only for individuals to see themselves portrayed in an entertaining medium, but also for others to see multiple cultures represented. When only white males are being shown as the hero, something is wrong. Pulitzer Prize winning author Junot Diaz in a speech at Bergen Community College talks heavily about the need to have non-white representation:
"YOU KNOW, VAMPIRES HAVE NO REFLECTIONS IN A MIRROR? THERE'S THIS IDEA THAT MONSTERS DON'T HAVE REFLECTIONS IN A MIRROR. AND WHAT I'VE ALWAYS THOUGHT ISN'T THAT MONSTERS DON'T HAVE REFLECTIONS IN A MIRROR. IT'S THAT IF YOU WANT TO MAKE A HUMAN BEING INTO A MONSTER, DENY THEM, AT THE CULTURAL LEVEL, ANY REFLECTION OF THEMSELVES. AND GROWING UP, I FELT LIKE A MONSTER IN SOME WAYS. I DIDN'T SEE MYSELF REFLECTED AT ALL. I WAS LIKE, "YO, IS SOMETHING WRONG WITH ME? THAT THE WHOLE SOCIETY SEEMS TO THINK THAT PEOPLE LIKE ME DON'T EXIST? AND PART OF WHAT INSPIRED ME, WAS THIS DEEP DESIRE THAT BEFORE I DIED, I WOULD MAKE A COUPLE OF MIRRORS. THAT I WOULD MAKE SOME MIRRORS SO THAT KIDS LIKE ME MIGHT SEEM THEMSELVES REFLECTED BACK AND MIGHT NOT FEEL SO MONSTROUS FOR IT."
When something is considered groundbreaking because it actually has a black character defying stereotypes (looking at you, Jon Stewart from Justice League), we have to look at society, not the television show. Are we okay with this?
I don't think we should be. I look at books like Al Ewing's current run of Ultimates. The lineup is strong: Black Panther, Captain Marvel, Blue Marvel, America, and Spectrum. It's possible you only recognize two or three of these names, which is totally fine. Ewing's cast can appear a bit random depending on your reading history, but it is quite organic. Even better: three characters are female and four are people of color, three of whom are scientists and use said science knowledge in the book itself. They formed pretty organically after Secret Wars, and the chemistry works well. Nothing feels forced, and no character is there just to be there.
Why do I mention Ewing's Ultimates? Because this is what we need to see more of. The days of just having one black character or one Asian character on a team need to be put behind us. It's outrageous, and it isn't representational of real life. When there's just one character who isn't white, this puts an immense amount of pressure and outrageous expectations. The character almost has to be perfect, or else both sides of the diversity argument will point out what is wrong. But when a cast is naturally diverse? It allows more outlets. The focus can remain on their race but also on their character development. And that focus is spread out amongst the cast, as there's less pressure to make that one character perfect. Everything becomes more organic, just like real life.
But, this ideal can't just happen. Why would it ever be that easy?
Comic books are produced by publishers, and those publishers are a business. A business' end goal, no matter how liberal or conservative or whatnot, is to make money. If they know they won't make a profit — or worse, that they'll lose profit — then the venture won't be explored. It sounds like capitalistic greed but it's also capitalistic practicality.
But we need to look at what this means for comics. It means that you need to actually buy the books you like. You need to go out to a comic book shop and pick up Wilson's Ms. Marvel. Or Stohl's The Mighty Captain Marvel. Or DeConnick's Bitch Planet. Or Rivera's America.
When asking ComicsVerse CEO, Justin Gilbert Alba, how the recent outspoken push from fans for diversity in writers and characters affected the industry. He said: "Unfortunately, the push from fans for diversity in creators and characters only represent a loud minority. All too often, comics with diverse characters and creators are cancelled due to sagging sales despite critical acclaim. In regards to Marvel particularly, I applaud their attempts to make comics mirror the people who read them. That isn't to say there isn't a lot more that can't be done, there definitely is. In my opinion, if we want real change in terms of minority representation in comics and comic book creators, there's going to need to be a perfect storm of the right creator, the right characters, organic change, and a great marketing campaign with a definitive push for comics to reach new markets who, maybe, didn't feel fully included in the past."
Did you read Charles Soule's She-Hulk a few years ago? Probably not, because it dropped after twelve issues due to poor sales, despite the book being incredible. Or more recently, Coates' Black Panther & The Crew, which has been slated for early cancellation due to poor sales, despite the first issue receiving high reviews. And if you're more into television and film, just look at Arrested Development. Poor viewership terminated that show despite its universal praise.
I mentioned the above books because they all have such strong diverse characters, a few of whom are people of color. They're amazingly well-written and they have lessons for all walks of life. But I'd argue that many who are calling for these types of books aren't going out and buying them. Just like with voting, people are expressing what they want on social media. However, they're not physically going out to make a difference. Well, here's a plea to do so.
Read up on who's writing what and go out to a local comic shop and pick up a new issue. You'll be contributing to the greater cause in so many ways worth more than $3.99.
Popular in the Community