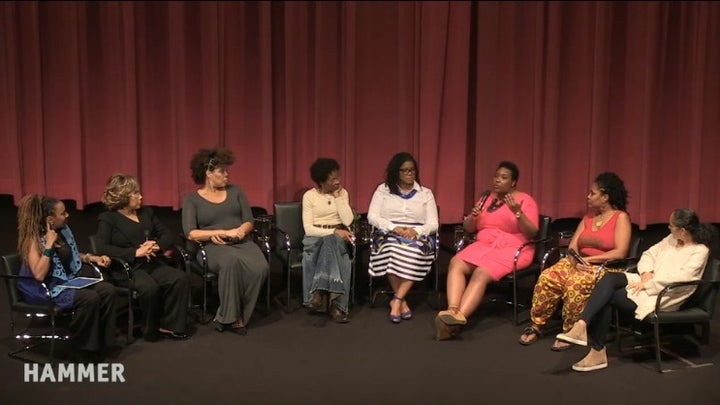 The conversation about diversity in Hollywood continues and was one of the topics of discussion at a recent panel discussion, "The Not So Silver Screen: Black Women in Media." The event took place at the UCLA's Hammer Museum , where panelists addressed compelling issues about the lack of adequate representation of African American women in both television and film.
The inspiring and provocative discussion was moderated by attorney and university professor Kimberle' Crenshaw, and the panel included legendary actress Diahann Carroll, veteran casting director Tracy "Twinkie" Byrd, and accomplished filmmaker Gina Prince-Bythewood. Other panelists included film/television/theater actress and director LisaGay Hamilton; veteran theatre and television actress Tonya Pinkins; , university professor (race, representation, and media studies) Kristen Warner; and founder/editor of BroadwayBlack.com and #OscarsSoWhite creator April Reign.
The distinguished panel represented many decades of diverse talent in the entertainment industry. Carroll recalled her acting career which started in the mid 1950s, and Pinkins discussed her entry into television via a commercial appearance in the 1970s. Hamilton's film acting debut was in the 1980s, and the 1990s marked the start of casting director Byrd's career and filmmaker Prince-Bythewood's work on "A Different World." In the late 2000's both Warner and Reign made contributions to higher education and the entertainment industry respectively regarding the need for more diverse representation in Hollywood.
Moderator Crenshaw initiated the discussion with alarming statistics of the under representation of African-American women in film and television. Crenshaw pointed out that between 2014 and 2015, only two of the 407 directors of television and film were African American women. In 2015, no African-American women were credited as directors or writers in major films, and of the 168 films released during that time only two featured African American women as lead actors.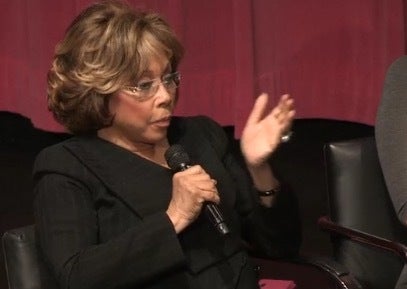 Carroll, who still looks fabulous in her early 80s, was asked the question whether there was ever a "golden age" for a black female actresses. Her response was epic; she stated, "There was never a time when we were afraid we might be overbooked." Carroll was the first African American woman to star in her own television series which was entitled "Julia;" the first episode aired in 1968.
Pinkins shared her challenges as an African American woman in Hollywood. She recalled the frustration of trying to find someone to do her hair and make-up. She stated that after 40 years in the entertainment business, it was not until she worked with African American filmmaker Ava DuVernay two years ago that she had her first ever hair and make-up test for the camera.
Fellow actor Hamilton, who was a member of the ensemble cast of "The Practice," noted her challenges of always being characterized as the "best friend" of any given white lead actor. Hamilton stated that these roles made her feel like the "nanny."
The panel discussion also included very thought-provoking issues such as African American women being cast and ranked according to skin color and body type.
Another hot topic discussed by the panelists was the marketing and promotion of films featuring African American lead actors. Filmmaker Prince-Bythewood, who currently has a television series on Fox entitled "Shots Fired" starring African-American lead Sanaa Lathan, discussed her challenges with promoting and marketing films. She emphasized the need for marketing strategists not to label films starring African American actors as "black films" but rather to categorize these films according to genre such as drama, romance, or action film like every other Hollywood films.
Reign discussed the need for African-American characters in film and television to be more multi-faceted. Warner agreed with this premise and presented the example of Viola Davis' character in "How to Get Away with Murder" who shatters stereotypes by being both brilliant and flawed. Casting director Byrd pointed out that such a three dimensional African American lead character was also important to her when casting Gabrielle Union as the lead and other supporting actors for the television series "Being Mary Jane."
The panel emphasized the significance of having more African-American women represented in film and television. Byrd noted that African American women need to know "their power and their worth" not just in front of the camera but also in terms of the stories they want to tell and who and how those stories are told. Prince-Bythewood noted that the images of African American people on screen matter; this was demonstrated by the increase in the number of African-Americans attending college/university (particularly historically black colleges/universities) while "A Different World" was initially aired. She stated, "We have got to be more visible. People have to see our humanity." That sentiment was shared by the rest of the panel who recognized that more diverse representation of African American women on film and television is not just about entertainment but also about truth in storytelling and history.
Click the link below to view the video:
Support HuffPost
Every Voice Matters
Popular in the Community