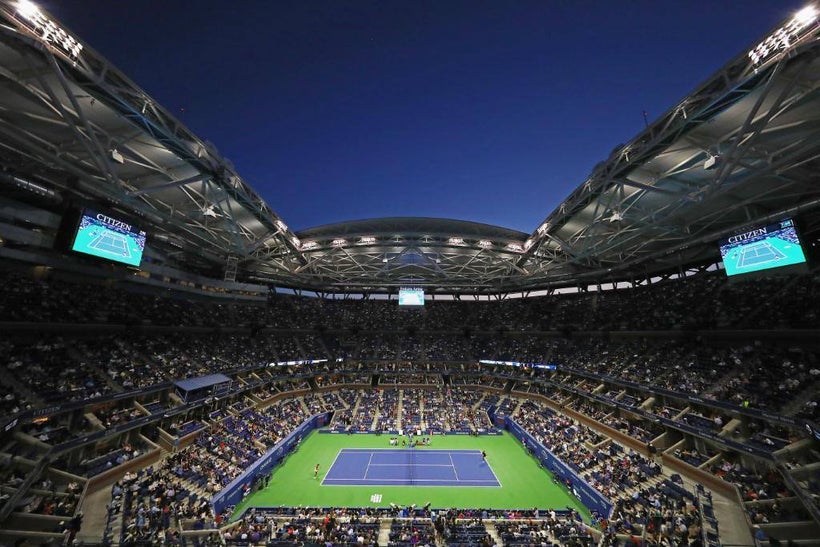 THE RANGE | a series of things in a line | an aggregate of individuals in one order | a direction line | a place that may be ranged over | the region throughout which a community naturally lives or occurs | scope | set of values a function takes on
Diversity & Inclusion in Sports: THE RANGE | A Diverse & Inclusive American Tennis Landscape
"Today's generation of kids is the least active in history," Caitlin Morris, Nike's Community Impact general manager said in a statement released last week during the Aspen Institute's convening of sport and society leaders at the 2017 Project Play Summit. 
"No one can solve this problem alone."
Increasing the number of youth who get and stay active will save tens of billions of dollars in direct medical costs and economic productivity losses alone, according to an analysis by Johns Hopkins University researchers. 
Research shows that engaging children in sport and physical activity unleashes a virtuous cycle that bears myriad rewards for individuals, families, and society. 
"Physical activity not only makes kids feel better and helps them develop healthy habits, it's also good for the nation's bottom line," Bruce Y. Lee, executive director of the Global Obesity Prevention Center at the Bloomberg School of Public Health, said earlier this year.
"Our findings show that encouraging exercise and investing in physical activity such as school recess and youth sports leagues when kids are young pays big dividends as they grow up," said Lee.
Led by Katrina Adams, the United States Tennis Association (USTA) recently launched Net Generation, a youth tennis brand and initiative that aims to get more kids from around the country involved in tennis and combat the startling statistics cited in Lee's study.
Net Generation, also serves as the pathway between coaches and trainers and kids ages 5-18 who want to take up the sport.
Coaches, schools and clubs nationwide can register and obtain approval from the USTA after a background check. Parents are able to get in touch with the approved clubs, clinics and coaches on the Net Generation website and app and enroll their children into in programming. 
"The accessibility of the sport isn't as hard as people think," said Any Choyne, USTA marketing chief. 
"Two of the factors we found in research and understanding our players is accessibility of the sport and also the price of the sport. We are trying to combat that with a lot of the work we are doing and also the diversity of the sport."
"The USTA mission overall is to promote the game of tennis and to get more players," Choyne stated in an interview with Adweek last month. 
"With Venus and Serena and their ascension, and you had a lot of kids that saw them and wanted to be like them. It's like any sport, any major athlete like Michael Jordan in basketball, everybody wanted to be like Mike," Adams told Charlie Rose on "Tonight on Charlie Rose" .
"So, then we had our little African-American girls who said, I want to be like Venus or like Serena, but it also transcended to anybody of color that really started to gravitate towards them. That's how we were able to really get a lot of our African-American players both male and female into the sport in the last 20 years," said Adams, chairman, CEO and president of the USTA.
"When you look at the professional rankings right now and you see not only Venus and Serena, but Madison Keys and Sloane Stephens and Taylor Townsend and Sachia Vickery. The list goes on. Vicky Duval."
"You can really see how these players that started the sport because of Venus or Serena, how it's really paid off," said Adams.
Athletic participation for kids ages 6 through 12 is down almost 8 percent over the past decade, according to SFIA and Aspen data, and children from low-income households are half as likely to play one day's worth of team sports than children from households earning at least $100,000.
"All that matters is if kids come from a family that has resources. If you don't have money, it's hard to play."
Almost 45 percent of children ages 6 to 12 played a team sport regularly in 2008, according to Aspen data. Now only about 37 percent do.
Experts blame that trend on what they call an "up or out" mentality in youth sports. Travel leagues, ones that sometimes can cost thousands of dollars to join, have crept into increasingly younger age groups, and they take the most talented young athletes for their teams.
Farrey said those kinds of trends make sports look like they are for some kids, those with enough money and superior skill, and not everyone. He hopes Aspen's new coalition of sport organizations will help more kids gain access to fun athletic experiences.
"Success looks like every kid in this country having the opportunity to play sports," he said, "and develop habits of physical activity for their lifetime."
"Progress depends on the connecting of silos," said Farrey. "We look forward to facilitating the effort and helping identify opportunities."
"We believe that together we can help more kids play sports. Our mission is to inspire young people, and to provide a pathway to participation, for every athlete, from every background, for every sport," said Justin Kaufenberg, CEO of SportsEngine, an NBC Sports Group company billed as the home of youth sports . 
Adams shares Kaufenberg's sentiments. "There are so many other opportunities out there these days with our youth," said Adams.
Diversity & Inclusion in Sport: HOME ON THE RANGE | 2017 US Open Tennis Championships inspires the Next Generation --- Diversity & Inclusion in Sport: THE RANGERS | The Lone Rangers of American Tennis --- Video and Photo Gallery: Diversity & Inclusion in Sports | HOME ON THE RANGE | THE RANGE | THE RANGERS
Calling all HuffPost superfans!
Sign up for membership to become a founding member and help shape HuffPost's next chapter
This post was published on the now-closed HuffPost Contributor platform. Contributors control their own work and posted freely to our site. If you need to flag this entry as abusive,
send us an email
.