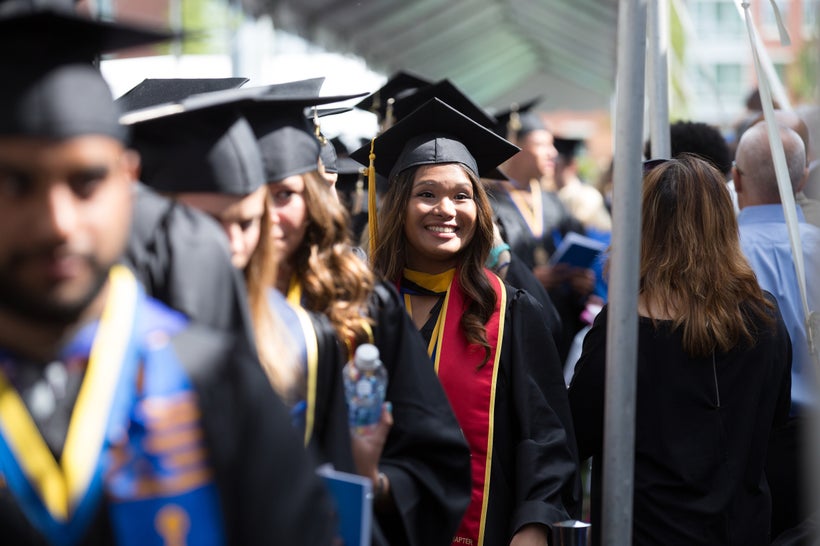 As an aspiring lawyer coming up during the civil rights movement, I knew at a young age that diversity and inclusion were not nice-to-haves, they were must-haves, both in the workplace and in our society. Decades later, I became president of a business university where unfortunately these issues remain ever-more pressing. It is our job as a university to help students recognize that their view of the world may be different than that of those with whom they live, learn, and work. We do this through co-curricular programming, institutional policies, and academic courses. If we're going to set students up for rewarding and successful careers and lives after they graduate, this work is imperative.
I know first-hand that the ability to have diverse interactions with peers who think differently drives critical cognitive development for young adults. It forces them (and us) to try and make meaning out of different perspectives and ask the question, "how can someone I like so much feel so differently about a particular issue?" My VP of student affairs Andrew Shepardson told me about a recent conversation with our coaching staff where he encouraged coaches to ensure their athletes were having diverse experiences—likening it to strength training. Muscles don't grow if they are not challenged and neither will the brain. Dean Shepardson reminded coaches that they would not tell an athlete to stop working out the first time it was uncomfortable or hard. Nor would they abandon them when they needed support. The same is true for diverse interaction. And like working out—most of us need encouragement to do so.
Simply put, college students need to know how to navigate issues of diversity if they are going to be successful in the workplace. We are living in a world of complex divisions and tensions that have an impact on our work environment, and companies that embrace diversity have been shown to outperform those that don't.
As an example, when it comes to the advancement of women, according to one study, the United States could add up to $4.3 trillion in annual GDP in 2025 if women were to attain full gender equality. That's "trillion" with a "T"! The study found that every US state and city could add at least 5 percent to its GDP in that period by advancing the economic potential of women. Another study shows how far we still have to go when it comes to women's equality in the workplace. In 2017, only 1 in 5 C-suite-level employees is a woman and less than 1 in 30 is a woman of color. Of the Fortune 500, only 4.2 percent are run by women, down from last year, making the total number of women CEOs 21 – out of 500 companies. This is not just a major social issue, it's a financial issue, and a big one at that.
Millennials and Gen Z are entering the workplace both with great optimism and worldly vision —but they are also intolerant of institutions that won't change to address their particular strengths and culture. This means, business better get on board with evolving when it comes to diversity and inclusion because it is more important than ever to the next wave of their workforce. When I came to Bentley, this above all was clear: it wasn't up to students to change to suit an older model of learning. The question for both business and higher education is how universities and companies can adapt to them. Their learning, attitudes, and skills will define the economy and culture for decades to come.
REAL LIFE. REAL NEWS. REAL VOICES.
Help us tell more of the stories that matter from voices that too often remain unheard.
This post was published on the now-closed HuffPost Contributor platform. Contributors control their own work and posted freely to our site. If you need to flag this entry as abusive,
send us an email
.