By Dick Hurd and Jonathan Lash
Students on major campuses nationwide have been campaigning for their colleges to divest from fossil fuels, hoping to force action on climate change. Too often the first response of administrators and trustees in rejecting divestment is, investment decisions must be made solely on financial considerations and never subject to moral and political questions. That argument—making money is too important to allow talk of morality, social well-being, or the future of the students for whom the institution exists—is discordant for a mission-driven institution.
Organizations can align their investment strategy with their educational and social mission, without forfeiting financial returns.
The Daoist philosopher Lao Tzu observed that "the best way to teach is to be." Students learn not just from professors but from the entire culture of their school. Every decision by faculty and administrators, whether on standards for free speech, curriculum, design of buildings, or how to invest endowment funds, has an impact.
About five years ago, environmentalist Bill McKibben, a friend of our college, timed a campus visit to challenge us to join his 350.org campaign and divest from fossil fuels. We checked and found our policy had already led us away from these investments. Our students celebrated this finding, and as a result, we were widely credited as the first college to be divested from fossil fuels.
Why were we naturally divested?  Since 2011, Hampshire College has published an Environmental, Social, and Governance (ESG) Investment Policy to manage its investments using positive screens—a strategy of choosing investments based on positive attributes aligned with our values, rather than having to later divest from those that are not.
One might think this is a risky approach for an under-resourced college.  But since verifying in 2011 that the college is divested from fossil fuels, our average five-year investment returns have performed better (6.4%) than the average return of the more than 800 colleges tracked by both NACUBO Commonfund Study (5.4%) and Bloomberg Endowment Index (4.5%).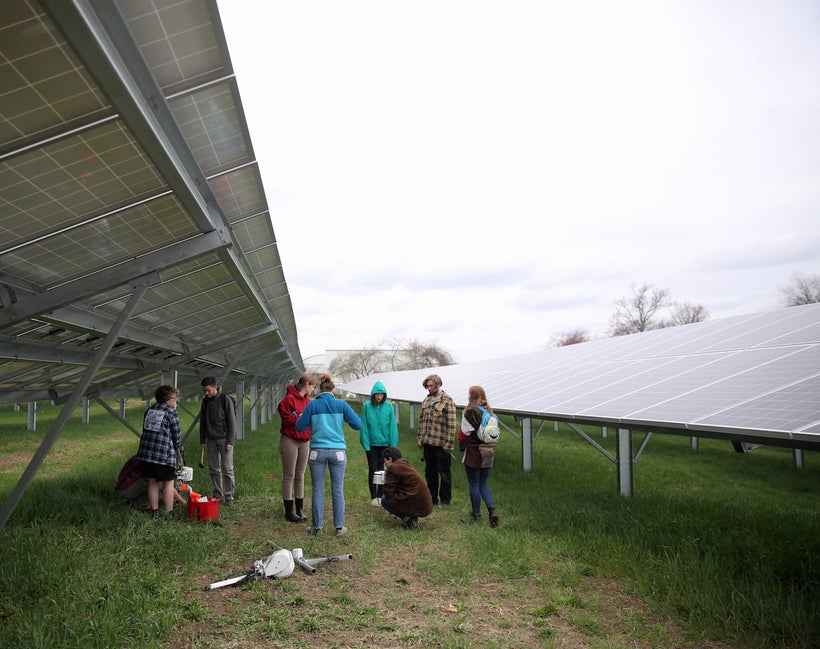 Hampshire's exposure to fossil fuels at present is <0.2% of Total Managed Funds (defined by Fossil Fuel Free Index's Carbon Underground 200). Our policy has worked for the college both educationally and financially.
There are legitimate arguments that divesting from fossil fuels isn't an effective strategy to catalyze climate action, and debating those with students can be an opportunity for learning. But a refusal even to consider the moral and social implications of investments suggests those decisions are not defensible, and that an institution doesn't live by its own standards. That's ironic, considering the founders of most US private colleges viewed moral education as a compelling purpose.
A few years later, in 2015, when a group of students demanded we divest from private prisons, we checked our funds and found no identifiable investments in that sector either. Our students' actions spurred us to become even more transparent. Our trustees amended our policy to more explicitly disfavor investments not only in private prisons and security firms but also weapons makers and fossil-fuel businesses. We began conducting regular reviews of our holdings to ensure screening of disfavored industries, and providing the campus with quarterly reports on holdings. We've worked hard to identify investment managers whose philosophies complement ours.
Is our strategy "prudent" and true to our fiduciary duty? As our investment returns demonstrate, we've made no compromise. In fact, there's an accelerating trend toward ESG investing among private investors nationwide. Lots of data from successful financial firms show that ESG investing performs comparably to non-ESG investing. (One reference is The Business Case for ESG Investing from the Boston-based Intentional Endowments Network, of which Hampshire is a founding member.)
Mission-driven organizations can reach their financial goals by investing intentionally across all types of assets—equities, bonds, hedge funds and alternatives as well as private equity—and stay true to their values without risking their integrity or reputation.
Among common steps to pursue such a strategy are:
Writing an investment policy aligned with the organization's mission, values and sustainability goals
Educating the organization's investment decision-makers on ESG investing
Directing external investment managers to commit to continual alignment with the policy and frequent reporting on progress against it
Promoting the policy and performance against it to the organization's constituents.
Divestment isn't the only tactic available to progressive managers. A growing number are choosing to invest to strategically exert influence by supporting those companies that offer solutions to social challenges. This is an approach espoused by organizations such as PRI (Principles for Responsible Investing) and Ceres in their work with large institutional investors and companies. An illustration of this approach is if Ceres were to advise an investor to match "fossil-free" actions with "invest-in-green" ones.
When trustees and endowment managers in higher ed bring more intention and attention to their investing, they're also helping achieve another goal: to serve their educational mission by creating a channel for regularly engaging with students on issues of strategy and values.
Dick Hurd is a trustee of Hampshire College and an investment manager and director of research at Mayo Capital Partners in Boston.
Jonathan Lash is president of Hampshire College, and former president of the World Resources Institute and co-chair of President Bill Clinton's Council on Sustainable Development.
Calling all HuffPost superfans!
Sign up for membership to become a founding member and help shape HuffPost's next chapter
This post was published on the now-closed HuffPost Contributor platform. Contributors control their own work and posted freely to our site. If you need to flag this entry as abusive,
send us an email
.