Philadelphia and Pittsburgh with Alabama in the middle. That's James Carville's pithy verdict on the political map of Pennsylvania. From the big-picture perspective of presidential politics, he's right (with some qualification). But all that "Alabama" in the center of the Keystone State is no monolith.
Different ways of life are packed closely together in the south-central region, where I lived for several years. Four tiny cities, including the capital of Harrisburg, feel genuinely urban but give way quickly to sprawling suburbs, followed by farmland. Harrisburg is home to a thriving gay community (most visible is the Stallions nightclub, across the street from the state Capitol). Racial minorities account for between 13 and 20 percent of residents in the four metro areas of Harrisburg, Lancaster, Lebanon and York. Immigrants add to the social mix -- as do the insular Amish, whose patience with gawking tourists is a major economic asset.
But the diversity is marked by divisions. One of these gulfs is typically American -- the familiar racial and economic gap between city and suburbs. The scale is smaller, but the differences just as stark, with black and Hispanic populations concentrated in the poverty-stricken cities. Another divide is particularly Pennsylvanian -- the commonwealth is fragmented into hundreds of municipalities and school districts, making politics beyond the parochial level an electrified jigsaw.

What to do? Relax and get lunch.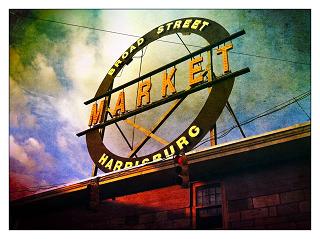 See, when Central Pennsylvanians of all stripes do just that, many of them end up in the same place -- the Broad Street Market in midtown Harrisburg.

"Where else are you gonna get good food like that?" Levi Smoker, 66, said as he waited for an order of shrimp near one of the market's lunch counters on a recent Friday. "I mean, down-to-earth good stuff."

[Photo: Courtesy Kevyn Bashore]
Broad Street has the usual attractions of a good farmers market -- the colorful produce stands, the pastry wonderlands, the fresh cuts of meat and fish jumping off the ice. But it also enables a level of mingling that is rare for Central Pennsylvania, and the nation at large.
The vendors themselves are a colorful palette, including Amish, Asian and black merchants. The market sits a few blocks back from the river, right on a border between Harrisburg's gentrified and poor zones. Residents from both sides relish a taste of the fresh food that is so difficult to find in urban environments. Suburbanites come for an alternative to the impersonal superabundance of their grocery stores. Downtown office workers buzz about in search of a quick lunch.

All of these worlds spill easily into the big market building. Smoker told me he grew up Amish, but left the community as a young man. Now, he said, he works at two laundromats and a car wash -- but he still finds time to tool over on a slender, ancient-looking scooter. A young couple let me sit at their table and told me they had just come from Penn State, fresh with diplomas, to start working in the area. A man who had greeted me cheerfully on his way into the market bantered with a vendor -- "Hey, what's going on?" the vendor said. "Where the f*** you been?"

"Been locked up."

Of all the people I spoke with, only one man, Corey Jett, brought up this diversity of his own accord -- maybe because diversity can be awkward to talk about, or maybe precisely because here it appears in such an easygoing form.

"It seems like everyone's very greeting," Jett said. "You can strike up some great conversations."

In an America where racial separation remains a persistent fact of life and where we worry so much that we are being parceled into increasingly disparate political communities, that is no trivial matter.

Central Pennsylvania desperately needs more places like the Broad Street Market -- and so do the rest of us.
Popular in the Community