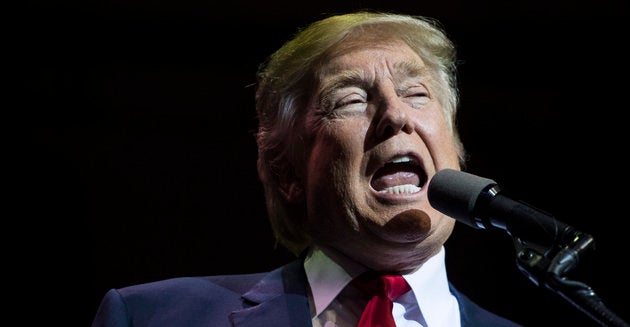 Donald Trump says he is not to blame for the racial tensions in the country. This comes on the heels of a divisive presidential election campaign season and being named Time Magazine's person of the year.
Time notes, "For better or for worse [Trump] has done the most to influence the events of the year" with the accompanying headline, "Donald Trump: President of the Divided States of America".
On Wednesday's edition of NBC's "Today" show, Trump responded to Time's take on the country as the "Divided States of America" saying, "When you say 'Divided States of America', I didn't divide them. I'm not president yet, so I didn't do anything to divide."
Since Trump won the presidential election on November 8, there has been a national spike in hate crimes and racist graffiti in schools, at places of worship, work and in public spaces.
Ten days after the election, the Southern Poverty Law Center counted 867 cases of hateful harassment or intimidation across the country, and regrettably, the number continues to grow. This week, the NYPD said there has been a 115 percent increase in hate crimes across the city, the latest of which includes an attack on a Muslim Metropolitan Transportation Authority employee who was shoved by a man, down a flight of stairs at Grand Central Station after calling her a "terrorist."
Governor of New York, Andrew Cuomo decried the incident on his Facebook page and said New York would continue to be diverse and inclusive. "We do not allow intolerance or fear to divide us because we know diversity is our strength and we are at our best when we stand united."
The primary targets of the attacks have been Jews (24 of the 43 reported attacks), Muslims, members of the LGBTQ community and people of color. Last month, Trump gave a minimal plea to his supporters who were committing the acts of violence, saying, "stop it" on 60 Minutes.
The president-elect joins the likes of both questionable and lauded world leaders to make the cover of Time, including Adolph Hitler, Joseph Stalin who made the cover twice, Ayatollah Khomeini, Barack Obama and Bill Clinton.
Time's editor-in-chief, Nancy Gibbs wrote:
"So which is it this year: better or worse? The challenge for Donald Trump is how profoundly the country disagrees about the answer. It's hard to measure the scale of his disruption … For reminding America that demagoguery feeds on despair and that truth is only as powerful as the trust in those who speak it, for empowering a hidden electorate by mainstreaming its furies and live-streaming its fears, and for framing tomorrow's political culture by demolishing yesterday's, Donald Trump is Time's 2016 person of the year."
Popular in the Community