I have spent a good deal of time in Texas. I am fortunate enough to have several friends with ranches and with tales of the Wild West woven through their family history. I have always been impressed at the amount of generosity, humor and Cowpoke common sense these people have while lounging on their 100,000 acre ranches. No nouveau riche reality show housewives here! They have had their money for a long time and the oil isn't drying up anytime soon. They are what wealthy people should strive to emanate.
So when I heard about the Dallas Art Ball, the Dallas Art Fair and the Dallas Biennale all happening on the same weekend I figured I needed to head down and check it out.
Arriving on Thursday afternoon I dropped my bags at The Joule downtown and headed to the Vernissage for the Dallas Art Fair. There was a swinging live jazz band and heaps of barbecue. Nobody goes hungry in the South!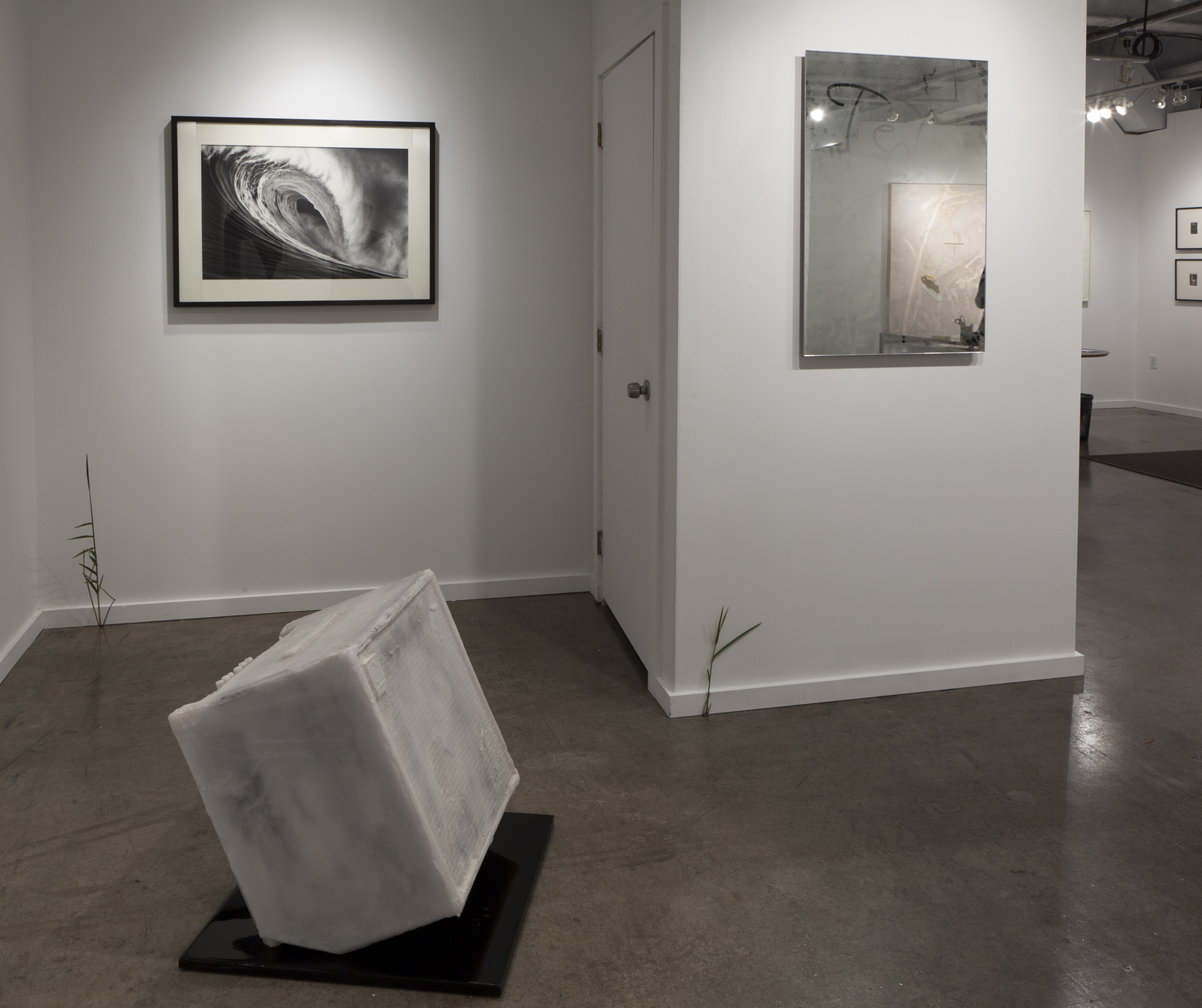 The Leo Koenig Gallery
Walking the manageable show (only 75 vendors) we stopped by Leo Koenig and spoke to Stephanie Shuman to hear how the show is going for them. "It's our first time here and we decided to participate because of Tony Matelli. He was approached to contribute a piece called Stray Dog in the lobby -- it is one of our favorites!" And how are they liking Dallas? "We love it here. They are consummate hosts and the fair people have been meticulous," she told us. Are you seeing Dallas becoming an art hub? "Yes, because there has always been a strong base of collectors here and great institutions and great support of the community. We see a lot of younger collectors walking through and if they are involved its going to be really exciting," Shuman explained.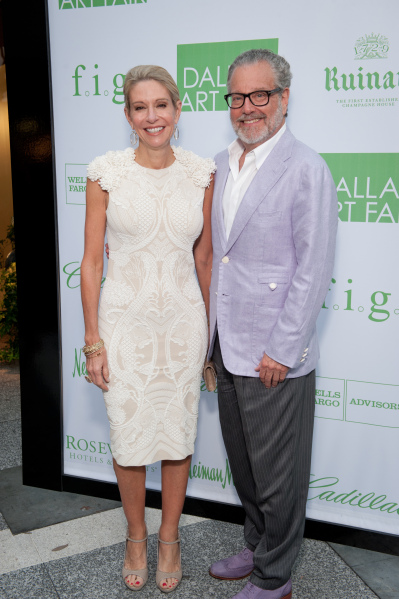 Dallas art patrons Cindy and Howard Rachofsky
Local gallerist Barry Whistler loves it since of course he is based here. He also has noticed a shift of people looking in New York but buying and working with people locally. Whistler also sees it as a great way to educate locals in contemporary art. "This really adds a sense of understanding of contemporary art since they can talk to the artists and gallerist and learn a lot."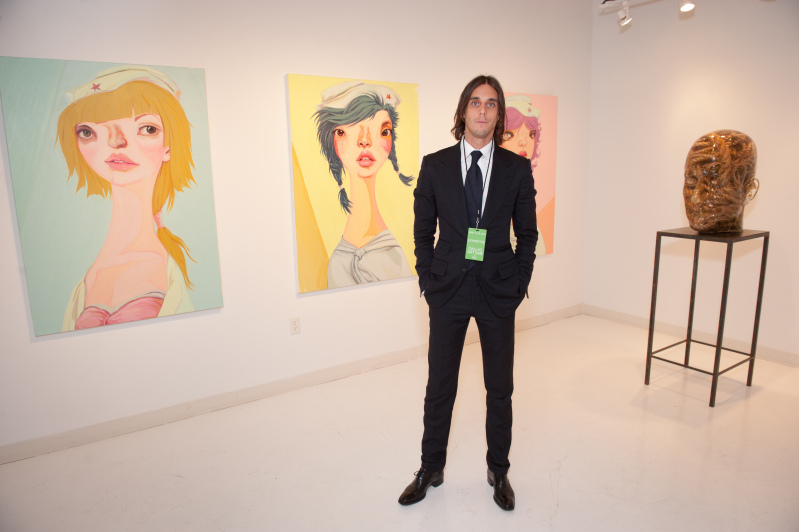 Vladimir Restoin Roitfeld in his gallery
Finally we spoke to Vladimir Restoin Roitfeld who was pleased to let us know that this is the first fair he has been a part of. "It's my first time in Dallas. I've been here a couple of days and have only been working on the show. I went to the contemporary museum and it was great. I love the Nasher. I even had some Tex Mex too!"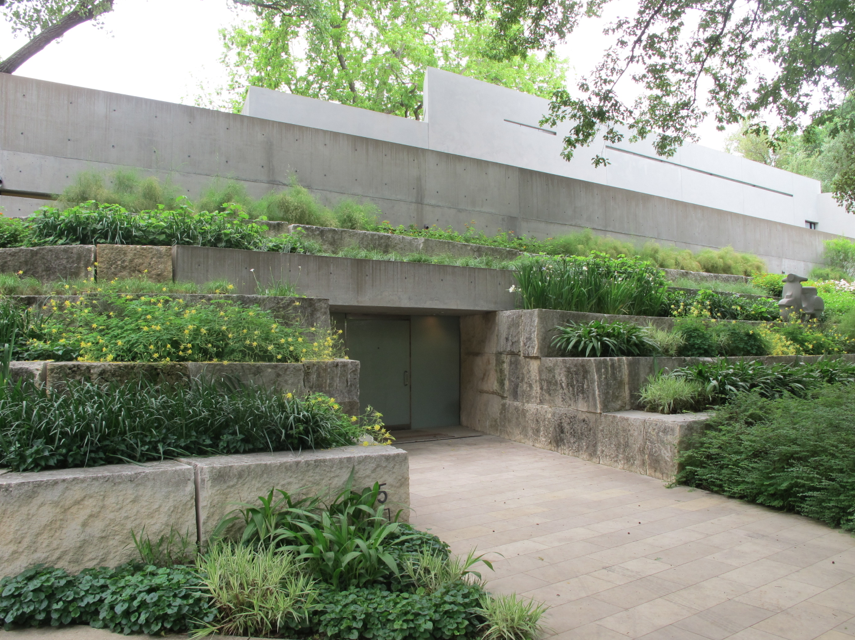 The home of Deedie and Rusty Rose
The next morning we woke (after a few too many beers at the iconic cowboy gay bar, The Roundup) and toured the incredible home of art collector Deedie Rose. Her home built by Antoine Predock reminded many of us of the concrete shelter from Lost, but inside it was a haven of contemporary art. I could go on and on about the works of art but what most impressed me was Deedie herself. She joined us near the end of the tour and was as genteel as any Southern belle. She even let us step into her walk-in closet to view the Gaultier couture piece Jean-Paul made for her for the opening of his exhibit at the Dallas Museum of Art. Her jewelry was equally impressive. But no diamonds the size of the Ritz here. Everything was totally contemporary and we found zippers, rubber and even a caterpillar in the mix. As she told us, "Art is supposed to make you change the way you perceive the world. That's what I love about it and this jewelry is just another form of art." Amen, Deedie!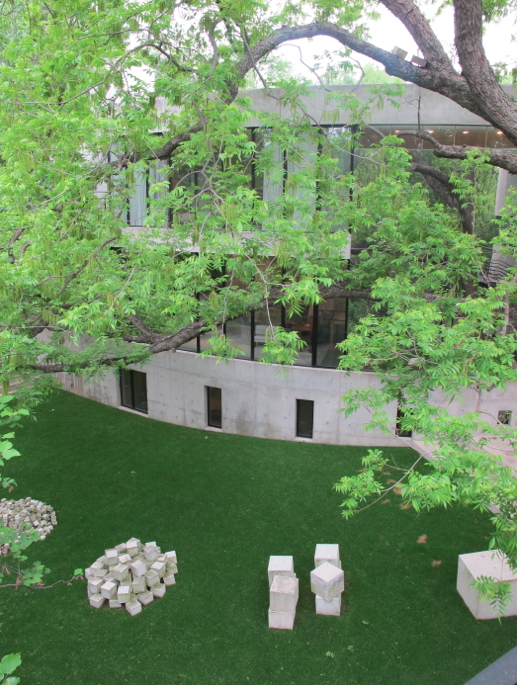 Deedie's backyard art
The next stop was the Dallas Stadium. I know, I know. Stadium tour? It just so happens the stadium (the largest domed stadium in the world) is home to 21 massive artistic pieces that are so well respected there is even a mobile app you can download to learn more about them including works by Franz Ackermann, Lawrence Weiner and Olafur Eliasson. We had a delightful tour with former security guard Phil Whitfield turned art aficionado. He helped the artists install the pieces and they in turn taught him all about their works. If you can, get a tour with him as he is both terribly down home and incredibly intelligent. If I had him to give tours at Art Basel I think I would learn to appreciate the art world in a whole other way.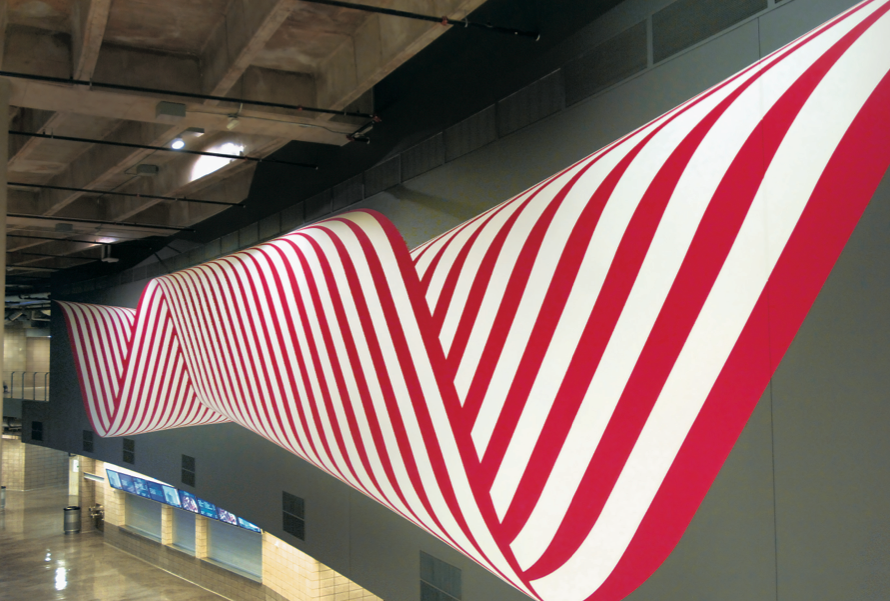 Terry Haggerty's Two Minds in the stadium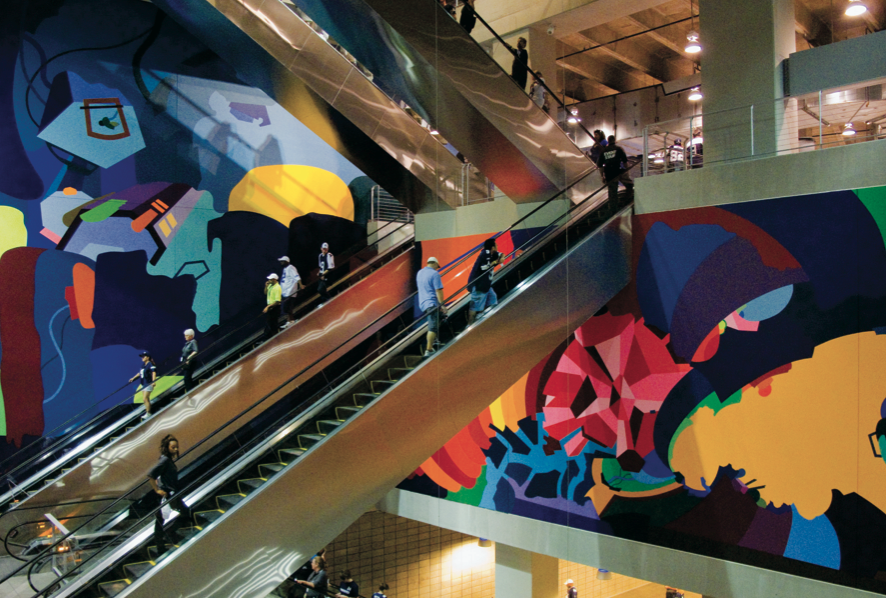 Franz Ackermann's Coming Home and (Meet Me) At the Waterfall in the stadium
That evening we hit up three events. The opening of Sightings: Erick Swenson at the Nasher Sculpture Center where there was more barbecue being served. A highlight was when a curator was showing a group of fans the beer stein covered in hand-molded and painted snails and a giant cowboy swaggered over and hollered, "Where's the sauce for these little suckers?" and swooped his paw by the art. I swear the curators screeching, "Nooooooo!" was heard on the YO Ranch.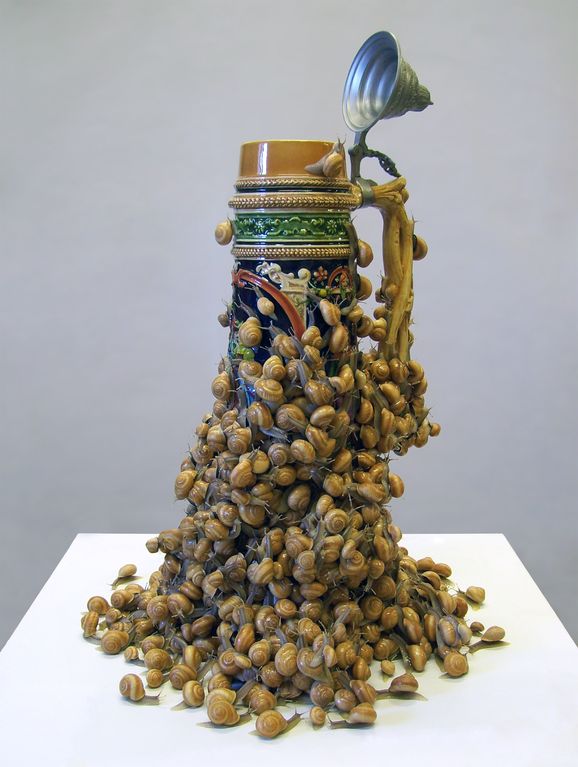 Erick Swenson's sculpture
Next stop was The Goss-Michael Foundation exhibit opening for Adam McEwen. Michael who? George, that's who! Mr. "I Want Your Sex" and his former partner Kenny Goss opened up shop in 2007 to promote contemporary British art in Dallas and the space has been a serious must see for every art fan.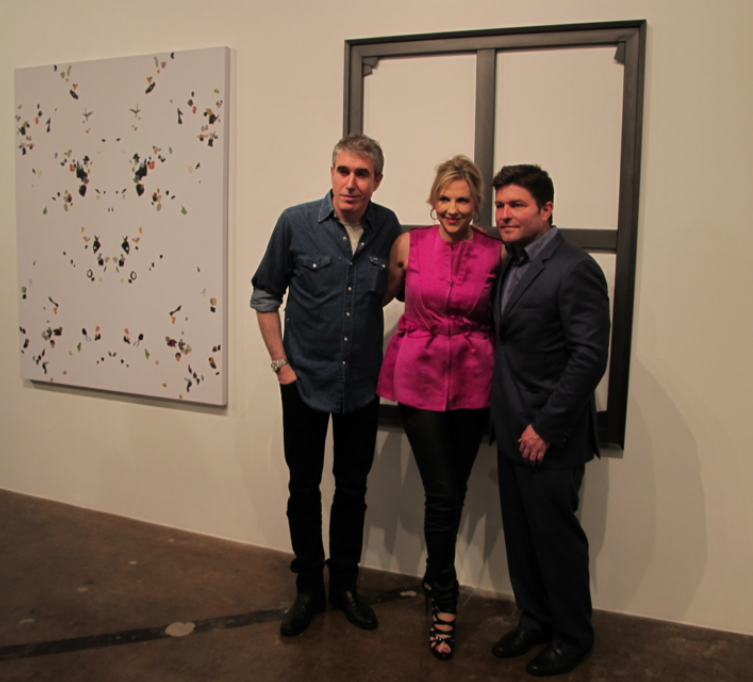 Adam McEwen, friend and Kenny Goss
We spoke to the artist who was showcasing his graphite artwork as well as his obituary work including one of recently deceased Malcolm McLauren. So has there been any buzz about the piece since he passed? "Nah," he nodded, "For me, you write an obituary on someone and then when someone dies there will be an obituary -- my artwork will be redundant and worth nothing! Just throw it away," he laughed with a wink. Take note collectors.

McEwen's obituaries
Lastly we hit the Dallas Contemporary for the Biennale curated by Paris based adjunct curator Florence Ostende. Amongst the food trucks outside and the live music this was certainly the most buzzy and young event we attended. A highlight? The Girl Scouts had set up a table selling their cookies next to an installation. We thought it was the most brilliant art so far. Of course we ordered four boxes to keep us going for the rest of our trip.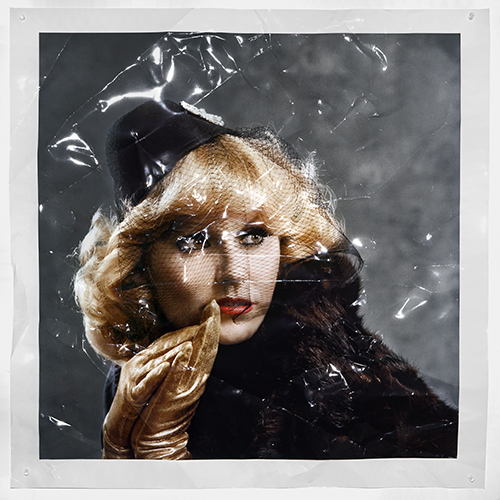 Zoe Crosher, Mae Wested no.3 (Crumpled) from the series 21 Ways to Mae Wested
We loved meeting Zoe Crosher whose images of a faded sex kitten from the '70s had us mystified. The happily pregnant artist was more than happy to show us around and give us insight into the life of this incredible woman who often referred to Mae West as her idol.
The night ended with a wild dinner party at Kenny Goss's art filled abode where every dealer and patron let loose around the pool and drank till the wee hours out under the old oak trees. Only one day in Dallas and we are smitten.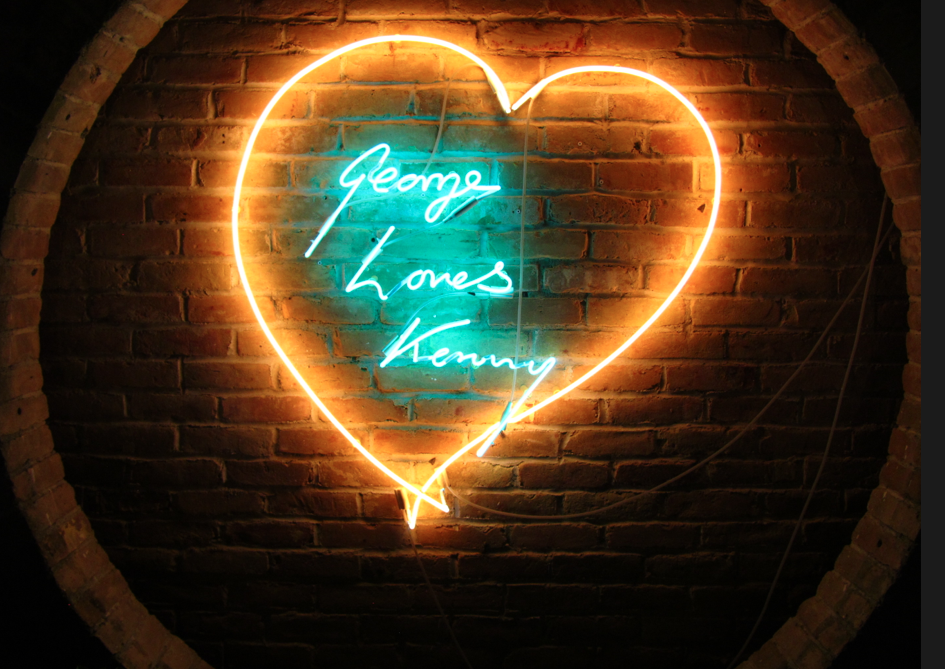 A gift from Tracey Emin to the couple
Related
Popular in the Community