This week's installment of the Huffington Post Gay Voices RaiseAChild.US Let Love Define Family series highlights the intersecting journeys of a single gay man, who adopted from Cambodia in 2000, his athletically gifted son, and "Papi," who became the boy's second father.
Fifteen-year-old Jordan Windle's diving career has taken his family from Fort Lauderdale, Florida, to Indianapolis, Indiana, to Durham, North Carolina. But Jordan's first move was from Cambodia, where his father Jerry Windle adopted him when he was 18 months old. In 2000, Cambodia was among a number of nations that still allowed single men to adopt. Today, all international adoptions are closed to single men and women, mostly to filter out LGBT people, though single and openly gay people are welcome to adopt in most regions of the United States.
Now 48, Jerry, who served in the Navy during "don't ask, don't tell," always knew he wanted to be a parent and that he would pursue it through adoption. While studying education and military science at Oregon State University, he learned about the tens of thousands of Cambodian children who were orphaned during and after the time of the Khmer Rouge and felt a heart connection to their plight. Five months after he made his initial call to pursue his dream, he flew to Cambodia to meet the child, whose Cambodian name Pisey translates to "little darling" in English. His son was waiting at the orphanage gates in the arms of his nanny, clutching a keychain photo of his father-to-be.
"I purposely wanted to adopt a toddler versus an infant," explained Jerry. "As a single father working full-time, it would be difficult raising an infant but, more importantly, my heart's desire was to provide a forever family to an older child, who would be less likely to be adopted."
The first person to recognize Jordan's diving talent was Tim O'Brien, the former head coach of the Fort Lauderdale Diving Team and son of Dr. Ron O'Brien who was Greg Louganis' Olympic coach. At the time, Jordan was seven and the family lived in Fort Lauderdale. Today, Jordan is a three-time junior national champion, a silver and bronze medalist in U.S. National Championships, and an Olympic hopeful.
The Windle family expanded six years ago when Jerry met Andrés Rodriguez, now 31, while the two were playing softball. At their first dinner together, when Jerry broke the news that he had a son, it didn't faze Andrés. In fact, being someone who valued family, Andrés was intrigued. The three dined together several times to get to know each other. One evening at dinner, Jordan, who was then nine, looked over at Andrés and asked, "Are you going to be in our family?" to which Andrés replied, "I think so." Jordan then said, "Can I call you Papi?" and Andrés replied, "Sure." Jerry and Andrés have been together ever since.
Much has changed since Olympic champion Greg Louganis, also adopted and now a close family friend, was immersed in the diving world and forced to remain closeted in order to pursue his craft. Back then, he faced rampant homophobia throughout the sports world, including his teammates. Today, a number of divers at the junior and senior levels are openly gay, but some remain closeted. For Jordan, his parents' sexual orientation was never an issue. In fact, several college divers come out to him specifically because they knew he had openly gay parents.
"When people ask me what it is like to be straight and to have gay parents, I tell them 'It's great!' They love me and support me, and I love them," said Jordan. "We are a family."
Jordan's peers do not display homophobia for the most part -- it is the parents who present the most obstacles. When Jordan was asked to be the Grand Marshall of the Indianapolis Pride Parade alongside his dads in 2012, some diving parents accused the Windles of having an "agenda." They did not want their son diving with Jordan at the 2012 Olympic Team Trials if he participated in the parade. Undeterred, Jordan followed his heart and the other boys' parents ultimately did not take any action.
"People in sports have asked me, 'Do you have an agenda?' " Jerry said. "I tell them, 'Yes, I do have an agenda. That loving families can raise loving families.' To me, as well as Andrés, family is everything. As Greg Louganis says, regardless of your sexual orientation, love is love, period."
Coached by Nunzio Esposto, Jordan practices 30 to 40 hours a week with the Duke Diving Team at Duke University in Durham, North Carolina, while maintaining honor roll status as a freshman at International Connections Academy, a private online, virtual school.
"My greatest hope for Jordan is that he finds happiness throughout his life, and that he has the opportunity to pursue his dreams," said Jerry. "If it's in Jordan's future to go to the Olympics representing the United States and win a gold medal, that would be amazing. If he could do that and be a good citizen and role model, I feel Andrés and I have done our job."
Jordan has recorded an "It Gets Better" video and wrote a children's book with Jerry called "An Orphan No More... The True Story of a Boy." Jordan believes sexual orientation should not deter prospective parents from building a family.
"If they really do love their children," said Jordan, "their children will absolutely love them back."
Jerry and Jordan's book "An Orphan No More... The True Story of a Boy" is available at www.thediversclub.com, the Windle family's online store that sells Jerry's exclusively designed products celebrating the support of diving to help raise funds for diving clubs across the United States. The Windles will donate $5 to RaiseAChild.US from every book purchased when the buyer types "RaiseAChild.US" in the "order notes" box. Jordan will autograph every copy purchased through the fundraiser.
Corinne Lightweaver is Special Projects Manager at RaiseAChild.US, a national organization headquartered in Hollywood, California that encourages the LGBT community to build families through fostering and adoption to serve the needs of the 400,000 children in the U.S. foster care system. RaiseAChild.US works with foster and adoption agencies that have received training in LGBT cultural competence through the Human Rights Campaign Foundation's "All Children – All Families" initiative. Since 2011, RaiseAChild.US has run media campaigns to educate prospective parents and the public, and has engaged more than 2,000 prospective parents. For information about how you can become a foster or fost/adopt parent, visit www.raiseachild.us and click on "Next Step to Parenthood."
Before You Go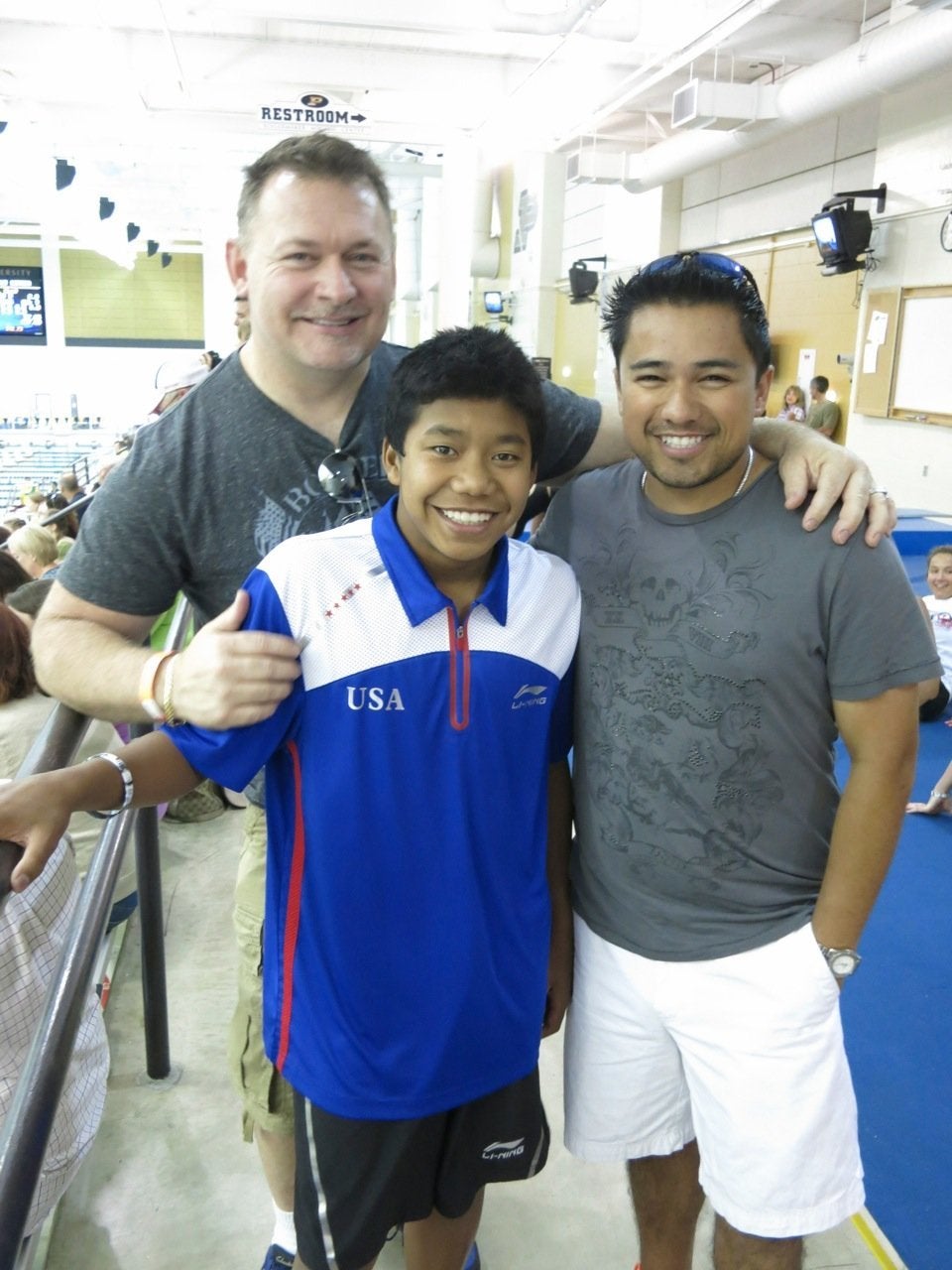 Jerry and Andrés
Popular in the Community