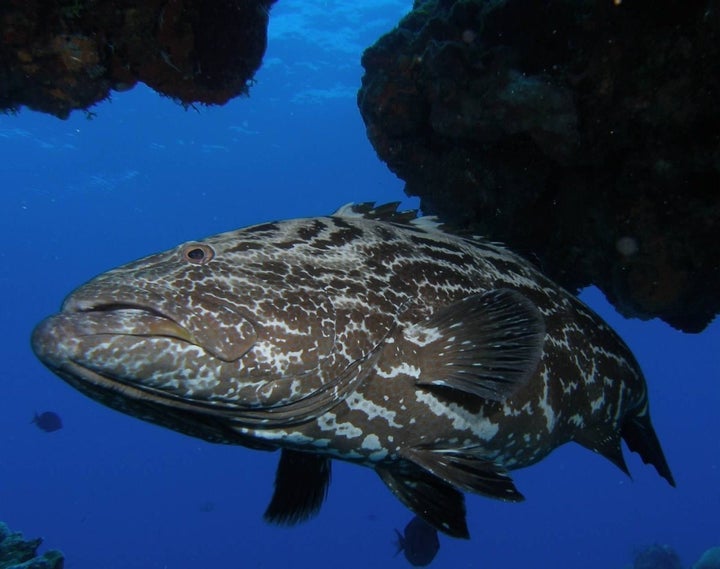 The best way to go down the Devil's Throat is to plunge in head first. You may hesitate at first because you are essentially falling into a deep, dark, narrow hole, but soon you realize that you can't afford to panic and the only option left is to enjoy the ride.
Resting deep in the waters of Cozumel -- Mexico's largest island and its number one cruise port -- the Devil's Throat is probably the most imposing dive site I've encountered. It owes its daunting name to the almost-vertical cave I describe above, but it is actually a series of interconnected underwater tunnels that travel through the larger Punta Sur Reef.
We entered the "throat" at a depth of 130 feet, which is almost too deep for recreational divers. Add to this the darkness and narrowness factors and you understand why this spot has such an infamous name.
Cozumel is a top dive spot known for its world-class reefs (they are part of the largest barrier reef in the Western hemisphere), clear waters and action-packed currents. In high season, popular sites like Palancar Gardens or Santa Rosa Wall are explored by hundreds of divers every day, and yet there are still some areas that only a much smaller number of people get to see, either because they are too far, too difficult or both. These will appeal to the adrenaline junkie looking for an underwater fix in a vast, untamable territory (think deep, blue water, strong currents, enormous formations), but if what you want is to kneel on the sand floor and observe the tiniest of jawfish (which is equally fascinating), you're better off in some of the other stunning but tamer spots Cozumel has to offer.
During my last trip in September, at the start of the low season, both the currents and the tourists (or lack thereof) were in my favor; I was able to venture into far-flung, expert-level sites with mild currents and only a few other divers, never running into anyone else. It was also nice to appreciate the reefs' recovery after ferocious hurricane Wilma set up shop on the island for 60 hours in 2005.
Maracaibo reef, located at the very far southern end of the island and facing the open sea, is an advanced, deep drift dive exposed to unpredictable, fast-moving currents and topside surf. Dive shops often sell it as a "special" dive that may cost you extra because it's so far (about 30 minutes on a speed boat from the ferry dock).
Tony Perez, a Louisiana native who has been diving Cozumel for over 20 years, says that for Maracaibo to be worth the trip, one must do the wall at a depth of 130-160 feet, where the action really starts. This translates to beautiful overhangs, huge colorful sponges, large bushes of black coral and more.
I have yet to dive past the 130-foot mark, but found Maracaibo to be breathtaking nonetheless. Currents were mild, which is unusual, and visibility was excellent (200 feet). The enormous, vertical wall starts at around 90 feet, and soon after reaching it, cuts in the reef allow you to marvel at the deep blue abyss.
The blue there is bluer than anywhere else. All you have to do is let your mind absorb the magnificence of the place and keep an eye on your depth gauge (or you could be sucked under).
A must-see in Maracaibo is the large arch that cuts across the wall. The trick is to be dropped off close enough to it so you have time and air to reach the bottom, which lies at 120 feet, and swim your way up through it.
To my surprise, marine life is not abundant here (the site lies at the edge of the national park, so it's more vulnerable to fishing), but we did encounter two large turtles, a stingray, a king crab and several fish. If you're extremely lucky and able to dive deep, you may spot hammerhead sharks, which I was told have swam by in schools of up to 50 at depths of around 200 feet, and other pelagics.
Go as far as you can go from Maracaibo and you'll find Barracuda and San Juan, on the opposite end of the island. Perez tells me that currents there can be so strong that not even fishermen go there. In winter, you can see white-spotted eagle rays in large groups.
Diving both sites requires a high level of expertise (and strict oversight from the harbormaster) because of the strong currents and the possibility of getting lost. During our dive, currents were not nearly as strong as they could have been (2-4 knots), but for an intermediate diver such as myself, it was still strenuous.
Diving San Juan, which is relatively flat in some areas and covered with different kinds of coral, felt like speeding over a giant, flooded grass field in a helicopter. Fish are scarce (the national park only covers Cozumel's southern half), but if I saw something worth analyzing, like the occasional sleeping nurse shark, I had to quickly grab onto the first available stationary object (one of the reasons why you swim only a few inches from the bottom).
I don't know if it was the loss of control over my own movements or the fact that I couldn't see where the current was taking me (to the abyss, at times I feared), but diving San Juan was extremely disquieting. Once you learn to let go, diving on fast-forward mode can be extremely fun.
Barracuda, which is the northernmost reef on the west side of the island, is another expert-level dive that is rarely visited. Guillermo Mendoza from Aldora Divers defines it as "high-voltage diving" (you can travel several miles on one dive). Here, you drift along an intimidating steep wall that shoots down hundreds of feet. The currents have formed canals, which can provide temporary shelter from the current, and have also shaped the sponges and coral in very unique ways, but again, it's not abundant in marine life.
Maracaibo, San Juan and Barracuda are just a taste of Cozumel's seldom dived sites. Northernmost Bajo de Molas, which is in one of the island's least explored areas, is another example. But you don't have to cross the entire island to go off the beaten path; there's also plenty of exploration room within the national park if your dive guide looks outside the box.
Another story altogether is Cozumel's windward (east) coast, known as the "wild" and uncharted side. Since Aldora Divers started exploring the area, Mendoza likes to say that Cozumel is "one island, two destinations." An exploratory trip there will have to wait till December or August, when conditions are most favorable. Only then will I be able to see if it's true what I hear, that if you are lucky, you may even see tiger sharks.
I have only dived with Aldora Divers, and I'm very satisfied. They are professional and willing to take you to any dive site, conditions and experience permitting, and they get you there before the rest (departures are at 7:30 a.m.). They are also one of the few shops that offer trips to the east side of the island, if not the only one, and they carry high capacity steel tanks that translate into 90-minute dives or longer, depending on depth.
Dive mates tell me there are very good packages that include air fare, meals and hotels, but these usually involve staying in large hotels. I stayed at the Aldora Villa, which is very close to the airport and has the ocean as its backyard. Most rooms have full kitchens and guests get free rides to the supermarket, the ferry and downtown. All factors combined, I felt quite at home.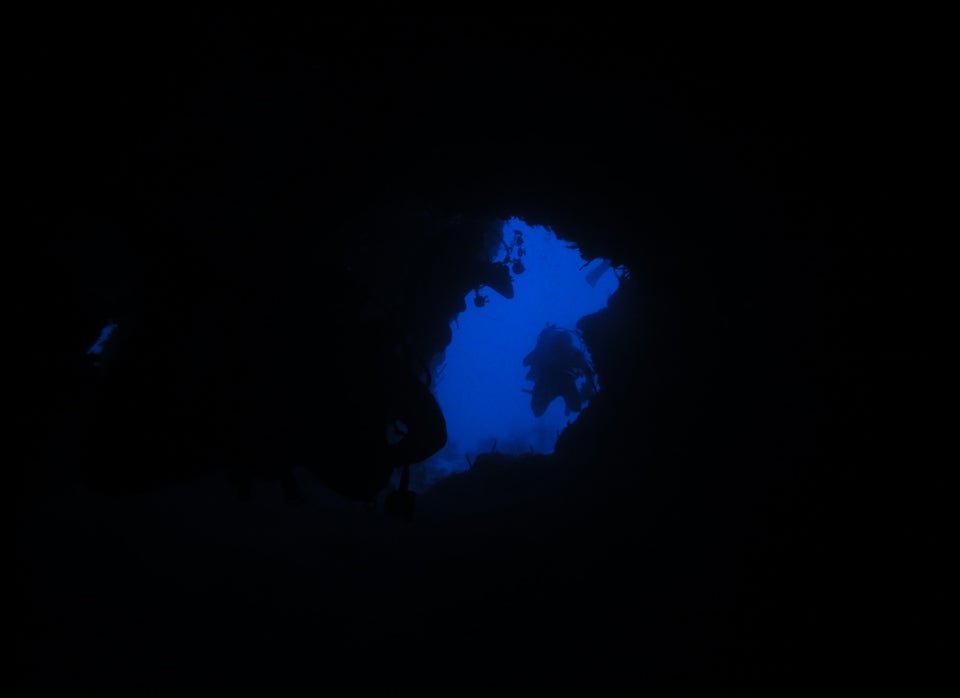 Diving Cozumel's Least Visited, Most Exhilirating Sites