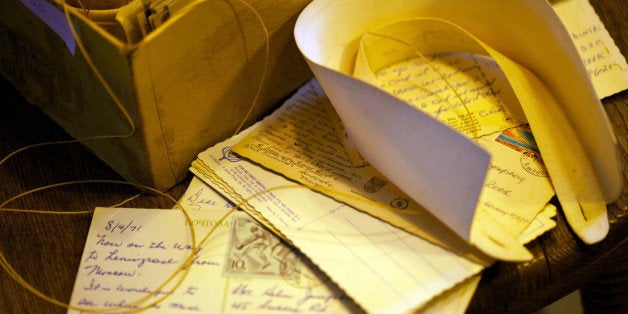 "I just can't see you and Dad together," my oldest son said not too long ago.
It seemed like a weird thing for him to say; he was 12 when the marriage exploded, 13 when we officially divorced. Surely he must have had some wonderful memories of our family, at least the highlights — our annual Christmas tree massacre, summers in Hawaii where his dad taught a six-week course, family barbecues and holiday get-togethers — if not our nightly book-reading snuggles.
But I totally get that now that he's an adult, 24 this month, he can look at both of his parents with a more discerning eye and understand that perhaps these two people didn't really belong together.
Of course, he only knows us as his parents; he has no idea about the people we were at 29 and 36 — when we met — and what attracted us to each other. He hasn't a clue about what his parents were like when we were his age, give or take, and free from the responsibilities of children and a mortgage.
And that's why I paused when I stumbled upon a box in the basement filled with my elementary school class pictures, middle school dairies, high school yearbook, college diploma and about three dozen love letters and cards that their dad had sent to me while we were in a long-distance relationship. Way before email, cell phones, texting and Skype, all we had were pricey long-distance phone calls and snail mail. So I wondered — should I keep the cards and letters as some sort of proof that, yes, their parents were madly, crazy in love with each other, no matter what his and his brother's experience of us as parents was, or should I toss them in the recycle?
I wouldn't have given it much thought — toss the darn things! — if I hadn't lost my own mom and dad in recent years. My parents had a complicated relationship that lasted 61 years, and although I loved both of them very much I often thought they would have been happier if they'd divorced. As I sorted through the clothes, shoes, books and stuff of life in their condo after their death, I came upon things that I never knew existed and that deeply affected me — love poems that my father wrote to my mom when he was courting her (a six-month courtship as was common in those post-World War II days) and letters from strangers addressed to my mother that clearly appeared to have been in response to some sort of newspaper ad soliciting eligible young man. My mother was a Romanian native orphaned by the war; I have no idea if she needed to be married in a hurry to be able to stay in America or if the relatives she was staying with were eager to have her move out. She was 20 — she needed to marry!
Was I thankful to have stumbled upon these glimpses into the people I only knew as Mom and Dad? Yes and no; I loved reading my father's poetry and was touched by some of his essays that questioned what it means to be a good husband. Books like The Feminine Mystique remind us of how mind-numbingly hard things were for wives in those days but often ignore what husbands had to deal with. My dad dreamt of being a pilot, but instead he followed society's script — be a husband, provider and father. When I came upon the letters by earnest men writing to my mom that they had a good job and a two-bedroom apartment and were ready to marry, I felt sad. They, like my dad, were forced to follow societal demands that left little to no wiggle room. But I mostly felt bad for my mom, a beautiful and creative woman who may have become an amazing talent if she wasn't subject to similar societal constraints. And I couldn't help but wonder if she wed my dad purely for immigration or financial realities instead of the script most of us imagine our parents followed — meet, date, fall in love, say, "I do."
I glanced at a few of the letters — given that my former husband and I were 3,000-plus miles away from each other at the time they were written, most were sexually charged if not downright explicit — and decided they were a part of my past I didn't want to share. I ripped them before tossing them in the recycle bin.
Every divorced person has a different idea about what to do with mementos from former relationships, whether it's angrily trashing the wedding dress or nostalgically preserving love letters in a beribboned box under the bed. After all those people, those events, those relationships no matter how they ended are part of our past and helped shape who we are today as well as our current relationship. They also are glimpses into the past for our children. The question we must ask ourselves is, do we want them to know that past and why?
What have you done with your mementoes?
Vicki Larson is a journalist, blogger and co-author of "The New I Do: Reshaping Marriage for Skeptics, Realists and Rebels" (Seal Press, Sept. 28, 2014)
Read more at Divorce360: