It's that time of year again. Our kids go back to school and we go back to having a life. This season of new glue sticks and shiny uniforms makes me a little bit sad, especially now that my marriage has fallen apart.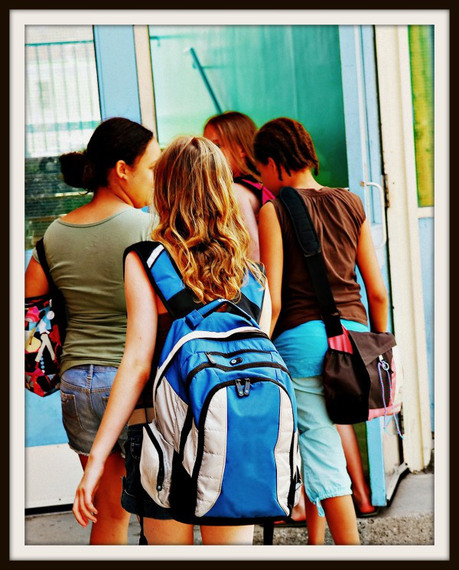 Remember that great Staples commercial with the Dad skipping down the aisles while his unhappy kids shop for school supplies? I do feel a wee bit exuberant. I got to drive down the street listening to NPR News instead of Katy Perry. I went to Coffee Bean not the drive thru window of McDonald's. No one asked me to get them a glass of water or make them a snack for an entire day. All wonderful things, but I'm also a little sad. It's not just that I have to get up at the butt crack of dawn for school drop offs, I'm sad because I miss my daughter. I'm quickly running out of time with her. She's thirteen. There's no more playing Barbies, no more bedtime stories. It's closed bedroom doors and inside jokes with her best friend now. She'd rather play Minecraft or text with her friends than go out for our evening walks. I see her slipping away. The distance is growing between us. I know this is exactly what's supposed to be happening. Exactly what a healthy beginning teenager is supposed to be doing, but still, it smarts.
And because I'm separated, I get even less time with her. Days are shared, weeks plotted out on a calendar and divided. His time. My time. Half of my days and nights are spent without her. Divorce makes my time with her even more precious.
So the back to school season only reminds me that time is racing past. Summer's over. Another school year begins. Another year in her development hurtling towards the countdown to college, adulthood. No longer needing Mom.
Maybe, in some strange way, divorce is a gift. A reminder that when I'm with her I need to really BE there. I need to enjoy these moments of her childhood racing past. I need to experience the sulking, the tears, the challenges, as much as I soak up those shiny, happy times. I can't squander any of them. Thank you Divorce for reminding me to pay attention and enjoy the time that she is still with me, all of it.