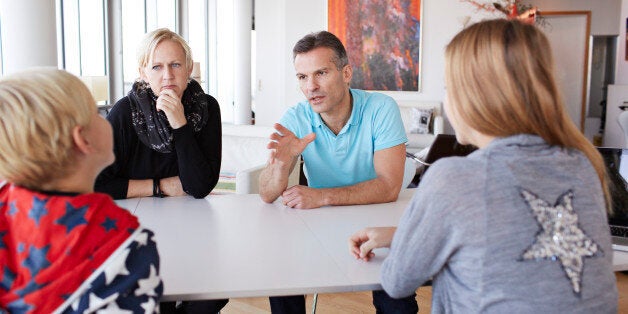 Telling the kids you're getting a divorce is a conversation no parent wants to have. But once you do sit them down with your soon-to-be ex, how much should you you tell them? Should you explain to them why the marriage didn't work?
That's the question asked by the BBC News in a recent feature highlighting one divorcing couple's decision to spare their child the details of their split.
"I don't think 14-year-old children need to know the ins and outs," the mother said. "They know that their mum and dad aren't going to be together any more. That's hard to take at 14 or 20 or any age, I should imagine.
Licensed clinical psychologist Edward D. Farber agreed with that stance a HuffPost Divorce blog published earlier this year.
"Your child needs to know only one truth," Farber explained. "'Mom and Dad don't love each other anymore the way that moms and dads need to love each other to stay together.' Your child has absolutely no need to know the reasons Mom and Dad don't love each other."
Curious to know if our readers agreed with the "less is more" approach, we decided to ask them to share with us how much they told their kids about their decision to divorce. Click through the slides below to see what they had to say, then weigh in with your thoughts in the comments.