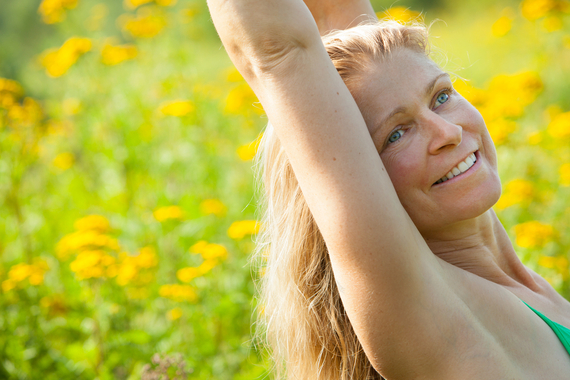 After my divorce, it seemed like every one of my loyal supporters told me to adopt an "attitude of gratitude."
I understood the concept and appreciated their help, but I just wasn't feelin' it.
Nonetheless, in spite of big doubts, I wrote my "gratitude list" every morning.
For a while, it worked. I got out of bed when a dive under my pillow was really what I wanted.
Then boredom hit. The usual five suspects were appearing every day on my list: my daughters, good health, a trusted therapist, supportive friends, and a roof over my head. I was thankful for all of them, but it appreciating them over and over was getting old.
Clearly, creating a random list wasn't enough for my type-A personality. I needed structure, a formula to prompt me to be innovative every day but that didn't tax my already overloaded brain.
Enter my GPS - Gratitude Positioning System! I developed the system after my divorce eight years ago.
Here's how it works: Just like your car GPS, this system gets you from where you are to where you need to be - in this case, from sadness to gladness. It guides you through that curvy road of critically important gratitude items: from easy to difficult, and ends at pleasure - in this case, humor.
Thankfulness for yourself is the only place to start - yet often the most difficult for those whose self-confidence is wavering. If this GPS is going to work, thanking yourself first is critical.
Second, move to easy-to-appreciate people and things. Third, thank those events or people we actually don't like (there's a reason for this - I'm not trying to depress you!), and it ends with humor - the best medicine of all.
It's a formula that works.
What makes gratitude so important?
Gratitude can be the deciding factor between happiness and despair. Research at Harvard Medical School says "Expressing thanks may be one of the simplest ways to feel better."
Your Rx to feeling better:
Fill in the blank for each of the six stopping points on your GPS listed below, once every 24 hours, or as needed in emergency for blues eradication.
"Right now, I'm thankful for _______".
Easy to remember. Quick. Only six items. Nothing fancy. No big deal. Record answers so you can revisit. Use phone voice memo, phone note pad, or small pad of paper. Carry with you.

Six Stops on your GPS - Gratitude Positioning System
Stop #1: A sliver of niceness about yourself. Start where you are. "Right now, I'm thankful for ___". That might be a body part, a talent, an act of kindness toward yourself (perhaps a massage).
Stop #2: Some person(s) you love in your inner circle. See them in your mind's eye.
Stop #3: Some thing(s) you love - the roses in your garden, your car, the beach, a book. Examine their appearance in your mind.
Stop #4. A neutral person-someone you don't know but with whom you interacted today, like the check-out clerk at Whole Foods. See them in front of you.
Stop #5. Someone who irritates you other than your ex. Why an annoying person? Because people who irk us are our master teachers. Through them, we grow and define what we want and don't want. If this is too difficult, skip this stop. You'll be strong enough to face it eventually.
Stop #6. Something that makes you laugh. Laughter really is the best medicine. Here's a starting point: a much younger Billy Crystal interviewing stuntman Evel Knievel on an ancient Saturday Night Live episode.
Use your GPS, the Gratitude Positioning System, every day! Let the energy of positive thankfulness work for you. Don't leave home without it!
Contact me, Kat Forsythe, MSW, personally if you need coaching concerning your own personal challenges.
Start your day with a morning inspiration to get you energized. Go here for my 30-day audio download of inspirational (and often funny) messages to kick start your day for thirty days.