Divorce cakes tend to come in two flavors: angry and angrier. (Case in point? This creepy confection featuring a decapitated husband cake topper that someone recently spotted in Germany.)
That's why UK baker Nicola Shipley was relieved when a customer requested a pretty divorce cake that celebrated her freedom rather than riffing on the old homicidal bride motif.
"This lady had just broken free from a really violent marriage and was having a party to celebrate the new phase in her life," Shipley, the owner of Tattoo Cakes, told the Huffington Post via email. "She asked if I could make her a divorce cake and initially I was filled with dread -- I had seen the usual divorce cakes and they were basically a wedding cake ripped in half or bride stabbing a groom. They always seemed more like they were living in the past rather than about moving on."
Instead of going in that direction, Shipley took the time to listen to her customer's personal story and dreamed up a cake that would celebrate just how ready the woman was for a new beginning.
Take a look at the cake below: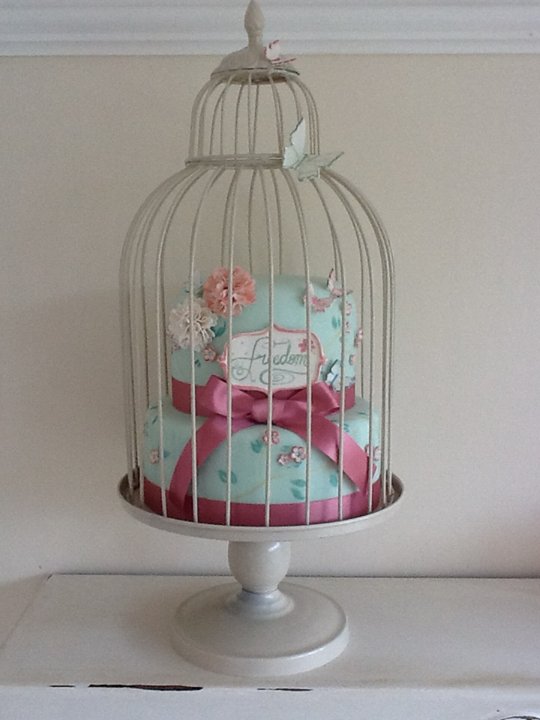 "After the chat, I discovered that she felt like butterfly being set free," Shipley said. "We settled on the cage idea to represent how trapped she had felt and the butterflies on the outside of the cage to represent new beginnings."
We think Shipley's finished product is lovely, but as the baker mentioned, not all divorce cakes are quite so sweet. Click through the slides below for 10 divorce cakes that are more morbid than moving, then tell us which type of divorce cake you prefer in the comments.