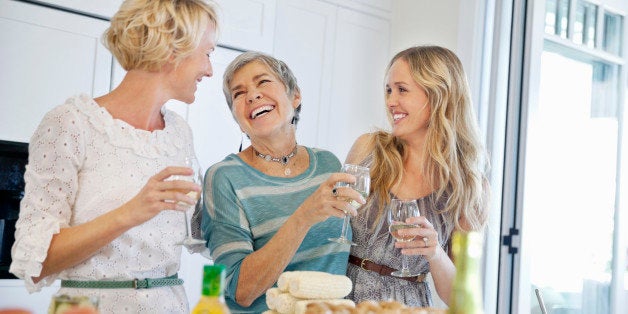 So your divorce is final. Your new life is beginning. You're not inclined to have a Divorce Party. But you do crave the comfort of good friends. You decide to have a dinner party to celebrate the beginning of the rest of your life. But what to serve? If your divorce has been a walk through hell, this is a great time to have a fun-filled dinner with menus that will bring a smile to everyone's face. A word of caution upfront: These menus are heavy on calories as well as puns.
Survivor Theme
This theme plays with the idea that you survived the sinking ship of your marriage. Think desert island cuisine. If you want to splurge, spring for fresh crab though sushi can work just as well. Pineapples and coconuts are a must, both for food and decoration. A nice dessert could be pineapple upside down cake or coconut cream pie. You could also make yummy fresh cocktails like Pina Coladas served in coconut shells, or Mai Tais with little paper umbrellas. If it's summer, serve outdoors and have everyone dress desert island style.
"Split" Theme
The menu can include anything that is "split", items like Split Chicken Breasts, Split Pea Soup, Banana Splits or Banana Split Cake. Before dinner, treat guests to a signature cocktail, Splitsville.
Lemon Theme
When life goes you lemons... have a lemon themed dinner. The main dish might be cold poached salmon with lemon wedges, accompanied by green salad with lemon poppy seed dressing. For dessert, whip up a lemon tart, lemon meringue pie or lemon bars. Make plenty of homemade lemonade with tequila, vodka or gin on hand to spice things up.
Sole Theme
Another neat idea is to play with a "sole" theme, as in you're now going solo. The main entrée could be dover sole. Or you could serve soul food, labeling it of course as "sole food". Typical soul/sole food is fried chicken, macaroni and cheese, collard greens, okra and cornbread.
Comfort Theme
What a perfect opportunity to indulge in a meal that is unbridled comfort food. Popular comfort foods are mashed potatoes made with lots of cream and butter, meatloaf, macaroni and cheese with chunks of lobster, or toasted cheese sandwiches with homemade tomato soup. Don't forget to have really good crusty hot bread with ice cold pats of butter. Dessert is easy. Ben and Jerry's Heath Bar Crunch is always a crowd pleaser. If you have a backyard firepit, have your guests make s'mores.
Sexy Theme
Since sex has probably become a long forgotten pastime, one way to get you in the mood is to have a hedonistic dinner heavy on pleasure. Menu items might include deviled oysters, oysters rockefeller or pasta with robiola and truffles. Foods with overtly sexy qualities include strawberries, especially when hand fed, avocados (a natural remedy for erectile dysfunction), artichokes (think sucking and tearing with teeth), asparagus presented fresh and erect in a nice bowl, and figs split open in a very friendly manner. Dessert should be anything heavy on chocolate such as chocolate mousse or chocolate tart. Wash down with a sexy rum-based cocktail.
Pun Extravaganza
The Pun Extravaganza dinner is a glorious mélange of pun heavy foods. The obvious centerpiece is a big roast turkey. Supplement with Freedom Fries, as well as anything with lemons and nuts such as green beans tossed with both. A great drink choice is Ale-imony. And for an extra bang, throw in anything the departed one didn't like to eat.
Bon Appetit! And if you have any food ideas for a divorce celebration dinner, please share below.
Popular in the Community