I'll be chronicling my new life as I go through the divorce process and I hope you'll follow my journey. If you're looking for me to bash my ex, that won't happen. But if you're looking for a woman and mom excited for a new life, if you find it interesting to read about the roller coaster of emotions and all of the things that come with starting over... then join me here.
When you're three hours into a six-hour flight and the flight attendant randomly announces, "Everyone please put your seats to the upright position and your tray tables up", that can only mean one thing; you are landing. When that happened on my first trip alone with my kids post-separation, the thoughts running through my head were endless. I buzzed the flight attendant to get more information.
Q: "What's going on?
A: "There's smoke, we have to land"
Q: "Where?"
A: "Omaha, Nebraska"
Q: "Is there concern we won't land?"
A: "Yes"
The flight attendant walked off to the next person and I was now in a complete panic and fog. I can't tell you what was going on in the rest of the plane. I had to protect my kids. I couldn't let them know how severe this situation was. I remember telling my kids that we were landing and were on an adventure because we would get to see another airport. This was my moment as a mom on her own to be brave, composed and in charge. But inside I wasn't even close to that. I tried to manage my hyperventilation with my back slightly turned to my 8-year-old, who sat to my left at the window. He wasn't aware of the possibilities and though I always want to be honest and truthful with him, at that moment I wanted to hide everything from him. My 4-year-old to my right was still heavily engrossed in his iTouch and oblivious to the traumatic situation.
How ironic that just hours earlier, I tweeted United that I was so glad each seat had outlets. I was relieved that my kids iTouches wouldn't die on the way. Now we might.
Just an hour into the flight we had been asked to unplug all devices. An hour later, the video screens stopped working. Hmmmm... there must be an electrical short. Now I began to wonder if the hour delay for maintenance issues was more than the light bulb out in the cockpit as I was told.
Between my secret tears, I buzzed again. A different flight attendant came by.
Q: "Where are we landing"
A: "Kansas City, Missouri"
Q: "She just told me we may not land. So now, we can't make it to Omaha? I feel like I'm having a heart attack, please help me distract the kids."
And for the next few minutes I showed my kids a map of the U.S. to distract all of us. I couldn't find anything I was looking for. We were still high above the clouds not knowing what was going on. But in my head there was plenty going on...
Oh my... my ex, the kids dad, will lose both of his kids. If we make it, as divorced parents, how will either of us get on a plane with the kids again??? Ugh, he knows my fear of flying, I don't want him to think we died and I was in a panic. I'm composing myself for the kids and we are calm. I can't believe this is how it's going to end. I'm finally happy and I'm going to die in a plane crash. I'm not ready. I'm having too much fun. My boys are going to die? And if we live, how am I getting on a plane again? And if we drive the rest of the way to CA, I'll ruin my boys lives by giving them a fear of flying. Oh my goodness... I can't believe we are going to die in a plane crash... I've been scared of flying for 15 years, and now on my first trip alone with my boys, we are going down. Is this really happening?
Yes, all of these thoughts were going through my head.
And then there was land -- still about 10,000 miles below. But when you can see ground, somehow it feels like you are going to make it. So I turned on my phone and texted my ex in a positive tone to try to let him know we were okay.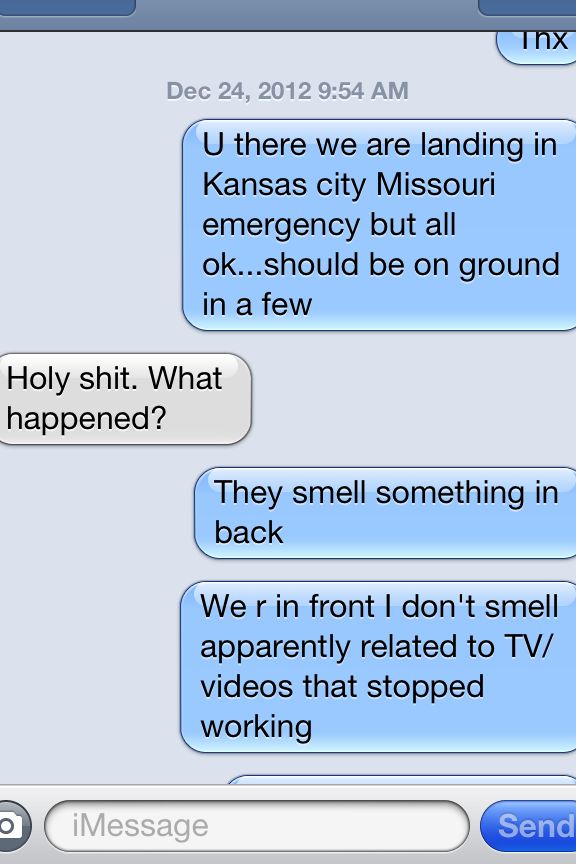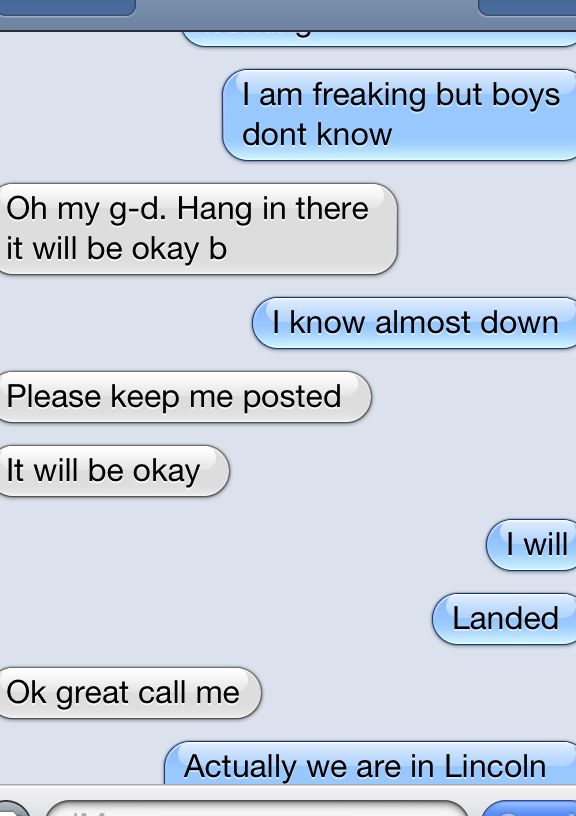 The sight of fire trucks on the runway was a welcome view. And we didn't make it to Kansas City either. Upon exiting the plane, we learned we were in Lincoln, Nebraska and that there was smoke in the cockpit and in the back of the plane. The fact that we were stranded in the single terminal airport for nine hours awaiting a new plane didn't seem to phase any of the 220 passengers. We were partying and bonding over being alive. The fact that United didn't provide food, drinks or much of any information at that point didn't phase us.
The kids had each other. We had each other. We had technology, movies, conversation, new friends, new bonds and life.
The good news is that in my ten minutes of fear, I reconfirmed to myself that I am living my life exactly the way I want to be. There were no thoughts of things to change -- only thoughts of the fact that I am truly enjoying life and that I still have so much more to do. If I thought I could do anything and everything before, I'm now sure I can. I just don't know how I'll feel when the kids get on a plane with their dad, without me.
But that's part of being a divorced family that just won't change.
Related