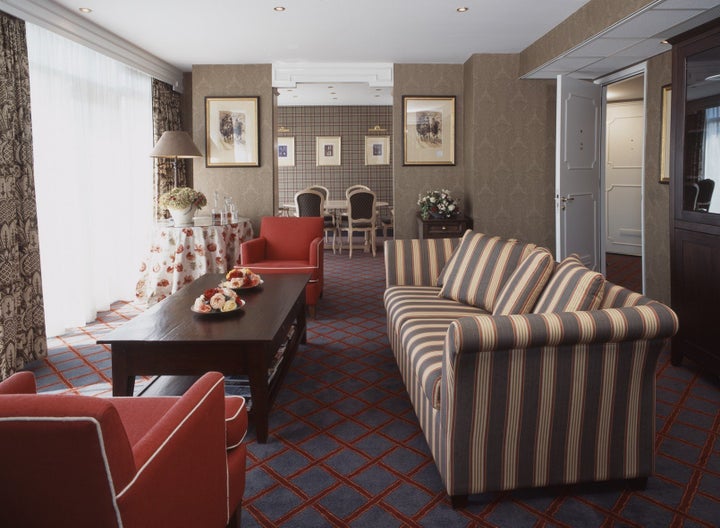 On May 26 the New York Times reported on the Divorce Hotel, a Netherlands-based company that enables married couples to take a rather unusual trip -- for about $3,000, spouses can go away for a long weekend and return as exes (by comparison, an average divorce in the Netherlands costs between $5,000 and $10,000 and can take weeks, even months to finalize). Despite its name, the Divorce Hotel is not actually one physical structure; the company partners with multiple boutique hotels to offer its clients a swifter, cheaper -- and chicer -- way to call it quits (locations in New York and Los Angeles are currently in the works). To learn more about this unusual service, HuffPost Divorce asked founder and general manager Jim Halfens to dish on what really goes on when a couple checks into the Divorce Hotel for the weekend.
How do you help your divorcing guests feel at ease?
We want to give couples the feeling of being at home. One of the suites [we do the divorce proceedings in] has a fireplace. That said, we also want to take them out of their comfort zone -- if they live in the south, we invite them to [a hotel location] in the north. This also helps keep them far away from new partners or their mother-in-laws.

How do you keep your divorces discreet when there are also regular hotel guests staying at the hotel?
Our clients have their privacy -- nobody knows they are checking in for their divorce. We work in specific departments of the hotel. All conversations take place in suites behind closed doors.
Our guests can use the hotel for their purposes, and walk around freely, but we don't always know how people will react [to the divorce process] -- sometimes it's emotional, sometimes it's more businesslike -- so we always have staff members around. If [a client] is getting emotional and walking around the hallways, someone will be there to comfort them. They aren't creepy or anything, but they are trained and know what to do.

What's the most surprising thing you've seen among the couples who have stayed at your hotel?
There was a husband who ordered a bottle of champagne to toast on a new future. He wished his ex-wife all the best. It was a fantastic moment. We also had a divorce and a wedding on the same day. We were fully booked last December and a divorcing couple wanted a specific hotel, but there was only one date available. The hotel warned me that there was also a wedding there that day -- there would be no escaping it, there would be flowers everywhere. But, if couple didn't come that day, they would have had to wait on the list for two months. I called the wife and she said she didn't mind at all. When the couple arrived, they went to check out the wedding. They looked around, looked at the wedding dress. Then they had dinner that night downstairs right next to the wedding party.

Wait, they had dinner together? Do couples usually do that?
Yes, they ate together. The divorcing couples typically have dinner together. And breakfast together in the morning. We don't mandate that they do anything -– everything is up to the couple. Couples can also choose their rooms. Sometimes they prefer to be close to each other, sometimes they prefer to be far away. One couple decided to sleep together. They emailed me and said, "This might be a strange question" then asked to be in one room.
Has a couple ever come to the hotel but not get divorced?
We've been successful with every couple except for one. The guy was trying to get a deal in his favor and disadvantage his wife in every way. The reason he wanted to do the divorce quickly [with the Divorce Hotel] was to blind her of the important details of his company and his possessions and money. He didn't give enough information to our professionals and more investigation was needed. In the Netherlands, a mediator is not allowed to take a position [or give preference to one spouse], so we sent the couple to work with lawyers.

Can you tell me more about the reality show that you're creating?
People might think "Why should I go to the Divorce Hotel for arranging my divorce?" We'll show [our process] in an emotional TV show with wonderful moments -- something you would never expect in a program about divorce. I want to show that what happens in our hotel is very special. I don't want to [show] creepy, "Jerry Springer," horrible shit.
Do you have a personal connection to divorce?
I have never married or divorced. I am convinced that I will marry in the future. I believe in real love. But not everybody is lucky to find it, so I would like to help those people split up in a positive way.
What do you mean by "positive way"?
Some people have the mindset that, if they divorce, they need to ruin their spouse. I think it's better to do it quickly. It's better for your money, of course, but it's more about the end result: I had an experience with a woman told me that she had problems with her friends because they told her things like, "Why don't you ruin his life? He wants the divorce, take what you can and get his money." This woman told me that she didn't want to ruin his life, personally or financially. She said, "My intention is to be able to, if I run into him in two years, be on speaking teams with this guy."
Popular in the Community