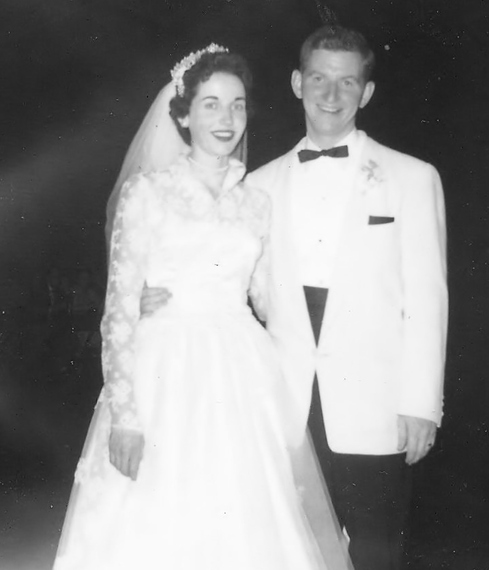 My mother lost her husband of 56 years recently. They were married for 42 years; divorced for 14. When they separated back in the '90s, none of the ten offspring could have predicted the events that occurred when my father was admitted to the ICU nearly 800 miles away. My parents' divorce was not one of those amicable, "We grew apart" separations. Their divorce should have been a simple one but took four long, contentious years to settle.
As the years passed following the signed marital settlement agreement, my parent's relationship became one built on encouragement and concern. My mother was one of my father's biggest supporters through the years, even after the divorce. She didn't want him to feel badly -- either physically or emotionally -- and often took steps to protect him, her former spouse.
A sister and brother did the lion's share of my father's care giving. But when it became evident that my father was really sick and facing the end, it was my mother who flew to Chicago to support him and my siblings. My father and his health care director were facing huge, life altering decisions. Those decisions were both difficult to make and enforce once they were made. Dad felt better knowing Mom was there and privy to the conversations.
My mother's presence brought comfort to my ailing father. It was her company that he desired. It was in her hand that he wanted to place his. It was her name that he called out when she left to return home. It was her picture that was found in the box stashed in his closet.
Many people asked me why my mother went to my father's sick bed. My response wasn't always the same. Sometimes I thought it was to support my siblings with their decisions. Or possibly it was because she was married to him for over 40 years. Maybe it was because they had ten children together. She didn't hate him; she just didn't want to be married to him. I never asked my mother why she went as it wasn't important and it was her choice. To me, it was critical that she be there at the end. I hoped that he would feel the same way. Hours before he passed, my mother said her final farewell and kissed his forehead. Shortly after that, he was gone. My mother called me to share the news. She wasn't crying, but I did.
I'm not sure if they had that conversation that people talk about when you have the chance to say goodbye. My wish for them was to exchange a few simple words and short phrases. A heartfelt "thank you", "I'm sorry", "you were the best", or "we had a good life" would have been healing words for both of them. Simple words and short phrases that could deliver the final message.
My parents' love story is an important one to tell. We each marry our partner for our own reasons. Often during divorce, people say, "I would be a much better widow than divorcee" and I don't disagree. Our marriage is part of our history -- for better or worse -- just as the love story between my parents is part of their history.
The final chapter of my father's life included gatherings with family, friends, former colleagues and lastly with the woman he chose to be his wife and the mother of his children. The rocky start to their divorce makes their ending even sweeter. When it was time to take his last breath, he had spent many days with my mother by his side holding his hand or offering him silent comfort. They started the journey together back in the '50s and almost 60 years later, for better or worse, my mother is grieving the loss of her husband.
This article was originally published on FamilyAffaires.com.
Popular in the Community