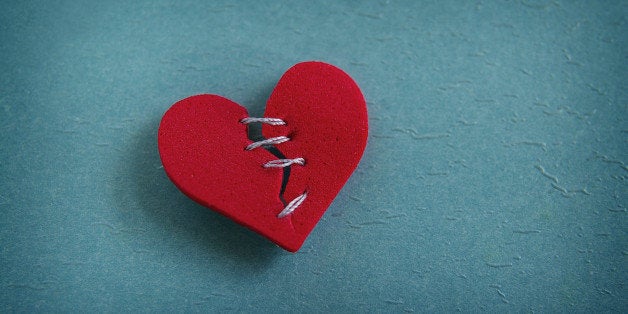 I'm currently settling into life as a single person with a new home in a new city. I am also looking to make some new friends. Thanks to the Internet, it's now fairly easy to connect with people who have similar interests and also live nearby.
After doing a bit of research, I joined a few walking, writing and social groups that, hopefully, will encourage me to get out of the house and away from my computer screen.
Recently, I went to a social mixer of about 40 men and women.
There was wine, good food and 1990s piped-in music. People were friendly and everyone had one thing in common: We were ending or had ended a marriage. Since I've been divorced about three years, I was sure I'd fit right in.
The first few people I met posed the question, "Are you separated or divorced?"
Quickly, I grasped that divorce was not just a topic for conversation at the mixer. It was the main topic. Everyone seemed to have a divorce story, and they felt the burning need to share it. They talked about their former partners -- sometimes with laughter, but more often with anger, bitterness and tears. Always, their stories were tinged with sadness.
Less than halfway into the event, I realized the "Divorced and Separated Social Group" wasn't a good match for me after all.
While I am divorced woman, I am not in the midst of a divorce. That terrible chapter of my life is thankfully behind me.
It's not that I never think about being divorced: It comes up frequently in conversation or when I check off that little square box on medical forms. I'm reminded of my marital status when I look at certain family pictures or make plans for holidays. However, divorce no longer consumes my life. My 21-year marriage will always be a part of me, but it no longer defines me.
Moving on is a funny thing. You can't will it or move it faster. It has a path and a pace of its own, and everyone's journey on that path is different.
For me, moving on took several years. It evolved slowly but with the passage of time came the healing of wounds. I learned it was a process of forgiveness, acceptance and finally a willingness to let go and push forward. Sadly, some people never get to that point. Indeed, I met one woman at the mixer who had been divorced for six years, but she had never gotten past the pain and hurt. Listening to her, it sounded as though her divorce had taken place just months -- rather than years -- before.
I didn't realize how much I had moved on until I was surrounded by others who had not.
On that dark, snowy evening, it was apparent that divorce is no longer center stage in my life. Yes, my divorce changed me, and I've got some battle scars. Yet, overall, I'm in a good place.
I will always be a divorced woman. But now it is a part of my history, not my present.
PHOTO GALLERY
Where To Meet Singles Over 50
Calling all HuffPost superfans!
Sign up for membership to become a founding member and help shape HuffPost's next chapter