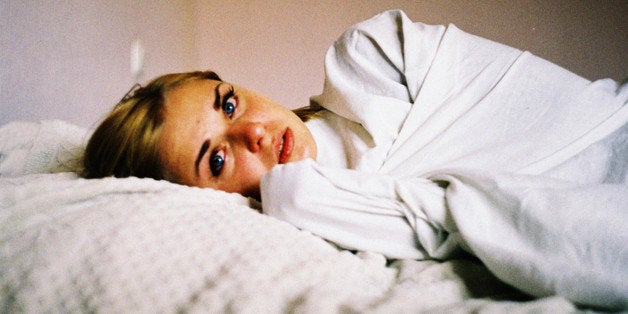 Remember those breakups in high school or college? When you were devastated and sure your life was over when your boyfriend of a whopping six months dumped you for a sorority sister? Nowhere close to what you're going through, am I right?
Having your marriage end, for whatever reason, is traumatic. You will suffer from PTSD of a sort, and for a while. You will ball up on the couch, in the shower, in your bed, in the cereal aisle and just cry, cry, cry. And that's okay. Because with every tear, you're one step closer to it being your last.
Penciling in Grief
I'm a take-charge kind of girl, and I like to have systems and plans in place. So the day after I found out how my husband had betrayed me, I set up a therapist appointment and called my gyno for an STD test. I needed to take care of me.
My therapist marveled at how on top of things I was. I guess most women ooze into her office, unable to hold things together, unable to make decisions and plans. But I was on it, baby. I had made a list of everything I needed to do, down to shopping for health insurance. I'd made a budget for living alone. I'd shopped for a new place. All this and it hadn't even been 36 hours.
My therapist warned me that when all the "doing" wound down, I'd probably collapse and need to grieve. So I put "grieve" on my to-do list, too. I wanted to do it right, and by golly, if I needed to grieve, grieve I would.
The thing is, grief can't be penciled in on your calendar: 9:30 pm: fall apart in shower after kid is asleep. It just happens. When you don't want it to. Like shopping for new decorative pillows at Target. Or trying to leave yoga class, but someone hugs you and you just. Fall. Apart. And then you'll think you're okay, and the Universe will let you know that you are decidedly not okay, and you had better come to grips with that fact right now, baby.

Letting it Happen
You won't be surprised to know that my therapist was right (that's why we pay them the big bucks, right?). Once I finished scouring ApartmentTherapy.com for tips on maximizing space and making my apartment look like a hip bachelorette pad, I kinda lost it. I'm a writer by trade, and I could write exactly ⅓ of an article before I needed to take to bed with a box of Kleenex for the rest of the day.
Try as I did, I couldn't pull myself out of wallowing and talking about my divorce with friends. They were supportive, but damn, I know they were sick of me. I'd get angry that this fugue insisted on staying over my head, as if I were Eeyore and not the happy-go-lucky girl I believed myself to be.
After reading stacks of books on finding happiness and surviving trauma, I finally got the message: I had to let grief happen to me. I had to live in it, not try to run from it. So I embraced it. I planned my days around grief ("Sorry girl, I can't have coffee at 3. That's my collapse-in-a-puddle-of-my-own-sorrow slot."). I accepted that Grief and I were going to have to be roommates for a while. The sooner I accepted that, the sooner it would move the hell out of my head.
And you know what? It got a little easier. By not trying to plan my way through my healing, by forcing myself to slow down and just be in it, I made it through what (hopefully) was the worst part.
I'm not fully healed yet. There's still a lot of crap to wade through. But I see the light. And it looks sweet.