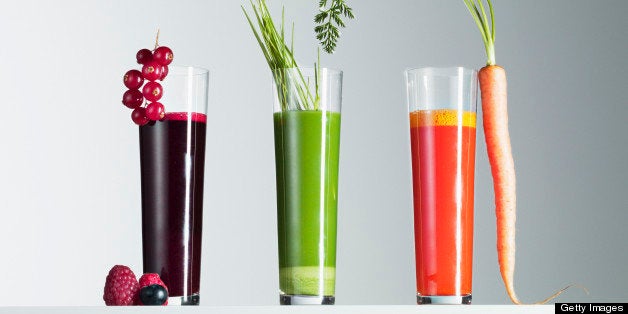 While everyone hopes for a quick divorce settlement, it can drag on and take over your time, mind and emotions. It's up to you to "divorce your divorce." It's inevitable for it to go on, but you can't let it take over your life. If you have children, you can't be in a bad mood around them. If you are working, you can't act upset or depressed at the office. When the divorce affects your daily life, you have to do your best to keep it in the correct prospective. It may sound difficult to do, but when you set your mind to it you will be pleased at how much better you will feel. By not letting your divorce take over your life, you can move forward more quickly.
The divorce will eventually be completed and if you don't live your life during the divorce process, you will look back and be mad at yourself. So how do you live your life during a divorce? Here are seven ways to help you divorce your divorce and enjoy summer.
Visit a Juice Bar
How do you keep yourself healthy during this trying time? One of the best ways is juicing. Go to a local juice bar and order something refreshing. You may meet someone at the juice bar who is single and is interested in health.
Exercise More
Try something new like kickboxing or tai-chi. It will help you get in shape as well as lessen any frustration or aggression you may be feeling about your soon-to-be-ex.
Take a Class
This is a great way to get your mind off of your divorce. A friend of mine took a cooking class and there was a great deal of interaction with the other students. She made friends and they had dinner parties once the class ended.
Make a Plan
Try to make plans to get together with friends. Go out and do something fun and get your mind off of the divorce! Pick a place where they do things that are fun and make you feel happy,
Talk to a Therapist
If you feel you need to speak with someone about your divorce to help you deal with it, then you should. There are many good therapists who can offer advice during the divorce process. This way, you won't be constantly speaking to friends and family about your issues.
Buy New Towels
This might sound minor, but it has a lot of meaning. Pick up some new towels for your bathroom in your favorite color. It will help begin to revitalize your home and make it feel like your own place.
Go to Outdoor Concerts:
Summer is the season for outdoor concerts. There is nothing more relaxing than spreading a blanket on a lawn and listening to your favorite kind of music. You are also sure to make new friends there.
For more ways to help you get through your divorce, pick up Lois Tarter's new book "The Divorce Ritual: Get Up, Get Out and Get On With Your Life" by clicking here.
Related