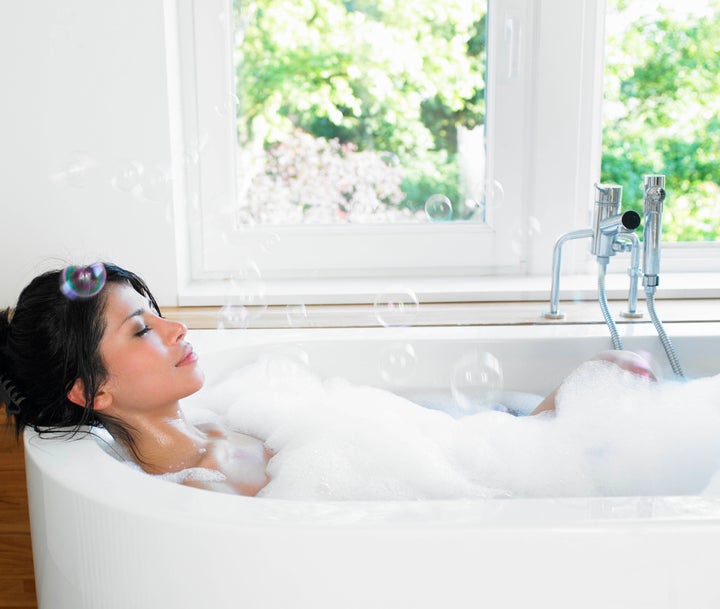 When February 14 hits, you shouldn't feel like cupid has thrown you under the bus. The heart of the matter is that there are actually many pluses to being divorced and single on this holiday and you should embrace them all.
Forget trying to make a dinner reservation at a high-priced restaurant. Skip the fattening chocolates with all that stuff in the middle. Secret admirers are overrated (and a little scary). This Valentine's Day is about looking cupid in the eye and saying, "Bring it on, baby (no pun intended)!" You may have been through a difficult divorce and haven't enjoyed this holiday in quite awhile. There's no reason to feel down and there are many reasons to be upbeat and thankful on this day, whether you have someone in your life or not. Love that you made it through your divorce. Love that your children are happy and healthy. Love that you have a second chance at life! And with all this love, isn't it time to spread it around? Here are my eight ways to love Valentine's Day divorced and single.
Love Flowers: Buy yourself some roses for Valentine's Day. Get one rose for each year that you have been divorced. If you've been divorced one year, then pick up just one. If it's twenty years, then you should really smell the roses. You deserve it!
Love Dinner: Take the time to make your favorite meal on Valentine's Day. Have a glass of wine, put on some music and kick back. This is a great way to spend the evening.
Love Relaxation: Enjoy a spa night at home. Soak the evening away with some candles and music and your Valentine's Day worries will become a distant memory. If you have the time and the resources, order in a massage.
Love Exercise: Looking for a more active holiday? Try something athletic. If you enjoy cycling, then start up a singles bike ride for Valentine's Day. Or, go for a nice long walk. If you feel like climbing a mountain, head to a local rock climbing wall.
Love Your Family: Spread the love to your family. Give your children Valentine's Day cards and have some fun. Spend time with them baking holiday heart cookies. Then, go as a family to a local homeless shelter and give out the cookies.
Love Moving On: After the kids go to bed, start a cozy fire in the fireplace. If you still have the old Valentine cards from your ex, it's time to toss them into the flames and kiss them goodbye. This will keep you and the fire glowing.
Love Being the Host with the Most: If you're single with no kids, host a Valentine's Day party at your home. I suggest throwing this event with a lively spin - everyone you invite has to bring one single guest with them. Forget the wine and flowers. Bring a plus one cutie instead!

Love Thy Neighbor: If you have an elderly neighbor, go over and spread some love. See if he or she needs your help or a ride to the grocery store. They will surely have some stories about love and there's nothing like some good advice from a seasoned pro.