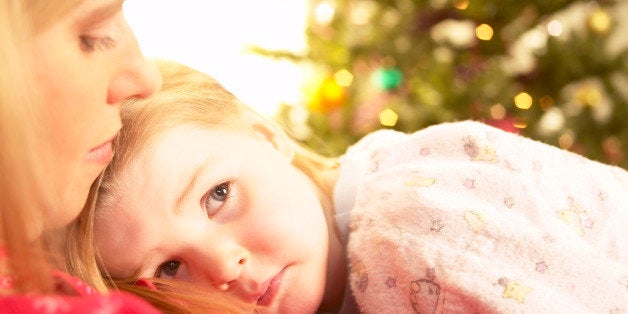 Wouldn't it be truly wonderful if there could be a truce on the hostility and anger that exists for many divorced parents during most of the year? After all, Christmas is the most wonderful time of the year... or at least that's what Andy Williams says on his famous Christmas album. Certainly for many children, the Christmas and Hanukah holidays are the most special time of their childhood. The gifts, the festivities, the food and the celebrations make the winter holidays appear magical -- each families' own version of Disney for children.
Now, throw in divorce. Does all the magic disappear? The answer is only if the parents choose to turn the charm into dust. Parents get to decide what kind of holidays their children have, whether divorced or intact.
The reality is that divorce in and of itself does not make a holiday a disaster. Divorce is something that can be adjusted to depending on several factors.
Parents need to recognize that children of divorce can truly enjoy the holidays if parents themselves are able to rise above the chaos and drama and stay the course of making the holidays magical for their children.
Here are six ways divorced parents can get over their drama this holiday season:
1.Holidays are emotional and so is divorce. Parents need to recognize their own reactions to divorce and keep boundaries around their emotions. How parents handle being on their own during the holidays will impact how their children respond to the divorce. Don't be babies, let your children be kids -- you be grown-ups!
2.Holidays are about love, appreciation, gratitude and family. Parents who use their children as weapons during holidays create unhappy memories and unnecessary toxicity. As children age they will avoid these types of parents. Parents put the children first and allow them equal and appropriate access to parents. Reassure your children that they are not in the middle and that they do not have to choose by showing them that you want them to celebrate with the "other" parent and their family.
3.Set expectations and schedules early. Children should know when, how, where and with whom they will celebrate the holidays. Don't pull any fast ones and try to change the schedule. It's so unfair to children and no matter much you'd like to keep you ex waiting an hour on Christmas day; your children are the ones who will suffer the most. Don't do it.
4.Allow kids to enjoy their families. If children are part of a stepfamily with whom they celebrate, don't hold this against them by trashing talking their family -- yes, step-families are a legitimate part of your children's family too. Give the gift of safety to your child and allow kids a chance to be festive without worrying that they are making one or the other parent angry.
5.Gifts are for giving, not taking. Give gifts to kids as a means to show them joy, not to use a weapon to one-up each other. Focus on what you can give because that's what is important to kids. If kids get more at one house than another, don't compare and feel slighted. Remember kids love their presents because of who they came from more than because of what they are.
6.Limit alcohol. All adults become disinhibited when using substances. If you have a tendency to overdo it, plan to control yourself for your kids because they don't need to see their divorced parents intoxicated and stewing in pain instead of relishing the most wonderful time of the year!
Related