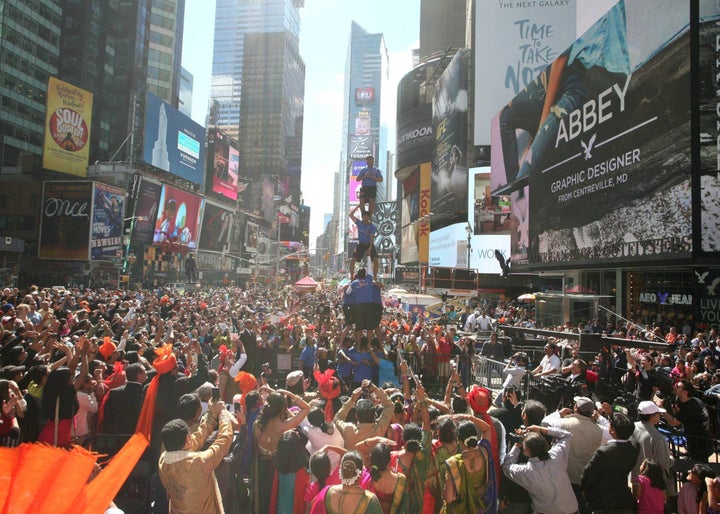 NEW YORK ― New York City's iconic Times Square transformed into a vision of South Asian culture on Saturday, as thousands of revelers gathered for an early celebration of Diwali, the Hindu festival of lights.
Diwali, also known as Deepavali, is the biggest and most important holiday in India. It lasts for five days, and coincides with the Hindu new year.
Hindus, Jains, Buddhists and Sikhs celebrate the religious occasion every autumn in countries throughout South Asia and beyond. In the United States, major Diwali festivals have lit up communities from California to Texas to North Carolina in recent years.
The massive Times Square event ― the largest Diwali celebration outside of India ― has been growing in size since its debut in 2013, attracting large crowds including many people from the city's numerous immigrant communities. It's the largest South Asian ethnic event in New York City, where at least 3 million residents ― more than one-third of the population ― are foreign-born, per the Department of City Planning.
Diwali at Times Square is the creation of Neeta Bhasin, president and CEO of marketing firm ASB Communications. Bhasin, who moved to the U.S. from India four decades ago, says she is dedicated to teaching people about Indian culture and traditions.
"Being an immigrant woman, I felt compelled to showcase the beauty and the richness of our culture, and what better way than bringing our incredible festival of Diwali, that celebrates the victory of light over darkness [and] knowledge over ignorance, to the center of New York, Times Square?" she asked.
She believes the annual event is "more important now than ever." In the wake of the 2016 election, Americans have witnessed a rise in polarizing, anti-immigrant policies and rhetoric from White House officials, including President Donald Trump. One of Trump's earliest and most controversial executive orders, widely referred to as the "travel ban," restricts immigration and general entry to the U.S. from specific countries for purported national security purposes. Human rights groups have claimed the ban is unconstitutional and promotes xenophobia.
In order to "stand against hate and prejudice," Bhasin says, it is "extremely important for us to learn from each other."
"Indian culture is part of American culture, as is Mexican, and Chinese and the many cultures that together make up the beautiful tapestry that is the American culture," she said. "We want to spread a message of acceptance and integration, love and harmony in a society that feels extremely divided at this moment."
Saturday's event featured a variety of Indian dishes, a digital fireworks display and a lighting ceremony of traditional lamps known as Diyas ― an important Diwali ritual.
It also boasted a lineup of celebrity performers, including Bollywood choreographer Terence Lewis; actors Sanjeeda Sheikh and Aamir Ali; as well as singers Hamsika Iyer, Mickey Singh and Raman Mahadevan.
In a statement issued prior to his performance, Lewis said he hoped the festival would "spread a little bit of love and happiness" during a time when "there is so much hatred, there's so much violence [and] there's so much intolerance."
For Iyer, who traveled from her home in Mumbai to perform at Times Square, this weekend marks her first-ever trip to the U.S. She said she is very grateful for the opportunity "to share the Indian-ness ― music and culture and everything that is very India ― with the audience here."
She performed a number of songs, including the hits "1 2 3 4 Get on the Dance Floor" and "Chammak Challo."
"Diwali is very special because it brings everyone together," said Iyer, who plans to return to India in time to spend the Oct. 19 holiday with family, as she does every year. "It's a time of light and happiness. It's beautiful," she added.
Nivrutti Khandade attended the festival for the first time with his 8-year-old son on Saturday. They donned matching red kurta pajamas, loose-fitting garments traditionally worn in India, Pakistan and Bangladesh.
"We love watching the dancing and seeing celebrities," said Khandade, adding the event reminded him of life in India, where he and his wife spent most of their lives.
The couple immigrated to the U.S. in 2012 with their son, who was only 3 years old at the time. They now live in New Jersey, but Khandade strives to educate his son about their Indian heritage by bringing him to events like the Diwali festival.
"My son grew up in the U.S., so he only speaks English," he said. "We try our best to understand and adapt to U.S. culture, and we also enjoy celebrating our culture here."
Related
Before You Go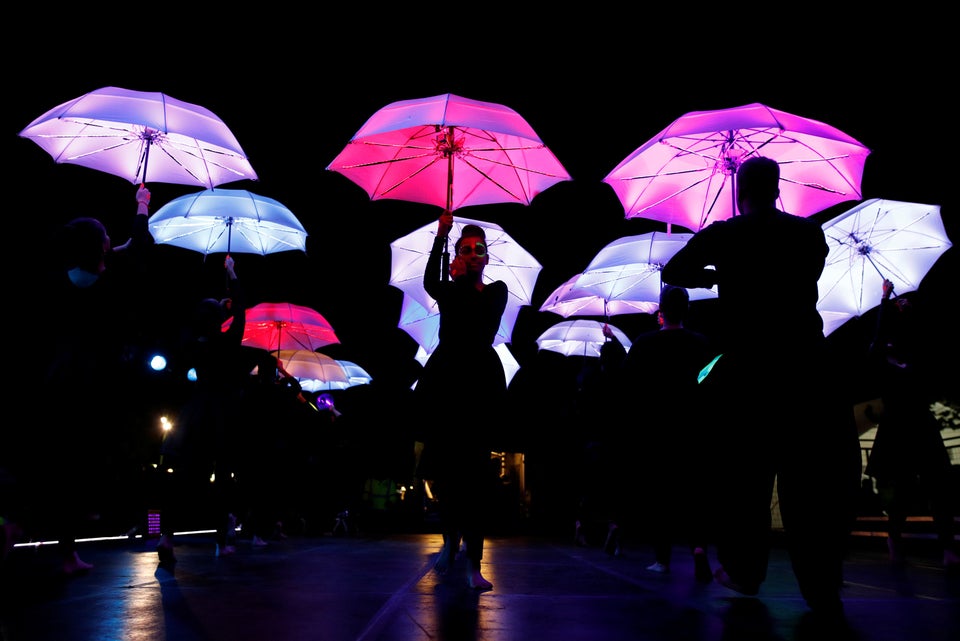 Diwali Celebrations 2016
Popular in the Community