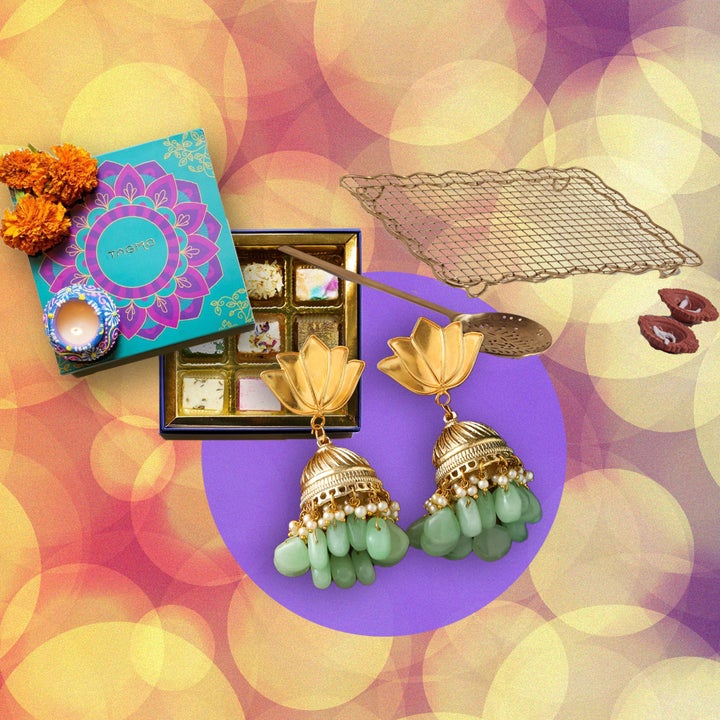 Growing up, there was something about Diwali each year that without fail poured a familiar warmth into my culturally confused soul. Maybe it was the thick sweaters that used to cover our salwar kameez, impenetrable against the brisk night chill.
Or it could have been the diyas that my mother used to light, carefully perched on tables, desks and dressers around the house, flickering and warding off the demons. Though the festival of lights, recognized by more than a billion (yes, billion) people of the South Asian diaspora, is abound with richly diverse regional traditions and rituals, the celebration brings constancy in its virtues: home, triumph of good over evil and new beginnings.
Ahead of the holiday, I've rounded up some goodies that capture its essence. Each one is a little ode to the spirited moments and memories that many South Asians hold sacred, taking us back to those days of sparklers, jalebi and the warmth of a living room full of people dressed in their freshest Diwali drip.
So whether you're giving to loved ones this season or treating yourself to something decadent, our picks will add a little shimmer to your festivities.
HuffPost receives a share from retailers on this page. Every item is independently selected by the HuffPost Shopping team. Prices and availability are subject to change.
Brooklyn Delhi Sweet Mango Chutney
Kajal Eyeliner Set by Kulfi Beauty
The Balvenie French Oak 16-Year-Old Single Malt Scotch
Laumière Diwali Collection
Glacier Mercury Glass Candleholder Set
Essie Nails Risk Takers Only
Cleanse, Tone and Glow Bundle
Lotus Jhumki (Dark Green) Earrings
Happy Diwali Limited Edition Candle
Related