President Donald Trump spent the weekend going after NFL players who silently protest racial discrimination during the national anthem, calling them sons of bitches who should be taken off the field and fired. His message was that once they put on their uniform, they lose their First Amendment rights.
While plenty of people ― including the vast majority of NFL team coaches and owners ― condemned Trump's remarks, others supported him.
Players "have the right to have the First Amendment off the field," Treasury Secretary Steve Mnuchin said Sunday in an interview with ABC's "This Week." He also defended Trump's use of the term "son of a bitch" to refer to the protesting NFL players, saying, "I think the president can use whatever language he wants to use."
In Indianapolis and Boston, fans booed players who took a knee during the anthem Sunday. And in Buffalo, a longtime employee at the Buffalo Bills' stadium quit his job out of disgust over players kneeling while the anthem played.
"I believe people have the right to protest; I just don't believe that's the proper venue for it," said Erich Nikischer, who vowed never to step foot in the stadium or watch another NFL game ever again until the protests are over.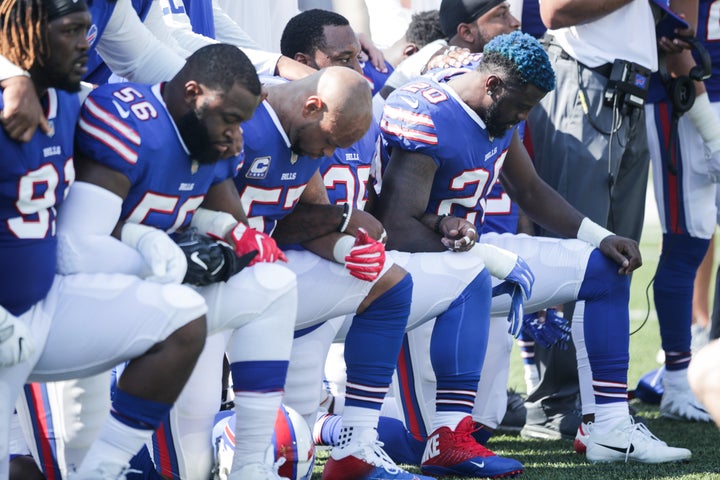 The basic reasoning from Trump and his backers is that these athletes are here to amuse and entertain the public, and they should keep their opinions to themselves.
In other words, shut up and play.
While Trump has ignited this most recent controversy, the idea that celebrities should grin and bear it is not new.
On March 10, 2003, in the run-up to the invasion of Iraq, Natalie Maines ― the lead singer for the Dixie Chicks ― told a crowd at their concert in London, "Just so you know, we're on the good side with y'all. We do not want this war, this violence, and we're ashamed that the president of the United States is from Texas."
That comment ignited a firestorm of criticism once it was picked up by U.S. media. The Dixie Chicks were a hugely successful country music group ― the top-selling female band of all time ― with many fans who were conservative politically.
The group received death threats and people pressured country music radio stations to stop playing their songs. Supporters of then-President George W. Bush called Maines a traitor and suggested strapping her to a bomb and dropping her over Baghdad ― all in the name of patriotism and supporting the United States of America.
The fallout from the incident was covered in the 2006 documentary called "Dixie Chicks: Shut Up and Sing," with the title taken from a man who wrote to them and told them to do just that.
"Freedom of speech is fine, but by God ... you don't do it en masse publicly," one man featured in the film says.
Maines' representative declined an interview request for this piece.
The Dixie Chicks' first album following the controversy was Taking the Long Way, released in 2006. It addressed all they had gone through in the previous three years, including a song with the lyrics, "And how in the world can the words that I said/ Send somebody so over the edge/ That they'd write me a letter sayin' that I better/ Shut up and sing or my life will be over?"
The current NFL protests were started last year by then-San Francisco 49ers quarterback Colin Kaepernick, who took a knee during the national anthem to bring attention to police brutality and racial discrimination.
Unlike Trump, Bush responded to the Dixie Chicks by saying that the group members were free to speak their mind.
″They can say what they want to say," he said in 2003. "And just because ― they shouldn't have their feelings hurt just because some people don't want to buy their records when they speak out. You know, freedom is a two-way street. But I have ― don't really care what the Dixie Chicks said. I want to do what I think is right for the American people, and if some singers or Hollywood stars feel like speaking out, that's fine. That's the great thing about America. It stands in stark contrast to Iraq, by the way."
Want more updates from Amanda Terkel? Sign up for her newsletter, Piping Hot Truth, here.
Popular in the Community