When I first moved to the East Village in the early 80s, I had no idea I was living in the epicenter of a world that was giving birth to what is now considered a golden age of queer art and performance which launched the careers of so many talented and revered artists. The Pyramid Club was, unquestionably, the holy ground for this nascent movement and little did I know that Lady Bunny, RuPaul, Lypsinka, Charles Busch, Holly Hughes, Reno, Penny Arcade, and dozens of other performers who appeared at Pyramid's Whispers party on Sunday nights would go on to become the inspiration, trailblazers, and mentors for an entire new genre of queer entertainment. The idea that some of them would go on to appear in movies and on television and Broadway just wasn't in the realm of our thinking back then. My friends and I just knew them as our friends and neighbors and we'd faithfully show up every week to see their hysterically brilliant -- and often magically messy -- shows that not only left the crowd catatonic with laughter but also politically charged. You see, most of us were in ACT-UP and fighting for our lives then, and when we weren't involved in demonstrations and caring for our sick friends, places like the Pyramid provided a haven from the fight, kept our spirits up and gave us a place to dance, fall in love, and forget about Reagan, Jesse Helms, and a rising and frightening Moral Majority. The artists that appeared at Pyramid, 8BC, Lesbo Lounge, King Tut's Wah Wah Hut, and Dixon Place were not only crazy talented but also pointedly political with their performances by embracing an activism and anti-establishmentism that remains pretty much alien to many of today's younger queers who want nothing more than to be assimilated into a suburbanized culture filled with Targets, strollers, and American Idol.
Nearly all of those East Village venues have disappeared and the neighborhood has become a playground for roaming packs of bankers, frat boys and stilleto girls on a mission to pursue their Sex and the City dreams. LGBTQ artists now appear online and nearly every network (thankfully!) and politically-tinged live performance may seem like only a blip in an ancient chapter of our history except for one place -- Dixon Place. In spite of all the gentrification and assimilation, this thriving performance venue grew out of Ellie Covan's living room over the years and into a self-owned and self-sufficient complex that supports queer artists year round. But on July 2nd, Dixon Place launches their 21st Annual HOT! Festival of Queer Culture that will be all queer, all the time and will host rising young artists in addition to some of the alumni who performed from years past. For 30 days, HOT! welcomes a new generation of talented queer folk who you probably won't see on the Style section of The New York Times anytime soon. These are the artists who make daily sacrifices for their work in order to create an uncensored, un-mainstream, and in-your-face experience that challenges and entertains in a way that LOGO or Bravo wouldn't touch with a 10-foot-pole. I'm particularly looking forward to seeing Dan Fishback's new play, The Material World, with breakout downtown star Cole Escola. And Even For One Night, the musical homage to Michael Callen, the AIDS and gay rights hero whose work saved the lives of thousands of men during the dark days of the plague will surely attract a faithful old school crowd as well as the young queers who are hungry for their history. For comedy, I'm catching Jessica Halem's See Something, Say Something and MargOH! Channing's Skanks in Pearls. And nothing will keep me from seeing D'Lo, the critically acclaimed queer boy/stud/trans stand-up John Leguizamo-esque artist who has quickly gained a following since moving here from LA recently. D'Lo's appearance last year was nothing short of electrifying and he brought the crowd to their feet during every performance.
It's no mystery to me why the Village Voice calls the HOT! Festival New York's Best Gay Theater Festival. It has not only stayed true to the mission of giving underexposed queer artists a forum for their work, but embraces them with a support system including marketing, state of the art technical tricks, and even a lounge with a full bar to celebrate their show with their friends and fans afterwards. I'm proud to play a supporting role in HOT! and invite you to spend part of your summer to experience queer performance that you simply won't see on television or online. And if you've got kids, no worries! Just bring them along. HOT! Festival has Homoeroticism for the whole new modern gay family and you may even inspire the little ones into taking the Dixon Place stage one day. I'll even give you a tour of the backstage and dressing room where all the pre-show magic happens.
Dixon Place Presents the 2012 HOT! Festival of Queer Performance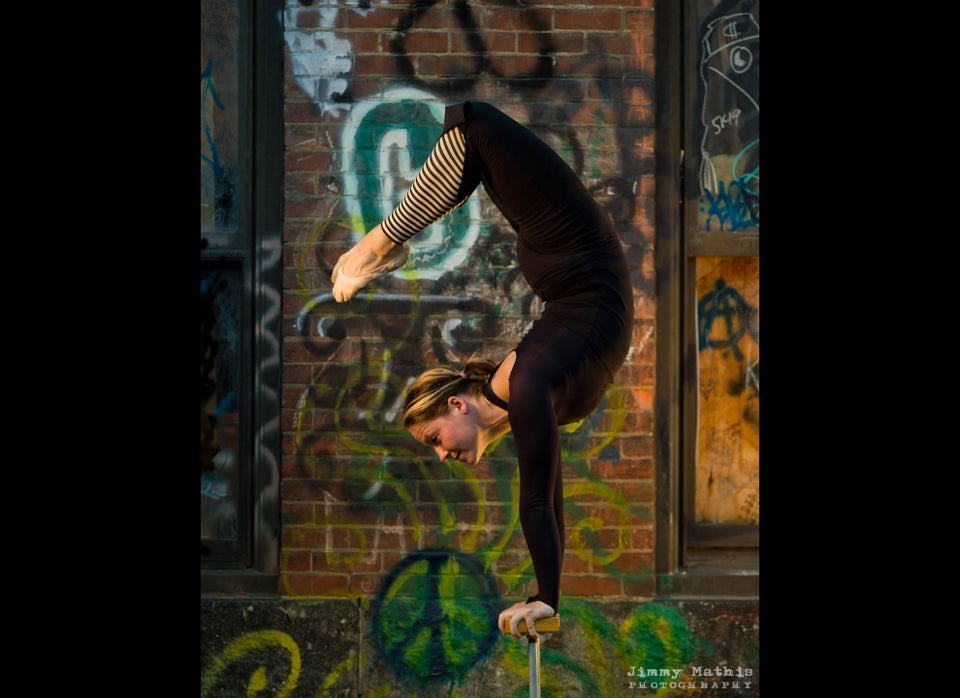 Hot! Festival
Popular in the Community