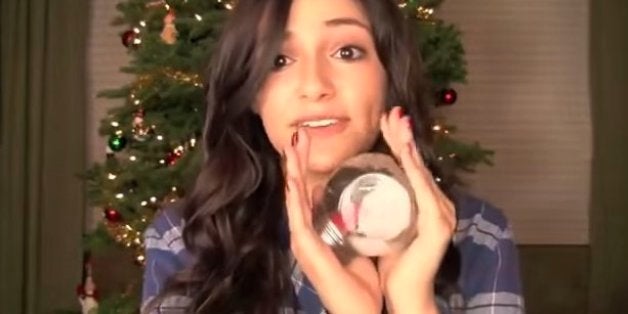 The holiday season is in full swing, which means about six more weeks of Christmas carols on repeat, impossibly-packed shopping mall parking lots and the growing anxiety of searching for the perfect gift for every special person in your life. Why not skip hassle of holiday gift shopping this year and give the way better gift of DIY?
If that sounds like a Pinterest-fail waiting to happen, rest assured: You don't have to be an Olympic-level DIY-er to craft some awesome homemade presents. We've rounded up some ideas that are super simple and can suit even the pickiest person on your holiday gift list:
1. A Bethany Mota-approved homemade snow globe
Perfect for: Your parents/grandparents/etc.
'Tis the season, after all. Famous vlogger Bethany Mota can show you how to make the classic holiday decoration on the cheap. Make a classic snow-covered cottage, or get weird with an outer space-inspired scene. Does it snow on Mars? Who cares.
Perfect for: Your younger sibling
Add a touch of whimsy to your younger sibling's room with an adorable bird mobile. The crafty Etsy user Joel Henriques makes it look like a cinch.
3. A disco ball Christmas ornament made of broken CDs
Perfect for: Anybody fun who owns a Christmas tree
Combine two things pretty much everybody likes: disco balls and Christmas trees. You probably have at least a couple scratched up, unusable CDs currently wasting away. Turn them into this Christmas ornament, courtesy of Crème de la Craft.
4. A purse made out of an old book
Perfect for: Your favorite bookworm
This super cheap gift makes for the ultimate geek-chic fashion statement. The Curbly Video Project can show you how to transform an old book into a totally functional handbag.
5. Or a purse made out of a record
Perfect for: Your music-junkie friend
This eye-catching purse is a pretty straightforward craft project, and is a totally affordable gift for your friend whose been coveting an old-school record player. Just follow this great how-to, brought to you by YouTuber CraftyAmy.
6. A backpack made out of Capri Sun containers
Perfect for: Your kid cousin
Transform the containers from this classic kid's drink into a super cute backpack. This is another brainchild of the genius Youtuber, CraftyAmy.
7. An iPad case made out of old jeans
Perfect for: The techie in your life
Unearth that pair of jeans you never wear from the depths of your closet and turn it into a cute iPad case, under the guidance of YouTuber ThreadMarian. If you're not a great seamstress, you could even make an iPad case out of duct tape.
8. Starbucks clay figurines
Perfect for: Your favorite caffeine-addict
El Art De Pau can show you how to make a mini Starbucks figurine so realistic you'll expect there to be a tiny pumpkin spice latte inside.
Perfect for: Any beauty aficionado
Your glamorous friend knows all the best beauty products and always has weirdly-soft hands. You can't buy her the designer lipstick she's been coveting, but you can make her a super-inexpensive, delectable skin product shaped like the cutest dessert in the world. Learn how from the POPSUGAR Girls' Guide.
Perfect for: Anybody with a sweet-tooth
Try to think of a cuter piece of home decor that can also satisfy any sugar craving. YouTuber Karla Celis can walk you through the steps to making your very own gumball machine. Yum.