My dad, Larkin Larrabee, has been a mechanic for nearly his entire life. He's always fixing things around our house or working on projects for friends and family. Recently, a broken clock was donated to the church my parents attend and the pastor asked my dad to fix it. He agreed and went to the craft store to get a couple of battery operated clock movement kits. After tinkering with the clock at the church, he decided to create one of his own with some things that were already lying around his tool shed.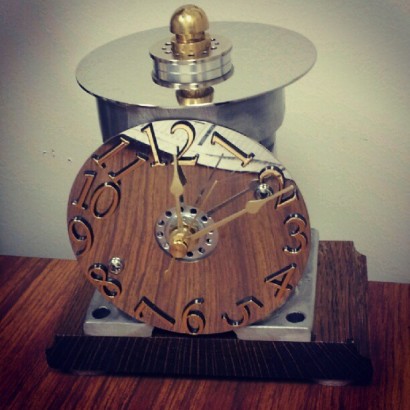 Photo by: Nichole Salinas
This gorgeous clock took about 7 hours of work, an old car part, a couple of hard drives and two very high-powered tools. My dad's project isn't an easy DIY, unless you've got experience with a Sawzall and a dremel. (He used the Sawzall to open up the throttle of an old '97 Mercury Sable, then used the dremel to grind out the inside.) Then he used a wire brush attached to the grinder to smooth the metal, followed by a bit of electric motor degreaser to clean the throttle to the shininess you see in the photo. The two hard drives, that you see as the disks on the top and the face of the clock were cleaned with windex as they are already shiny. Then all three parts were sealed in a light coat of shellac.
The throttle and hard drives were then put together by one threaded rod on a piece of scrap oak from my grandpa's wood pile and topped off with a brass knob that my dad had in one of his tool boxes. I know, he's got a mechanic's mind. Finally, he attached the numbers on the clock and the soft pads on the bottom of the oak plank to keep it from scraping any surfaces.
Larkin Larrabee's advice for you is that you don't have to use these specific items, "there's always something lying around your house, just let your imagination be your guide." And don't be afraid to try anything that pops into your head, "the worst you can do is wreck something and have to start over."
My dad is all about trying and never giving up. These lessons started with his dad, who always told him, "if you haven't ever done anything wrong, you've never done anything. You have to try." So what will you try - will your new clock be made of computer parts, car parts or something else you have lying around the house?