"Ma! Let me do it myself," beg the young, yearning for independence. Do you remember that exchange with your mom? How lovely that DIY (Do It Yourself) has become a battle cry, as we are suddenly desperate to rediscover the joy that comes from making things ourselves. This is the ideal time to apply DIY to gifts for holiday giving. The kitchen is the perfect place to start with these four simple projects. They are all appropriate for small helping hands - I make them often with kids who love the mess, delicious ingredients and of course, the end result.
A great gift - good for sprinkling on yogurt, nibbling as a snack, adding to oatmeal or fruit - and downright easy, yet impressive to make.
Coconut Raisin Granola
Serves 4-6
Ingredients:
4 cups old-fashioned rolled oats
1 1/2 cups sweetened flaked coconut
1/4 teaspoon salt
1/3 cup vegetable oil
1/2 cup honey
1 cup dried cranberries
1 cup raisins
Method:
1. Preheat oven to 375F.
2. Toss together oats, coconut, and salt in a large bowl. Whisk together oil and honey, then stir into oat mixture until well coated.
3. Spread mixture in baking pan and bake, stirring occasionally, until golden brown, 25 to 30 minutes. Stir in cranberries and raisins, then cool completely in pan on a rack.
Baking typically calls for a great deal of precision. This is a recipe I love because it is forgiving, fast and a delicious treat. The ingredients are fairly simple and it is great fun to make with kids. (If you don't have a pastry bag, a plastic food-safe bag with a small hole in a corner can substitute.)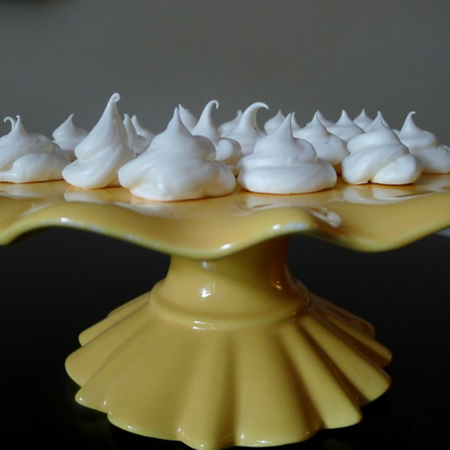 Meringue Kisses
Yield: 24+ kisses
Ingredients:
3 large egg whites at room temperature (yokes can be frozen for other use)
Big pinch of cream of tartar
Little pinch of salt
½ cup superfine sugar
¾-1 teaspoon vanilla extract
Method:
1. Preheat the oven to 200 degrees and line a baking sheet with parchment paper.
2. Put the egg whites, cream of tartar and salt in the bowl of an electric mixer; mix on low speed to mix together, then increase the speed to high and beat until the whites thicken.
3. Continue beating while gradually adding the sugar; add the vanilla and beat until stiff peaks form. Spoon the mixture into a pastry bag fitted with a fluted tip and pipe the meringue onto the parchment paper, into one inch or slightly wider peaks about one-inch high, and about one inch apart. Or using a teaspoon, make small dollops onto the sheet.
4. Place the baking sheet on a rack set in the middle of the oven and bake the kisses for 2 hours then leave them in the cooling oven overnight; they will be completely dry and crisp. Package in gift containers - they are a little fragile.
Variations: Add cocoa for chocolate swirl; a drop of food coloring for colors; or even chocolate chips!
These are an elegant gift, fun to make and allow for creativity. This recipe calls for cheese, but they can be made with sweet or savory fillings as well. The dough can stay in your freezer and is a perfect snowy day activity. A quick Google search will yield how-to videos and more recipes.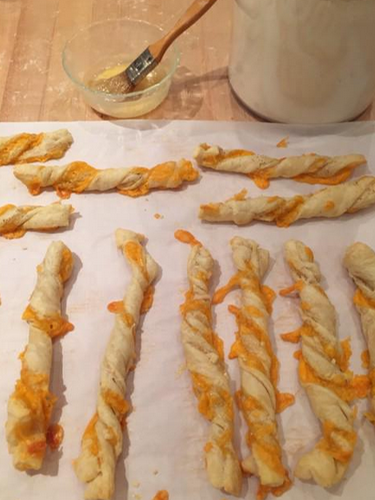 Ingredients:
A few pinches of flour
1 package frozen puff pastry
1 egg mixed with a tablespoon of water
1 cup cheddar or parmesan cheese, herbs or pepper as you like
Method:
1. Remove puff pastry from the freezer and thaw.
2. Preheat oven to 400.
3. Once thawed, roll out puff pastry about 10 x 14. Add pinches of flour to work surface or rolling pin as needed to prevent sticking.
4. Sprinkle cheese over half the pastry. Egg wash the other half and place over the cheese half (egg wash side down) and press. Roll out the pastry using a rolling pin a little more so the sheets are snug together.
5. Cut the pastry into strips the short way. Twist each piece and place on baking sheet, leaving space in between.
6. Once on the sheet, give them a light egg wash.
7. Cook for 10+ minutes. Once crispy, place on a cooling rack.
Adobo, a Classic Latin Seasoning
Something a little different yet very easy to make. Native to Iberia, adobo became part of Latin American cuisine. I picked this recipe up from our Sylvia Center classes. Adobo is beloved for good reason - it adds great flavor to any dish. Adobo can be used to season soups, beans, roasted vegetables or braised meats. Gift this with several recipes which can be found online.
Homemade Adobo Spice Mixture
Yield: About 1/2 cup (Recipe can be multiplied if you are making as a gift)
Ingredients:
3 tablespoons granulated garlic
2 tablespoons oregano
1 tablespoon black pepper
1 tablespoon turmeric
1 tablespoon onion powder
1-2 tablespoons salt (optional)
Method:
1. Combine all ingredients in a bowl and mix well. Store in an airtight glass jar with decorated lid.
2. If a recipe calls for one packet of Adobo, use 1 teaspoon of this homemade mixture.
A few more ideas include a "quick pickle" of unusual winter veggies. Right now, I buy long daikon radishes and carrots, cut them into 1/4" discs, put them in a jar and cover with brine: 3/4 rice vinegar, 1/4 water (to 1 quart liquid), ¼ c sugar and a 2 tablespoons of salt. In a few days, they are crunchy and irresistible. You can quick pickle just about anything, using apple cider or white vinegar, some sugar and salt. Taste your brine and adjust it to taste (peppercorns, mustard seeds, pickling spices, herbs). Store in the fridge.
A wonderful gadget to have at home is a dehydrator. They are made for home use and I find mine invaluable. You can make all sorts of dried goodies - from banana chips, apple chips and raisins - by thinly slicing the fruit or veggie and placing it on the rack. Follow manufacturers guidelines and you will be amazed. It's a great learning moment to see what happens to food without its water content and how the flavors and textures change. One year I sliced dozens of Meyer Lemons into thin rounds, which became crisp when dried. I then added them to cocktails. Keep this in mind next year - end of summer is the perfect time to prepare dried gifts for the holiday.
A final word of advice - If you are trying something for the first time, allow yourself a margin of error. I fought with puff pastry dough for a long time until I learned how to make it cooperate. It is remarkable how much you can learn from a few mistakes. That is the recipe for success.
This piece was originally published in Our Town.