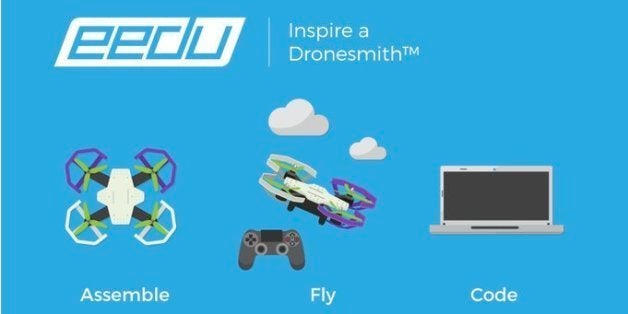 Drones are so hot right now. Amazon aims to start using them to deliver packages in the United States in 2016. Martha Stewart penned an op-ed last year gushing about hers and lamenting that Louis XIV didn't have one at Versailles. And now, you can even build and program your own.
The project, called Eedu, which stands for "easy educational drone unit," lets people assemble and use their own drone -- all within 30 minutes. "We want to take the complexity of robotics out of it, but still get the gratification of putting a drone together," Skyworks CEO Jinger Zeng told Quartz.
After users -- or "drone smiths," as the Skyworks team likes to call them -- piece together the drone, they can either start flying it immediately or write code to make their Eedu do exactly what they want, depending on their coding skills.
"We want to let you design the applications you want it for, instead of predefined applications that you can't customize," Zeng told The Huffington Post.
The Skyworks team built a laser tag game out of Eedu drones to show what users can achieve with their kits. But Zeng told The Huffington Post that she would like to see Eedu users create even more things, like "meaningful applications, such as smoke detectors," or entertainment tools.
The possibilities seem nearly limitless. In November 2014, for example, a New York pizzeria owner ran a successful test drop-off with his own drone by delivering a pie straight to a customer's house.
However, a bill recently introduced in the Senate would order the Federal Aviation Administration to clamp down on private drone use, restricting where (and how high) people can fly their UAVs. Zeng told The Huffington Post that while Eedu is geared more toward the development of drones rather than the act of flying them, each Eedu instruction manual encourages users to visit Know Before You Fly, an educational website that lays out the ground rules for flying UAVs in public.
Zeng also noted that Skyworks is in the process of building a function into Eedu's operating system that would to prevent the devices from entering no-fly zones.
Eedu software is built on technology by community-based platform Forge, allowing Eedu devices to be controlled by multiple coders and making "drone smithing" a social activity. Once logged into Forge, users can share tips and tutorials, and inspire each others' drones.
"Collaboration happens right inside the software, where users can work on a project together, even if they are located remotely. Imagine GitHub for drones," Zeng wrote in an email, referring to the networking platform where users communicate and share code.
You can either pre-order an Eedu kit for $449, or pledge $399 to donate an Eedu kit to a student through Eedu's Kickstarter page.
Zeng confirmed to The Huffington Post that her team expects to start shipping in December 2015 if the project meets its Kickstarter goal of $100,000 by July 1, 2015. As of June 29, the project has raised just over $52,000.
REAL LIFE. REAL NEWS. REAL VOICES.
Help us tell more of the stories that matter from voices that too often remain unheard.