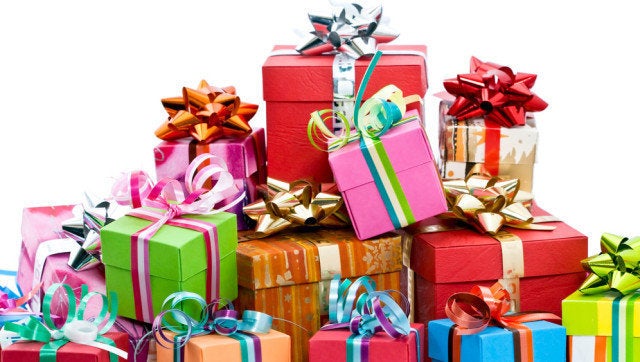 Who needs the hustle and bustle of holiday shopping? Making gifts for your family is a whole lot more fun and personal. Not to mention all the green you'll save, monetarily and environmentally speaking. Whether you're a master crafter or a newbie, check out our list of homemade gifts that would put a smile on anyone's face.
1. Plastic Bottle Cell Phone Holder: Anyone in the family with a phone would enjoy this stylish holder (pictured), which cleverly repurposes a shampoo bottle, and you don't have to be a crafting genius to make it.
2. Rustic Jewelry Holder: If you have a sister, she will go ga-ga over this fashionable and eco-friendly jewelry rack, and it'll take you less than 10 minutes to make.
3. Homemade Cup Koozie: For that family member on the go, make a cup koozie to protect his or her hands from that piping hot cup of coffee or tea.
4. Tennis Racket Table: This nifty table made of old tennis rackets would go great in Dad's garage or your brother's man cave.
5. Olive Oil Soap: Your aunt would probably love to sport these homemade soaps in her bathroom; it would give her the chance to brag about her crafty niece or nephew to visitors.
6. 3D Picture Frame: Anyone in the family would love this personalized gift. They could hang it on the wall or put it on a coffee table for a year-round reminder of your creativity.
7. Kitchenware Lamp: This lamp would make a great addition to your kitchen, and Mom would be blown away by your craftiness. Just make sure not to use any of her prized culinary possessions to make it.
8. Denim Pot Holders: Utilize those old jeans to make Grandma a cool new set of potholders and she'll probably whip you up something tasty next time you visit; it's a win-win.
9. Clothing Crafts: Make your family some cool new duds out of your old ones. Leg warmers, berets, cardigans, oh my!
10. Recipes:
And if these crafts aren't really your style, you can always go with a good old-fashioned cookbook to give out to family members. Combine the recipes listed below with some of your own and you'll be set:
Text by Jess Krager, photo by Lori Eanes.
This article originally appeared in Sierra magazine.
Related